People's preferences for mice vary a lot. Choosing a mouse from eBay can save you over 80% of the price you could expect to pay on the High Street, but because you don't get to test it before there are important things to remember: -
PS2 or USB?

Mice generally come in two types, PS2 and USB. PS2 is an old port design, which is typically a green plug. Although these are still found on most desktop PCs they are being rapidly phased out from laptops. If you have spare USB ports it's advisable to go for a USB mouse - most computers nowadays have at least 4 USB ports and this is the direction the computer industry is moving towards. However, if you have limited USB ports you may be better going for a PS2 mouse as you will not be taking up a valuable computer port.
Optical or ball?
Most mice nowadays are optical mice - a small LED on the bottom reads the mouse movement, meaning it can be used on virtually any flat surface and never needs cleaning out. This technology is now cheap and readily available - you should always choose an optical mouse as rollball mice are less flexible and will also need periodic cleaning to maintain performance.
Wireless or wired?
Wireless mice are now coming down in price quickly and can help keep your desk tidy and wire free by having one. However, they are usually about twice the price of conventional mice and you'll also need to have a receiver on or near your desk to get the signal. The batteries in your mouse will also need replacing unless it says it's rechargeable - a typical set of 2xAA batteries will usually last about a fortnight - a month depending on your usage, but investing in rechargeable batteries will pay off in the long run. The mice also need resetting from time to time if they lose the signal - this means pressing a button on the bottom of your mouse and receiver to regain the signal.
Compact mice
Compact mice designed specifically for laptops are now available - these are usually about half the size of a conventional mouse and are designed to be more portable. However, some people may find them less comfortable for prolonged or desktop usage - if you think this is the case be sure to carefully read through the description to make sure you are getting the size you want (nothing more disappointing then removing the wrapping and finding it's half the size you thought it was!).
Wheels and buttons
Most computers nowadays assume a 3 button mouse, with the middle button a scrollwheel. You should always choose this type of mouse - the middle button is used for important tasks such as opening tabs in Firefox and the upcoming IE7. 2 button mice should be avoided as they limit your functionality.
Reliability
Most mice are fairly reliable as they are simple pieces of technology and so buying non-branded goods should give you similar reliability to brand named goods. Of course, the more complicated the technology the more likely it is to go wrong - for wireless mice you may wish to go with an brand such as Logitech - their mice are excellent and have long guarantees.
Who to buy from
Cheap goods such as mice can be picked up at a reasonable price from UK sellers, and so it is inadvisable to buy it from a seller in Hong Kong - if anything goes wrong it'll be harder to track down a refund and you're also likely to be hit with additional custom fees and handling charges that can push up the price of your mouse a lot. You can select UK sellers only from the menu at the left hand side of the product listing.

==>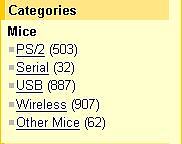 &
The picture above shows how you can limit your mice to either PS2, USB or wireless depending on your preferences as well as selecting UK buyers only. Good luck finding a mouse and happy bidding!