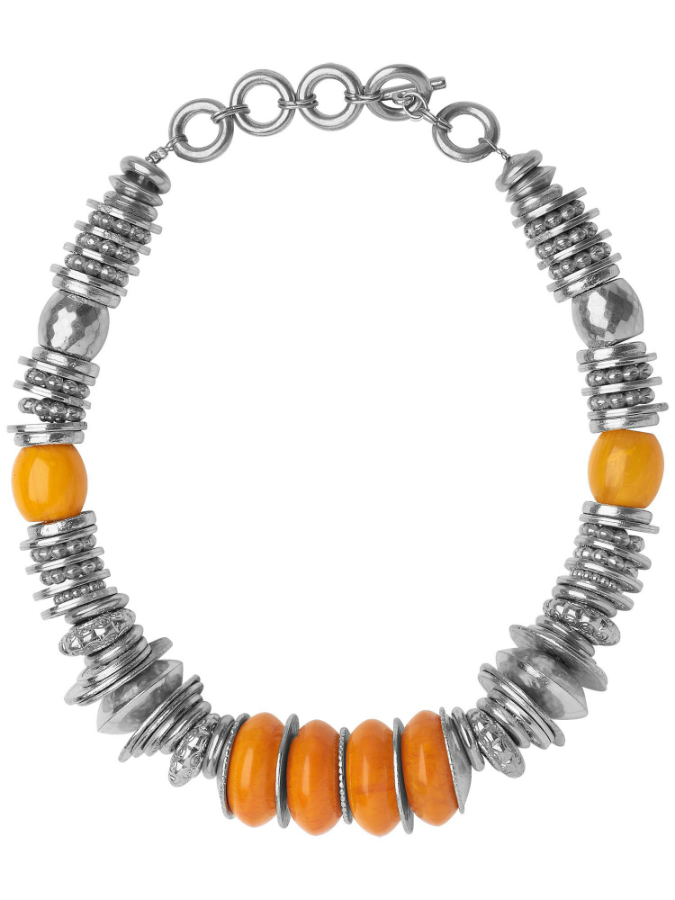 Silver necklaces are a popular fashion accessory that are essential for every wardrobe. They look great with casual outfits or even for dressy, formal occasions. Chunky silver necklaces come in all different types and styles. They are also available in all different lengths. Different length necklaces are appropriate for different outfits and occasions. Silver is a popular metal for jewellery since it is ordinarily less expensive than gold or platinum. Inexpensive chunky silver necklaces are considered costume jewellery and make bold fashion statements. Since chunky silver necklaces are so substantial, there is no need to wear earrings or other jewellery. The greyish colour is also easier to match with different colours of clothing. It is a good metal for those with sensitive skin. Chunky silver necklaces are a great necklace style available in numerous variations. Putting on a chunky silver necklace is a great way to dress up a plain outfit.
To ease confusion, consumers should research the different brands and styles of chunky silver necklaces available at different venues, including jewellery shops, department stores, and online at eBay. Before purchasing a chunky silver necklace, consumers should understand the types of silver, types of chunky silver necklaces, chain length, and know how to budget.
Types of Silver
Before buying a chunky silver necklace, remember there are different types of silver. The highest quality of silver is sterling silver. Sterling silver is a composition of 92.5 per cent silver and 7.5 per cent copper. Genuine sterling silver is often hallmarked .925 or has words or symbols indicating sterling silver. Sterling silver necklaces are good for people with allergies or sensitive skin. Silver-plated jewellery is not real silver, it is appropriate for costume jewellry. It is usually not marked, although SP may appear on the jewellry.
Alpaca silver is used to describe silver that is made up of different metals and is not true silver. Costume jewellery is inexpensive and is generally not made of true silver. It is sometimes silver-plated. This type of jewellery is lower in quality but is advantageous for some purposes. Silvertone jewellery is just silver coloured metal. Costume jewellery is also made of silvertone metal. The quality of silvertone metal varies depending on the materials that compose it. This jewellery tarnishes quickly, and often leaves a green mark on the skin of the wearer.
Types of Chunky Silver Necklaces
Chunky silver necklaces are available in different styles and types. There are three major types of chunky silver necklaces: chain, strand, and bead. Any type of necklace may have a pendant. The types of necklaces all vary in length.
Chain
Chunky silver necklace chains vary in the thickness of the chain. Typically, chain necklaces include only one chain and may include a pendant. This style of necklace with a thick silver chain is more plain. There are all different types of links in silver chain necklaces. Popular types of chain links include herringbone, rope, figaro, cable chain, and box chain. Choose link type by the design that goes best with an intended outfit.
Strand
Strand-type necklaces are different from the chain style, since the embellishments are incorporated into the necklace. Many strand necklaces incorporate beads, gemstones, diamonds, and other metalwork. Strand necklaces offer consumers a more dramatic look compared to chunky silver chain necklaces. Add a chunky silver strand necklace to a plain or simple outfit to create a fashionable look. Strand necklaces offer a more layered look. Typically, those wearing thick chunky silver necklaces do not need to wear earrings or other jewellery.
Bead
Chunky silver bead necklaces are formed by stringing silver beads together. Some bead necklaces have all the same sized beads, while some necklaces have different sized beads. The beads range from 1.5 mm to 6.0 mm and more. Tiffany has a popular bead necklace that is timeless and classic. Wear a chunky bead silver necklace with matching bead earrings for a complete, polished look.
Necklace Length
Choose necklace length based on personal preference and style. Different necklace lengths look better with different outfits or occasions. Face shape and overall build are also important considerations for necklace length. Purchase necklaces of all different lengths to ensure that there is an appropriate necklace for every outfit. The general rule for ideal necklace length is to measure the neck, and then choose a necklace that is 5 to 10 cm longer.
Necklace Length (cm)

Style or Size

How to Wear

30.5-33

Collar

Off-the-shoulder and V-neck tops

Elegant and formal occasions

35.5-40.5

Choker

Matches almost any outfit and neckline

Draws attention just below the neck where it hangs

43-48

Princess

Most popular length

Wear with higher necklines

51-61

Matinee

Wear with high or low necklines

Adds elegance to any outfit

71-86.5

Opera

Good for high or crew necklines

Possible to wear as a single or double strand

Draws eyes down to the chest and away from the neck

Over 114

Rope

Perfect for special occasions

Causes the eyes to sweep down the torso

Possible to double or triple strand for shorter lengths
Use the chart to determine the appropriate length of necklace. Choose the length that works best with the outfit and occasion. Consumers also need to consider the build or figure of the necklace wearer. Choose shorter necklaces for those with a larger chest, since necklaces draw attention. Those with smaller chests may wear longer chains. It is also important for consumers to consider their face shape when purchasing a chunky silver necklace. Choose opera length necklaces for round faces. Choker length necklaces are best for those with heart-shaped faces. Choker necklaces are great for those with rectangular or oblong-shaped faces because the higher length of the necklaces balances the length of the face.
Budget
Budget is one of the most important considerations when buying any type of jewellery. Silver jewellery is very popular because the metal is high-quality, yet not as expensive as gold or platinum jewellery. Any chunky silver necklaces needs to fit a consumer's budget. Chunky silver necklaces are available in a wide range of prices depending on the quality of the silver and brand. Silver necklaces from high-end designers, like Tiffany or David Yurman, are more expensive than relatively unknown brand names. In addition, any necklaces containing precious and semi-precious stones are more expensive. Sterling silver necklaces are also higher quality and more expensive. Costume jewellery is generally made of alpaca or silvertone silver, these types of silver are not true silver and are inexpensive.
How to Buy a Chunky Silver Necklace on eBay
Now that you have decided on the type of chunky silver necklace that you desire, it is time to start shopping. eBay offers consumers numerous options when it comes to purchasing a chunky silver necklace. Start your search by typing keywords into the search box on any eBay page. Input keywords describing the chunky silver necklace desired. Use as broad or specific keywords as the search for your chunky silver necklace requires. To get the most results, use broad keywords and, for example, input "chunky silver necklace" into the search box on any eBay page. This populates a list of even more chunky silver necklaces available for purchase on eBay. Next, choose the options you want to reduce the number of results that are shown in the listings. Browse through the results before deciding which chunky silver necklace to purchase. If you already know the type or brand of chunky silver necklace that you want, use more specific keywords in the search. For example, type in "Tiffany chunky silver necklace," if that is what you are looking to purchase, and your results are narrowed to only Tiffany chunky silver necklaces available on eBay.
Consider purchasing a chunky silver necklace from one of eBay's Top-Rated Sellers. These sellers are distinguished because they have received a reputation for running fair auctions and conform with all of eBay's policies. Look at all the pictures and descriptions posted by the sellers and choose a seller with generous return policies.
Conclusion
Chunky silver necklaces are a great fashionable accessory. The colour matches all colours of clothing and is a versatile piece for every wardrobe. Silver is a popular metal for all types of jewellery since it is less expensive than gold and platinum. Chunky silver necklaces are perfect for almost every outfit from casual to dressy. Silver necklaces are available in multiple types and styles. Consumers also need to pay attention to the type of silver that makes up the necklace. The best type and quality of silver is sterling silver. This type of jewellery is also the most expensive. Alpaca and silvertone silver are not true silver but are both made up of different kinds of metals. Silver necklaces made of alpaca and silvertone are generally affordable but lower in quality. Costume jewellery is still appropriate for special occasions. Each style of chunky silver necklace is available in different lengths. Choose the length that is appropriate for your outfit and build.
There are many appropriate occasions to wear a chunky silver necklace. The piece of jewellery is suitable for many different outfits. eBay offers a wide selection of chunky silver necklaces, no matter which kind you are looking to purchase.