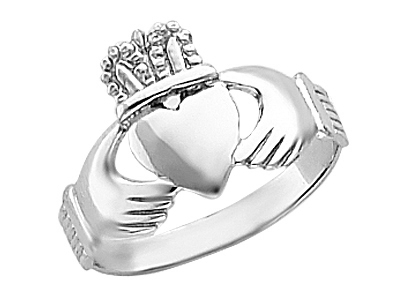 A Claddagh ring is a traditional Irish piece of jewellery that represents two hands holding a heart with a crown atop it. This style of ring spread throughout the world, especially after the Irish began to emigrate consistently in the 18th century. The origins of the Claddagh ring are unknown, but it symbolism is clear. Each of the elements on the ring stands for something, with the hands signifying friendship, the crown reflecting loyalty, and the heart standing for love.
Couples who are interested in buying Claddagh rings for their wedding have numerous options to choose from. These rings come in a large variety of styles and sizes and are a popular choice for couples who are looking for a slightly different type of wedding rings. Claddagh rings can be worn for other occasions besides weddings. Regardless of the reason for which one wishes to buy a Claddagh ring, learning more about different styles, their symbolism, and how to wear them can be helpful for making an informed choice.
The History of Claddagh Rings
The origin of the Claddagh ring is often disputed. The legend says that it appeared in the 17th century and the members of the Joyce family were among the first ones to wear them. However, its origins can be traced back to Roman times, when wedding, friendship, and even vassalage rings featured two hands outstretched towards each other.
The name of the ring comes from Claddagh, a fishing village outside Galway where the symbol is today engraved on many residential buildings. Fishermen often passed these gold rings from generation to generation, from the mother to the eldest daughter. Nowadays, people from all over the world choose to wear a Claddagh ring as an engagement, wedding, or friendship symbol.
Types of Claddagh Rings
Even though Claddagh rings may seem very much similar to one another, there are actually some variations in their styles. For instance, one may opt for a ring with a gemstone instead of one that is made only from metal. Another option is to have a special engraving on the band of the Claddagh ring. As for the metals, buyers can choose from silver, gold, platinum, titanium, and more.
Claddagh Engagement Rings
One of the most popular reasons for which one decides to buy a Claddagh ring is to offer it as an engagement ring. Claddagh engagement rings can be made from different materials and in many cases they feature a gemstone, sometimes a diamond. If buyers are opting for a diamond Claddagh ring, they may notice that in most cases the diamond is often placed in the centre of the ring, surrounded by Claddagh symbol. Diamonds can vary in size and buyers should opt for the ideal one according to their preferences and budget.
Claddagh Birthstone Rings
Claddagh birthstone rings are often very affordable and they are lovely gift idea for a friend or the loved person. Every person has one or more birthstones according to the period of year in which they were born and their zodiac sign. Buyers can add a personal touch to their gift by choosing a Claddagh ring with a heart-shaped birthstone. The chart below allows buyers to identify someone's birthstone quickly.
| Zodiac Sign | Month Born | Birthstone |
| --- | --- | --- |
| Capricorn | January | |
| Aquarius | February | Amethyst |
| Pisces | March | Aquamarine |
| Aries | April | Diamond or White Zircon |
| Taurus | May | |
| Gemini | June | Pearl |
| Cancer | July | |
| Leo | August | Peridot |
| Virgo | September | |
| Libra | October | |
| Scorpio | November | Citrine or Topaz |
| Sagittarius | December | Turquoise |
In most cases, these rings are made from silver and semi-precious stones are used to adorn it. If one's birthstone is a precious gemstone such as diamond, ruby, or emerald, buyers can opt for artificial birthstones that recreate the look of the original one. As they are usually made of silver instead of gold, birthstone Claddagh rings are often given as gifts to friends.
Claddagh Rings for Men
Claddagh rings can be worn by women and men alike and the main difference is often related to the size of the ring. Men can opt for a classic Claddagh ring or for a wedding band featuring the Claddagh symbols. Another reason for which men choose to wear Claddagh rings is to display their Irish heritage. Men proud of their Irish origins have been wearing Claddagh rings for centuries and many of them still choose to do it today.
How to Wear a Claddagh Ring
Popular tradition says that the way one chooses to wear a Claddagh ring is actually sending a message about their relationship status. There are several ways in which to display one's romantic status. For instance, wearing a Claddagh ring on the right hand with the hearts facing outward means that one is single and ready to give their heart away. When one's heart is already taken, they may choose to wear the ring on the right hand, but with the hearts facing inward. Whenever a Claddagh ring is worn on the left hand, it means that the wearer is married, or at least engaged to be married.
Choosing a Claddagh Ring in the Right Size
In order to choose a Claddagh ring in the right size, buyers should make sure they know their ring size. This can be found out either by measuring the diameter of the finger or by having a look at other rings one owns. Buyers who intend to give such a ring as a gift should make sure they know the ring size of the person they are buying the Claddagh ring for. The table below allows buyers to compare UK ring sizes with European and US sizes, which may prove useful when shopping for Claddagh rings on websites such as eBay.
| UK Size | EU Size | US Size |
| --- | --- | --- |
| C | 40 1/2 | 1 3/4 |
| D | 41 1/2 | 2 1/4 |
| E | 42 3/4 | 2 3/4 |
| F | 44 1/2 | 3 1/4 |
| G | 45 1/2 | 3 3/4 |
| H | 46 1/2 | 4 1/4 |
| I | 47 3/4 | 4 3/4 |
| J | 49 1/2 | 5 1/4 |
| K | 50 1/4 | 5 1/2 |
| L | 51 1/2 | 6 |
| M | 52 1/2 | 6 1/2 |
| N | 54 | 7 |
| O | 55 1/4 | 7 1/2 |
| P | 56 1/4 | 8 |
| Q | 57 1/2 | 8 1/2 |
| R | 58 1/2 | 8 3/4 |
| S | 60 1/4 | 9 1/2 |
| T | 61 1/2 | 9 3/4 |
| U | 62 1/2 | 10 1/4 |
| V | 63 3/4 | 10 3/4 |
| W | 65 1/4 | 11 1/4 |
| X | 66 1/4 | 11 3/4 |
| Y | 67 1/2 | 12 1/4 |
| Z | 68 3/4 | 12 3/4 |
Buyers should keep in mind the fact that sizes may vary from one manufacturer to another. The only way to be sure a ring fits properly is trying it on. Those who are shopping for Claddagh rings online should make sure the seller offers the possibility of returns in case the ring does not fit well.
How to Find a Claddagh Ring on eBay
Taking into account the large variety of styles and materials, choosing the perfect Claddagh ring may be a time-consuming process. With so many models to analyse and compare, buyers should make sure they use a system that can make their search easier. This is where eBay can be of help. By choosing to shop for a Claddagh ring on eBay, you can save a lot of time simply by choosing to browse only through models that are relevant for your preferences and budget.
In order to start searching for a Claddagh ring on eBay, all you need to do is type the words 'Claddagh ring' into eBay's search bar and then refine the results according to your preferences. For example, you can narrow down the results by style, type of gemstone, material, price, size, and more. Make sure you read the product description carefully before buying a Claddagh ring on eBay. This way you can make sure the ring is right for you and avoid the hassle of sending it back because it was not what you needed or because it does not fit well.
Conclusion
Claddagh rings have several different meanings and can provide the wearer with a piece of jewellery that looks good and is full of symbolism as well. This traditional Irish ring is a popular choice for those who are looking for a wedding, engagement, or friendship ring. Buyers who are interested in a ring that looks lovely and is durable at the same time should make sure they buy a ring in a material that is resistant to wear and tear, such as sterling silver or gold, depending on their budget.
Because Claddagh rings come in so many styles, buyers often feel overwhelmed when it comes to choosing the right style. eBay is a good place to start the quest to find the ideal Claddagh ring because it boasts a remarkable selection as well as a search system that makes the shopping experience a pleasant one. Regardless of the type of Claddagh ring one is looking for, chances are they can find it quickly by browsing eBay's selection.