Launched in 1959, Classic Mini Coopers have an iconic status. Their spacious interior and front-wheel drive influenced the design of cars for generations. Motorists and collectors can own a piece of history with a fully restored Classic Mini or they can buy an old classic car for a project and bring it back to life. Buying Mini wheels, engines, seats, and other parts allows drivers to create a customised Classic Mini that celebrates the car's unique style.
Factors to Consider When Buying a Classic Mini Cooper
Before buying a Classic Mini Cooper, drivers should learn how to check the functionality of the car. These vehicles typically experience overheating and oil leaks, which lead to cracked cylinder heads and worn piston rings. Examine these parts of the engine closely to check for signs of wear. Mini Coopers also experience problems with rust, so check the entire body of the car for any signs of this problem. Mini restoration manuals with specific information about the features of each model year serve as guides to drivers and collectors.
Classic Mini Cooper Shell
If you plan to restore a Classic Mini Cooper, you need to gather the parts. The Classic Mini shell comes in a variety of colours and conditions. You can sand down a shell and repaint it, or buy a fully prepared version. If you only need specific parts of the shell, such as the doors, consider buying a complete shell and taking it apart to get the components that you need.
Classic Mini Cooper Engine

Choose the size and model of Mini Cooper engine that is appropriate for your car. There are 848 cc, 970 cc, 997 cc, 998 cc, 1071 cc, 1098 cc, and 1275 cc engines. If the engine is not in good working order, then look for replacement parts, such as head gaskets and transmission cases.
Classic Mini Cooper Wheels
Classic Mini Cooper wheels come in a variety of styles and sizes, ranging from 10 to 13 inches. There are multiple finishes, including white, black, chrome, and brushed nickel, which give you options for configuring the look of your car. There are also decorative centre caps featuring the Mini logo to add personality to the vehicle. Choose the correct tyres to fit the wheels.
Classic Mini Cooper Interior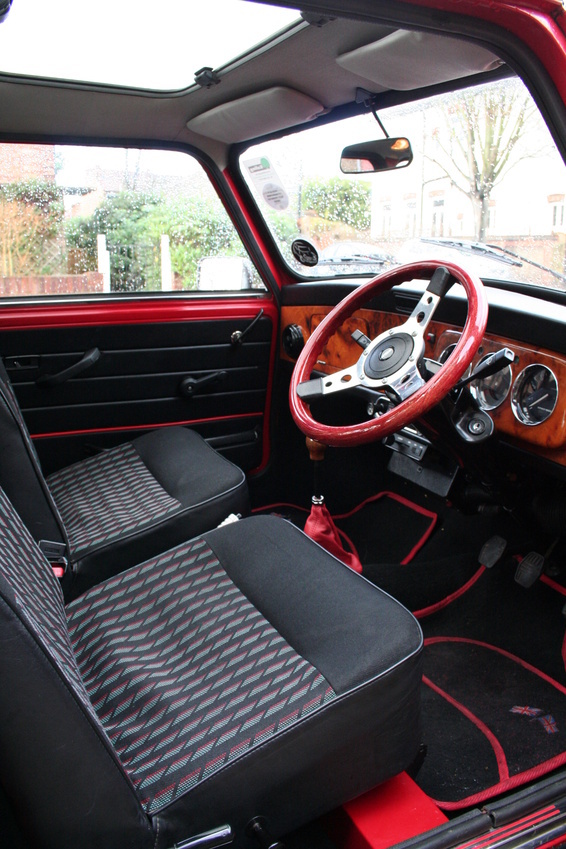 Restoring the Classic Mini Cooper interior gives you an opportunity to have some fun. Chrome accents provide a clean, shiny look for window handles, doors, and pedals, whereas walnut accents offer a refined appearance. Add Classic Mini leather bucket seats for comfort. Choose a single colour or mixed palette, such as black and red. Other interior options include vintage-style seat belts, steering wheels, and dashboards.