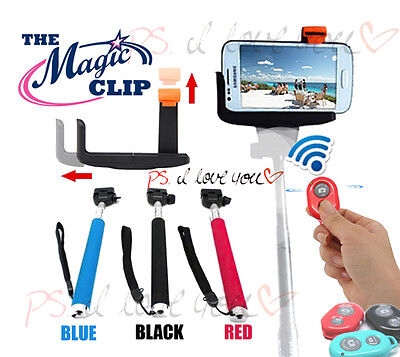 The Magic Clip Stick
http://stores.ebay.co.uk/psiloveyou101
MAGIC CLIP
Our Clip is the most secure and sturdy phone clip. Fit larger sized phones in the magic clip, Unlike the metal clamp the magic.
THE STICK
The incredible monopod universal selfie stick is a telescopic extendable arm with an attachment for your smartphone or digital camera, bringing a new dimension to your picture taking. The selfie stick is ideal for taking epic selfies, inclusive group shots, and awesome festival shots! Perfect for traveling when there's no one around to take a photo for you, be part of the picture.
THE REMOTE
The included AB Bluetooth shutter remote control allows you to place your iOS & android smartphone within Bluetooth range to take some killer selfies! Ideal for getting closer to the action when following someone and creating steadier shots and slicker looking footage. Max camera weight 500g. Suitable for all models of iPhone, Samsung phones etc.. Choose from 3 colors!
Features
· Extends to 100cm long
· Bracket fits devices 5.4 - 9.5cm wide
· Use to take self portraits and group shots
· Telescopic expandable smartphone and camera grip
· Adjustable design allows random rotation of shooting angle.
· Great for filming over crowds at gigs, festivals and public events
· Remote shutter controller is compatible with android 4.2.2 OS or newer and iOS 6.0 or newer.
· The universal monopod just made taking a self-protrait/photo extremely convenient
What's included:
· 1psc Monopod universal selfie stick stabilizer complete with wireless bluetooth shutter remote & MAGIC CLIP!!!
· (SAME DAY DISPATCH)