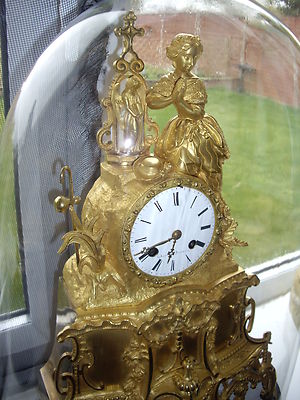 Quality of work more important than a name.

My father was John Logie Baird the man who inventer television.
As timekeeping was developing lone workers both men and women were actually creating their ideas. They made some stunning advances which today are often ignored just because they did not sign or number their clock.
I have in my possesion a clock that has the early silk suspention taken to the next step.
The silk suspention has been made in a fine spring steel. The steel is sturdier and stronger, it also lasts much longer.
THIS IS THE ONLY CLOCK I HAVE EVER SEEN with this actual step, which was soon adopted by all clock makers.
There is no name or number to tell the clock collector exactly what it is, so that leaves just me and the Science Museum to marvel at the great advancement.


If after a long hard weeks work I arrive home to a wife demanding that I make a bird table over the weekend, to keep the cats away from the birds, I will of course make it.
Due to my fathers influence in my life I make it with lights that go on and off at dawn and dusk.
I add doors that automatically lock at any sign of danger and many other improvements. The end result is a bird table that outshines any table that was ever made before. Yet at the end of the day the big question is, should I sign it and number it one.
Of course I don't because even though it may become a bench mark in the future, to me now it is just the beginning and I know that I will build better in the future.

We must learn to look at the quality and inventiveness of the clock, or in fact of anything we are buying, to be able to assess its value.

The rarity along with the quality of workmanship, leads us to the inventiveness of the piece.
Then the price is exactly that which the person can afford to have a clock to enjoy until it becomes someone else's turn to enjoy it.
Learn always to look at the quality of the piece and only look at the name or number, which can be added at any time, as the final proof.

This is the only clock left in the world with the change over suspension to my knowledge
I would be grateful if anyone knows diffrent, if they would let me know.
As Ever Gordon Mays Baird.








Quality of work more important than a name. My father was John Logie Baird the man who invented television. I thank God that he passed