Over the past 6 years, the appearance of numerous 'chopped' or 'repainted' die-cast models has almost spiralled into an attempted art form of it's own , from some appallingly poor high gloss , over pigmented paint finishes available from a can to some reasonably good quality airbrushed restorations that are almost fool proof in their comparisons to the 'mint' model. In the latter case it is worth noting that the old tell tale traits of poor axle ends & stick on rivets , have now become more & more professional through true engineering methods , a true 'restoration' will always take this into account.
To simply repaint a model , in majority , a model that is generally common , usually available cheaply, due to it's undesirability & then title it with the somewhat over used 'code 3' label to legitimise it , is falling by the wayside , it seems the regular discerning collector is looking towards expanding his/her collection with something that is comparable with the original & authentic.
In our experience of placing restored models into serious collections & promotional runs for several companies over the past 22 plus years , the quality always needs to be as high as & comparable to it's contemporaries .
There have been some first class conversions & restorations available on EBay over the years , many would
accompany some of the finest collections in the World , but there are many that are purely aimed for the 'theme collector' , without the afterthought of using companies patented logos , not too high a priority for large companies , unless of course the multiples become too large.
A 1.00 euro current model , widely available , is unlikely to become a genuine Code 3 , if all that has been done is it's existing Code 1 logo has been wiped off with thinners & replaced by a water slide transfer of a company that uses a similar coloured vehicle , just a different shade?
Our personal restoration guide ........
a -Look for a model that will stand alongside it's contemporaries & not 'stand out'.
b- Look for a paint finish that's shade, depth & hue is as near to it's original as possible,
c- Compare the re-assembly to that of an original , a replacement part can be a fair substitute if there are
no originals available , good axle ends & rivets together with a correct looking baseplate can make a
model look complete.
d- The pedigree....if you wish to invest in a code 3 vehicle , the finer the quality of standards,the better.
That doesn't always mean a higher purchase price ....... just a 'good eye' for what looks correct.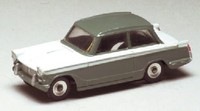 After all , a 'good quality' restoration can be a sensible way of filling the space in the cabinet without spending a fortune in cash & time. For serious theme collectors ..... look for good quality printing of decals , there is no excuse for poor quality artwork & colour with the advent of 'dye sublimation' & 'screen' printing applications.
Beware of the typically unauthentic , your local Railway Co. was unlikely to have had a fleet of ice cream vans.For 'true' Code 3's , it can be beneficial to look for limited themed runs of numbered models rather than the plagiarist one off copies.

Call it what you will ,in our view ,a good quality restored or converted model , if having true quality & authenticity & not just a code 3 title , can be good value. In owning a model that is sometimes unique or a true copy of an unobtainable rarity , it's ability to look as though it can sit amongst originals is its best compliment.