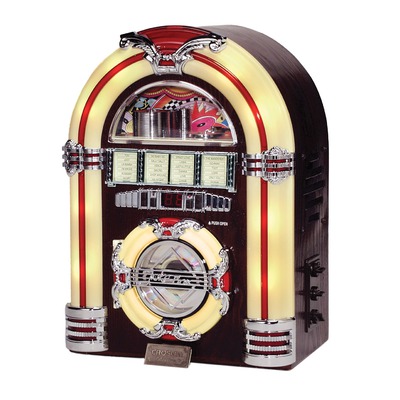 A coin operated juke box is a device that plays music from a set internal collection. These devices became very popular in bars and restaurants around America in the 1950's and since then have become highly sought after collector's items. Coin operated juke boxes are still used in bars across the world, but many people by them for private use at home. Juke boxes can play music from vinyl records,, CDs and MP3s..
Buyers thinking about investing in a coin operated juke box should search for a model on eBay. The site's large database of users means a better selection of juke boxes at prices that couldn't be found anywhere else. This guide shall examine the most well-known juke boxes, and how to find a suitable model on eBay.
Coin Operated Juke Box History
Coin operated music boxes and player pianos preceded the juke box by about thirty years. These devices were commonly found in public houses and bars, and provided the patrons a form of musical entertainment. These early devices were very simple in design, and could only play one or two pieces or music.
An early version of the juke box was created in America in 1928 by Justus P. Seeburg, who would go on to start the Seeburg Jukebox Company. This forerunner could play from a selection of eight records and was named the 'Audiophone'.
The Great Depression of the 1930's saw a massive drop in the amount of musical devices that were manufactured, and it wasn't until after World War II that production numbers started to rise. Innovation in amplification and recording led to a demand in coin operated musical devices, and they became especially popular in the bars and jazz clubs ran and frequented by African Americans. No one is fully sure of where the term 'juke' comes from, but most people associate it with the Gullah word juke, which means rowdy or disorderly.
The 1960's saw the introduction of wallboxes, which allowed people to select music from their table. These devices were very profitable, and became the standard in cafes and burger restaurants that would be filled with American teenagers on a Friday night. However, the same innovation in amplification and recording that led to the jukeboxes rise in popularity also lead to its demise, and by the 1970's they had fallen out of favour. Hired disc jockeys took charge in the bars and nightclubs, and the jukebox was dropped for the radio in restaurants.
Jukeboxes can still be found in diners and some bars, but are now seen as more of a collector's item as opposed to being a source of music and entertainment.
Popular Coin Operated Juke Boxes
The Big Four
The 'Big Four' juke box manufacturers are Wurlitzer, Seeburg, Rock-Ola and AMI/Rowe. Only two of these companies are still producing juke boxes, Rock-Ola and AMI/Rowe.
Wurlitzer
Wurlitzer are arguably the most famous juke box manufacturer, and are also known for their electric pianos and keyboards. The company has been active since 1933, and they dominated juke box sales in the 30's and 40's. Below are some of their more famous coin operated juke boxes.
| Model | Desctiption |
| --- | --- |
| Wurlitzer 1015 | Originally released in 1946, this juke box is easily the most popular and well known model manufactured by Wurlitzer. The 1015 plays 45rpm records, and has a number of rotating lights that change colours as the device plays music. It is available in a wood or black matte finish, and it is possible to purchase a 1015 capable of playing CD's and MP3's. |
| Wurlitzer 850 Peacock | The 850 Peacock made its debut in 1941, and became very popular with American soldiers stationed abroad during World War II. The 850 Peacock features colour animation and a mock marble finish. Original models can sell for thousands of dollars and are highly sought after. The Wurlitzer 850 Peacock plays 45rpm records and singles. |
| Wurlitzer Model 2000 | This juke box was first released in 1956, and road cruisers that were popular in the 50's inspired the chrome and glass look. Many people suggest that this is the optimum Wurlitzer device to play 45rpm records on, and that its sound quality is unrivalled. This is the first Wurlitzer to have the ability to select from a maximum of two hundred tracks. |
Seeburg
The Seeburg Company was started by Justus P. Seeburg in 1902, and originally made player pianos. Seeburg was very successful in his experiments with audio and musical devices, and in 1928 he released the 'Audiophone', an early version of the juke box that had a maximum of eight records to select from.
| Model | Desctiption |
| --- | --- |
| Seeburg Trashcan Juke Boxes | The Seeburg trashcan is the nickname for the Symphonola 146,, 147 and 148 juke box models. The trashcan name comes from the shape and design, and the number refers to the year they were released e.g. 146 is 1946. There are a number of different options available for these juke boxes including the composite material (wood, aluminium), and the letter that follows the number refers to the juke box's distinctive features. An M at the end means that this juke box is capable of being connected to both wired and wireless remote selectors called wallboxes. A W indicated it could be connected to a wired wallbox, and an S model contains a Solenoid drum unit but no remote selection. |
| M100A | The M100A juke box was released in 1948, and had the advantage of being able to store a much larger amount of records and singles. The average juke box in 1948 could store around 20 records, but the M100A utilised a vertical holding system, allowing for up to 200 45rpm records or singles to be stored in the device. |
| HF100R | The HF100R was manufactured from 1954 until 1956, and was one of the most popular 'Silver Age' juke boxes. This device was different to other juke boxes in that it used a five speaker system to achieve an unrivalled sound. The sound quality produced by this device is considered to be one of the best available for any juke box. |
Rock-Ola
Rock-Ola started selling juke boxes in 1935, and continues to do so successfully to this very day. The company have a number of licensed juke boxes, including a Jack Daniels model and a Harley Davidson model. Current designs also have touch screen and digital audio playing capabilities.
| Model | Desctiption |
| --- | --- |
| Rock-Ola Tempo Series | The Tempo series debuted in the 1950's, and are one of the most iconic and successful juke boxes from that era. Tempo juke boxes are referential to the 1950's and have curved glass screens and a mock Cadillac V grille on the front. As with all Rock-Ola devices, the Tempo series used a number of coloured bulbs to create a glowing look. |
| Rock-Ola Bubbler | Similar to the Tempo series, the Bubbler became popular in the 1950's and is associated with the American Rock and Roll movement of that time period. This juke box gets its name from the four multi-coloured tubes found on the top of the device that are filled with liquid and bubbles. |
AMI/Rowe
The Automatic Musical Instrument Company began manufacturing juke boxes in 1927, and their models released in the 1950s were very popular in bars and restaurants across America.
| Model | Desctiption |
| --- | --- |
| Continental 2 | The Continental 2 was first manufactured in 1962, and its design is reflective of the style popular in the early 60's. The Continental 2 is the last juke box AMI produced before its takeover by Rowe. This juke box can store 100 45rpm records and is very rare and sought after by collectors. |
| R-81 | This juke box was released in 1977, and was very popular in music bars and public houses during the late 70's and early 80's. Again this juke box could hold a maximum of 100 45rpm records. |
Searching for Coin Operated Juke Boxes on eBay
Considering the amount of juke boxes that have been manufactured over the past eighty years, it's advisable that all buyers have some idea of the brand and model they're interested in buying before beginning a search. Buyers should research and read up on the various models and take note of the dimensions and power requirements of their specific juke box. When this is done they should head to eBay.co.uk to begin a search.
Click on the Collectable and Antiques heading found on the left hand side of the eBay home page.
Next, click on the Jukeboxes link found under the Collectables heading.
This will load up the juke box listings page, and from here buyers can browse through the various devices for sale on eBay.
Type in the brand and name of the model into the search bar and press enter e.g. Wurlitzer 1015 Coin Operated Juke Box.
Use the Condition filter on the left of the page to list either new or used juke boxes. Newer models will have CD and MP3 playing capabilities, while used models will play vinyl records. Also, depending on the quality of the juke box, buyers may find vintage used models are considerably more expensive than their newer counterparts.
Clicking on the title of a listing will load the juke box's individual page. It's important that all buyers check this page for information regarding the juke box's condition, dimensions and playback capabilities. This information can be found in the Description box.
Visually inspect any photographs of the device for defects and request more by using the Ask a Question feature.
Considering the cost of juke boxes, buyers should always review a Seller's History to make sure that the device will be delivered on time and as described. If a seller has a large percentage of negative feedback then the buyer should look for a different juke box listing.
Conclusion
Coin operated juke boxes make great additions to any household or establishment and offer the user a novelty way to select and play music. Juke boxes are also considered to be collector's items and many people buy these devices so they can restore them and then sell them off for a profit. Whatever the reason, be sure to research and investigate into the various brands and models available and spend some time thinking about what juke box would be best for you. There are also models available that play digital music and have iPod docking capacities.
All buyers are advised to search for juke boxes on eBay as the site has a large selection at much lower prices than those found on dealer websites and in stores and showrooms. Make sure to contact the seller if any additional information is required, and inspect any photos for signs of damage or defects.