A collapsible camping cup is the perfect utensil for taking outdoors camping, hiking or for a picnic, or keeping in the glove box of a car or in a handbag. Collapsing down to a small size, collapsible camping cups are convenient, durable, and inexpensive to buy. When looking to buy a folding cup, decide between plastic or metal cups, cup sizes, and the various collapsible camping cup brands.
Plastic Collapsible Camping Cups
Collapsible camping cups are available in plastic and metal. Plastic collapsible camping cups tend to be less expensive than metal cups. Lighter in weight, they are often less durable than metal folding cups. Some plastic cups use very rigid plastic, making them more prone to breaking, while softer types of plastic folding cups, like silicon camping cups, can be squashed and packed into a tight backpack without cracking or breaking. If cleanliness is of concern when considering a plastic collapsible cup, some cups are made from Microban plastic, which eliminates the growth of stain and odour-causing bacteria. Another thing to look for in a plastic collapsible cup is one that is BPA-free. Plastic folding cups may use either a telescopic action to open up to full height or they may use a concertina action, folding in on itself.
Metal Collapsible Camping Cups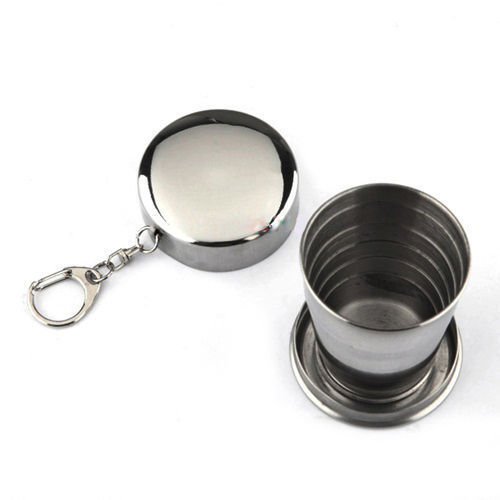 Metal collapsible camping cups tend to be more expensive than plastic cups, as they are more durable and less likely to be affected by stain or odour-causing bacteria. Most people choose stainless steel collapsible cups, but other types of metal cups are available, including aluminium and titanium cups. Titanium collapsible cups are quite expensive and are great for the keen camper who is going to get a lot of use out of the cup. Metal cups use a telescopic action to open up to full height.
Collapsible Camping Cup Sizes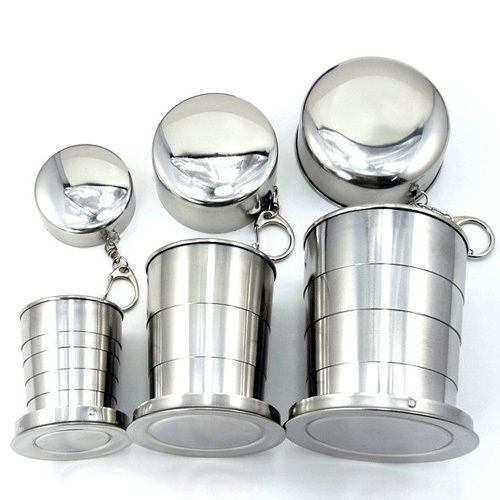 Most collapsible camping cups come in two sizes. Small cups are usually around five centimetres in height once fully extended, while large cups are usually around 10 centimetres in height, fully extended, holding anywhere between 70 millilitres up to around 150 millilitres. The majority of folding camping cups collapse down to around 1.5 centimetres. Most cups are also quite small in diameter, about five centimetres, making them very portable and easy to carry in a pack.
Popular Collapsible Camping Cup Brands
A number of top brands manufacture collapsible camping cups. Anaconda, Lewis N Clark and Sea to Summit have a good range of plastic collapsible cups, while Kingsley, Izola, and Emergency Zone are popular for their quality metal collapsible camping cups.