If you're looking for a great collectible that combines the fun of sports cards with the excitement of an intense football match, you can't top Topps Football Match Attax trading cards.



The most popular sports collectible in the world, Topps Football Match Attax feature the teams and players of the English Premier League. There are, of course, a few things to know before you get started collecting your dream team with Match Attax, like how to play, the different seasons, and the related collectibles that are available.

Match Attax Game Play
Unlike traditional sports cards that you'd just simply keep in boxes, tins and binders, you can use Match Attax cards to play an engaging football game based on players' ratings and statistics. It's popular for just this reason: you'll keep playing in the hope of getting the best squad possible and defeating other collectors.
To play, you and your opponent take turns attacking and defending. The winner of each encounter is determined by the player ratings, with the higher rating in either attack or defence winning that particular hand. At the end of the game, the goals are tallied up, and like in a real football match, the Match Attax player with the most goals wins.
Playing Match Attax is popular with fans of all age groups, but it is especially educational for young fans, as it helps to build and strengthen essential maths skills as well as encourage good sportsmanship.

Building Your Dream Team with Match Attax
Starting to build your dream team is easy, and can be done in several ways. You can purchase Match Attax cards individually, which lets you select exactly which players you want. Or, you can buy them in packs containing five or ten cards, depending on the pack type.
Match Attax Packs

Buying sealed packs can be great fun because you don't know what cards you'll get when you open them. There may be a stack of average players, or you could get lucky and score a valuable, limited edition card. Buying packs is popular because it is often an inexpensive way to potentially get a high value card without paying market value for it.

Match Attax Box

If you really enjoy buying packs instead of single cards, boxes of 50 or 100 packs (depending on the year) are available, often at a lower cost than buying a single pack at a time. While there are no guarantees that you'll find a high value card in any given pack, it's likely that you'll uncover at least one rare card in an entire box of packs.

Match Attax Binder

And finally, Match Attax collector binders are available for storing cards. Some sellers even offer them with a full or partial set of cards included.



























Match Attax Seasons
Topps releases a new set of Match Attax cards annually, meaning that there is a new game to play and a new set of ratings to work with every year. Additionally, there are new limited edition cards each year to find, collect, and add to your squad, making it harder for others to defeat you.
The most updated player information, plus new rules like team budgets, multi-player arrangements, and more keep the game fresh and exciting.
The older Match Attax cards still hold value with collectors, though, and they remain popular with both buyers and sellers. Here are some highlights of each season's set:
Match Attax '10-'11: This set contains 320 cards, including one Showboat, Manager, and Star Player card for each squad, plus 20 club badge cards and one referee card.

Match Attax '11-'12: A giant set of 425 cards, including four Hundred Clubs and 60 Man of the Match.

Match Attax '11-'12 Hundred Club: The best of the season, including Man of the Match, Limited Edition, and brand new Golden Moments cards.

March Attax '12-'13: More Hundred Club cards, plus 41 new Golden Legends cards featuring the EPL's greatest all-time stars are waiting to be unwrapped in this season. Keep a look out for the special Premier League Greatest card.

Rare, Limited Edition, and Valuable Match Attax Cards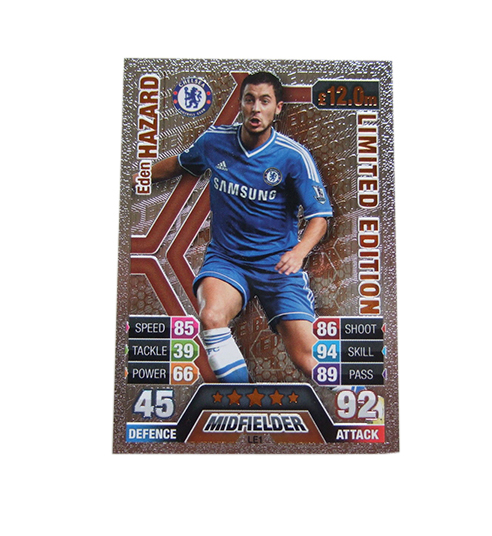 Just like all lines of collectible sports cards, Topps Football Match Attax has a number of limited edition and rare cards in each set. But unlike other card lines, these cards can help you greatly in your quest to build your dream team and beat other players.
Players on these cards are often among the best in the English Premiere League, so having them in your collection and using them in game play greatly increases your chances of winning.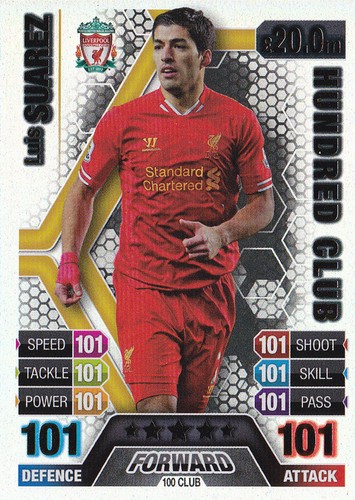 Match Attax 100 Club
You can look for 100 Club cards and other marked Limited Edition cards in unopened packs, or, if you know exactly which ones you want, you can find them for sale individually from other players. These cards often command higher prices than more common cards, so be prepared to pay £10 or more for the most desirable ones.
Topps is known around the globe as the premiere manufacturer of collectible sports cards. With Match Attax, they've elevated the collectible market by adding game play. Clearly, more than a passing fad, Topps Football Match Attax cards are an ideal pastime for kids of all ages.