Starting a stamp collection is a lot of fun, learning all about the stamps which have been issued by the countries of the world over the years. Postage stamps are miniature works of art - colourful, well-designed and superbly printed. Some of them commemorate famous people and events, others show animals and
birds
, flowers,
railways
,
ships
and aeroplanes, buildings and bridges, coats-of-arms and flags, space and sport.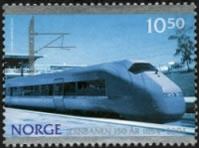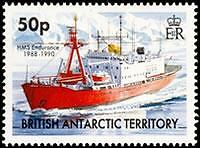 Stamps are educational and provide some of the prettiest - and most practical - ways of learning geography and history, politics and religion, and the everyday way of life in different parts of the world. Through stamps you can also learn about the postal services and a country's postal history and transport systems, the interest and significance of postmarks, and the modern craze for 'covers' (postmarked envelopes), especially 'first day covers'.
Your First Stamps

The best advice to the novice is to buy the largest packet of
whole-world stamps
you can afford, together with a medium-priced
album
and some gummed
'hinges'
to mount the stamps. This simple start will be your 'apprenticeship', and you will have the pleasure of sorting the stamps by country and arranging them in the
album
. You will be able to identify most of the stamps without hesitation: put aside any which you are doubtful about until you can trace them in the
catalogue
. To keep your interest alive, you will be seeking more and more stamps, and there are numerous sources of supply.
Your family and business friends may receive letters from abroad and may be persuaded to save the stamps for you. Even Guernsey, Jersey and the Isle of Man have their own distinctive pictorial stamps, which are well worth collecting. You can buy additional packets of stamps to augment your collection, and if you buy one of the stamp magazines you will find in newsagents, you will see among the advertisements that some dealers offer to send stamps 'on approval'. You can examine the stamps at leisure in your own home, keep those you wish to purchase and pay for them when you return the remainder.
At this stage some of your stamps will be unused, others postally used, and it is usual to collect one or the other, not both. Mixed unused and used stamps look rather a hotchpotch in the
album
, while a page of unused stamps, neatly arranged, can be very attractive. However, your preference may be for 'fine used' (ie. lightly postmarked) stamps, which you can obtain from letters, from packets of 'kiloware' or purchase from dealers.
Unused stamps usually cost more as one has to pay the face value of the stamps plus the dealer's usual commission or profit. On the other hand, some stamps - especially those from the more remote territories - are often difficult to find in postally used condition and cost more than unused ones.
You may be fortunate enough to inherit an existing stamp collection which provides a ready-made start and a foundation on which to build an even larger collection. Alternatively, a section of it - which has the most appeal - can be kept and the remainder sold off to a stamp dealer or at auction.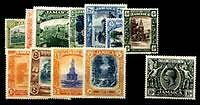 Condition is vitally important. Nothing detracts more from the value of a stamp than a crease, a tear, a stain or a heavy postmark. Damaged stamps are usually worthless and should be discarded or replaced as soon as possible.
Unused stamps should have their original gum as issued in 'mint' condition by the post office, though traces of the use of a gummed hinge are generally acceptable. The ideal postmark is light (not faint) and clear, a circular town datestamp being preferable to part of a slogan cancellation. Heavy black cancellations which obliterate the stamp's design are entirely unacceptable. Some postmarks are often more valuable than the stamps, especially if kept intact on the original cover.