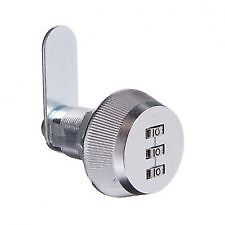 What's your preference?
We get many questions from buyers about the relative difference between traditional 'keyed' cam locks and these newer 3 digit 'combination' type cam locks.
With cam locks being so small by comparison to a standard door lock, there are no real advantages or disadvantages with the use of either type, to some degree its about personal choice and preference.
If you have to carry around a key(s) and you are prone to forgetting or losing keys then the combination cam lock can really help that aspect. Its easy to remember a three digit combination and the good thing is you can change the combination very easily and as often as you think appropriate, every day if you really wished. You can have up to 999 combination cam locks each with a different combination. We supply instructions with the combination cam lock on how to change the combination.
These locks work on 90 degree operation only, and the striaght cam bar supplied has an effective length of 35 mm, you can buy replacement cam bars from us of differing sizes, both flat and cranked,
view the listing for more information here.
If you like the idea of convenience and ease of use then this could be good answer for you. The effective lock body length is just 20mm so will replace the standard cam lock on most metal lockers.
The size of the lock body is exactly the same as a keyed cam lock, so swapping out from a keyed cam lock should be straight forward, but do check to make sure.
As with all our products if you have a technical or practical question then we would be pleased to help you out, do get in touch.
Thanks as always.