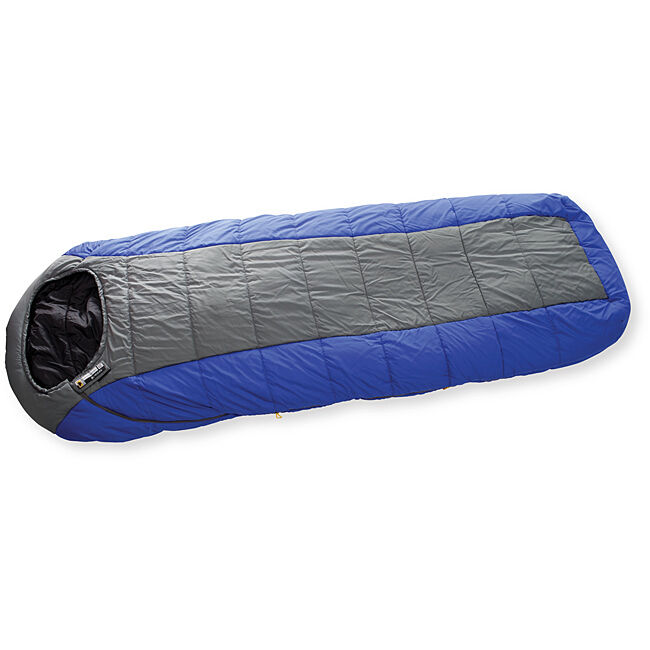 Camping is an activity enjoyed by many people during summer or winter, and in rain or shine. And it is important that their sleeping bag is not only perfectly suited to them, but also to the conditions in which they will be sleeping. With this guide, buyers will be able to identify not only types, insulation and sizes of sleeping bags, but also consider why they should buy a compact sleeping bag and how to go about buying one on eBay.
About Compact Sleeping Bags
Compact sleeping bags are specially designed to have all the benefits of a regular sleeping bag whilst still being smaller and able to be compressed down to a much smaller size. These bags typically employ all sorts of tricks to keep the user warm whilst using the minimum in bulky material, from the popular mummy bag design – trapping heat around the user's head – to the baffles that help to prevent heat from escaping cold spots.
Compact sleeping bags are a popular bag for hikers, backpackers, and others who need to carry their sleeping bags long distances due to their small packed size. In addition, they are great value for money, as well as being revered for bag's ability to insulate warmth well, considering their smaller size.
Types of Compact Sleeping Bag
There are two main types of compact sleeping bags, which have a smaller pool of designs as they are built with mainly size and compression in mind. The two main types of compact sleeping bag are:
Envelope – a traditional-looking sleeping bag, these are flat squares with a zip than typically runs from the bottom corner to the opposite top corner. Envelope sleeping bags are roomier than mummy bags, but less adept at keeping in heat and can also not be compressed quite as much.
Mummy Bag – so called because of the tight design that, when zipped up, will make the user look like a wrapped Egyptian mummy. These are the optimal design for compact sleeping bag, because of the rounded hood that traps in heat around the head, and the thin legs that prevent heat from escaping too quickly. Some users, however, find mummy sleeping bags too hot and uncomfortable.
The two main types of mummy bag come in many different sizes and colours, and with different accessories, such as baffles and drawstrings, but the basic design remains the same. The buyer should consider the type that they would prefer, which often falls down to personal preference in terms of warmth, size and space. Mummy bags are warm and compressible, but can be hot and claustrophobic, whereas envelope bags are large but not as warm.
Insulation
Insulation is an important aspect of sleeping bags to consider, as different types have their own levels of warmth, compression and expense. When looking at the kind of insulation used in the compact sleeping bag, the buyer should keep in mind that there are two main types of insulation used – down and synthetic.
Down
The down used in sleeping bag insulation is typically made from a duck or high-quality goose's small and fine under-feathers.
Advantages:
Down compresses much better than synthetic materials, meaning that even a well-filled sleeping bag can be compressed to a very small size.
Down is naturally designed to trap air as insulation, which means it is very warm relative to its lightweight.
Disadvantages:
Down can be very expensive, especially compared to synthetic insulation.
It is important that down is kept dry, as it loses effectiveness when wet.
Synthetic
Synthetic insulation is made from polyfibre, which is created to mimic the effects of natural down without the cost.
Advantages:
Synthetic insulation is far less costly than down.
These sleeping bags do not require the same amount of costly care as down sleeping bags, and they also perform better when wet.
More breathability than down insulation, which can become stifling very quickly.
Disadvantages:
Synthetic sleeping bags will be heavier than down ones, as synthetic insulation does not have as good a weight to warmth ratio.
Synthetic insulation loses heat far more quickly than down.
These sleeping bags, because of their bigger bulk, cannot be compressed down as far as compact sleeping bags.
This is one of the most important aspects to consider when buying sleeping bags, and the buyer should make sure that they consider carefully which type of down would suit them. Compact sleeping bags are designed to be as compressible and small as possible, which means that the buyer may wish to opt for a down sleeping bag, though some buyers may prefer synthetic for the lower cost and better breathability.
Weight
It may be important for people searching for compact sleeping bags to consider the weight of the bag they wish to purchase. Many buyers of compact sleeping bags purchase them because not only can they compress to a small size, but they are also lighter than regular sleeping bags – and for many lighter is better, especially if trekking or backpacking.
Compact sleeping bags are typically around or less than 1kg in weight, but the buyer should keep in mind that season and material will alter the weight – a winter or synthetic compact sleeping bag will be heavier than a summer or down one.
Size
It is of particular importance when considering compact sleeping bags to think about their size, as many people purchase these specifically because of their small size and great ability to compress down to a smaller bundle than regular sleeping bags. Compression sacks are also available if the compact sleeping bag does not already supply one. These have straps that help to compress items down to size.
When the buyer sees sleeping bags online, they will typically encounter two measurements that cover the size of the unfolded sleeping bag, as well as the packed size.
Size – when unfolded, this is especially important for buyers of all sizes to consider, as those taller buyers will need a bag that fits, whereas if a bag is too large for smaller buyers they will lose heat through the empty parts of the sleeping bag.
Packed – packed size is a large part of the advantage of compact sleeping bags, which can compress much smaller than regular bags. This measurement will cover lengthways, as well as the width, and the buyers should keep in mind that down sleeping bags will compress much further than synthetic ones.
There are also double compact sleeping bags available, and may be an advantage for couples going camping, as despite their size, they can compress down to quite a small extent. This is because the insulation is not usually quite as thick as single sleeping bags, since there will be two people generating heat rather than just one, and the insulation just has to trap the combined heat inside the bag.
Environment
It is very important for the buyer to consider where they will be camping, and in what conditions – as sleeping bags are designed to be able to cope with different temperatures or climates, and thus the buyer should ensure they buy the ideal bag for their trip.
Often when looking at sleeping bags, the buyer will see a temperature next to the name or down level of the sleeping bag. This is the comfort level of the sleeping bag, which is the optimum temperature the user will be comfortable in.
Though there is some leeway of a few degrees, any more and the user will either be too cold or stiflingly hot, so it is important they purchase a sleeping bag with a comfort level as close as possible to the usual night time temperatures of where they will be staying. Before buying a sleeping bag, the buyer should check the temperatures of the area they will be staying at – this can be easily achieved online.
Some bags may not have a comfort level number, but instead be labelled by season – for example, a winter or summer sleeping bag, or a 2 season sleeping bag. These have quite a wide comfort level, but may not be comfortable in very hot or very cold climates. However, they are ideal if the buyer is going to be using the sleeping bag in many different climates.
Conclusion
Camping is a popular sport and activity at all times of the year and in many places around the world, and having the perfect compact sleeping bag is the best way of ensuring that the user is comfortable during the night, so they can enjoy their day. With this guide, buyers will now be able to identify the perfect bag for them in terms of insulation, size and weight, and can go about purchasing their ideal sleeping bag on eBay.
When searching for compact sleeping bags on eBay, the buyer should keep in mind the added benefits of using PayPal, eBay's preferred way to purchase, with additional eBay Buyer Protection.