Spinning wool or other fibres makes it possible to knit jumpers that are almost entirely one's own creation. A beginner can start with the simplest drop spindle and prepared rovings or try hand carding some fleeces from local sheep. Wool, alpaca, and cotton are commonly spun, but the opportunities are almost limitless.
Spinning Wheels and Drop Spindles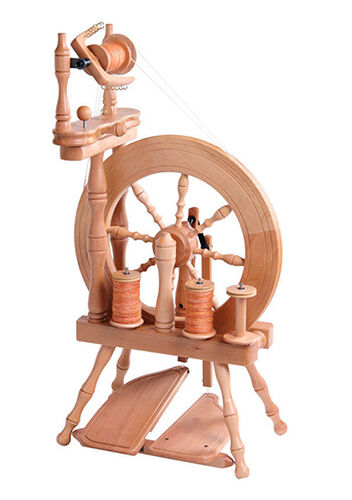 A drop spindle is the simplest and smallest spinning tool. It is an excellent first spinning tool for beginners, but many experienced spinners also prefer it because they feel they have greater control over a drop spindle than a spinning wheel. Ashford spinning wheels are examples of the familiar horizontal spinning wheel. Upright spinning wheels take less space, and electric spinning wheels are available as well. These may often be found as used spinning wheels, sometimes dating to the 19th century.
Fleeces, Fibres, and Rovings

Spinners often use woollen sheep fleece from one of many breeds raised in the UK. Sold whole after the shearing or by the gram for those who want smaller amounts of a particular kind, colour, or length, raw fleeces are unprocessed, allowing the craftsperson to start as close to the beginning of the process as possible. Rovings, like wool and silk, have already been combed, washed, and carded, which is a labour-saver for the person who wants to spin immediately. Slivers refer to untwisted rovings, while batting is flattened roving. Additionally, worsted is wool spun from untwisted fibre. In particular, hypoallergenic alpaca fleece becomes soft and silky when spin into a fibre. Other fibres for spinning include silks, recycled fabric fibres, and such plant fibres as cotton, flax, bamboo, and nettle.
Dyes
Fibre-dyed fabrics stand up better than fabrics dyed after weaving or stitching. Which you choose depends on the specific fibres. Fibre Reactive Procion dyes are alkaline and provide bright, fade-resistant colour for plant-based natural fibres. Acid dyes work best for protein-based fibres, such as wool, silk, or alpaca.
Combs and Carders
Cotton and wool are commonly carded to clean and order fibres or to blend different fibre types or colours. Carders come as pairs of hand carders or as rotating drum carders. Hand carders come in different sizes and with teeth set more or less closely. Very fine-toothed hand carders are best used with cotton and other fine fibres. Other hand carders suit more coarse or tangled fibres. Those with less upper-body strength should choose smaller carders, so that they are physically able to move the card through the amount of fibre it holds. Usually, only cleaned and washed fibre would be carded on a drum carder.