Purchasing an oil lamp, whether antique or modern, is a great idea for anyone who wants the warmth of lamp light and the beauty of a traditional oil lamp. Oil lamps and lanterns make a strong statement in traditional decor but also look great on a picnic table in the back garden. With ease of use, no need for a power socket, and beauty, oil lamps are good choices for almost any setting.
Understand the Parts of an Oil Lamp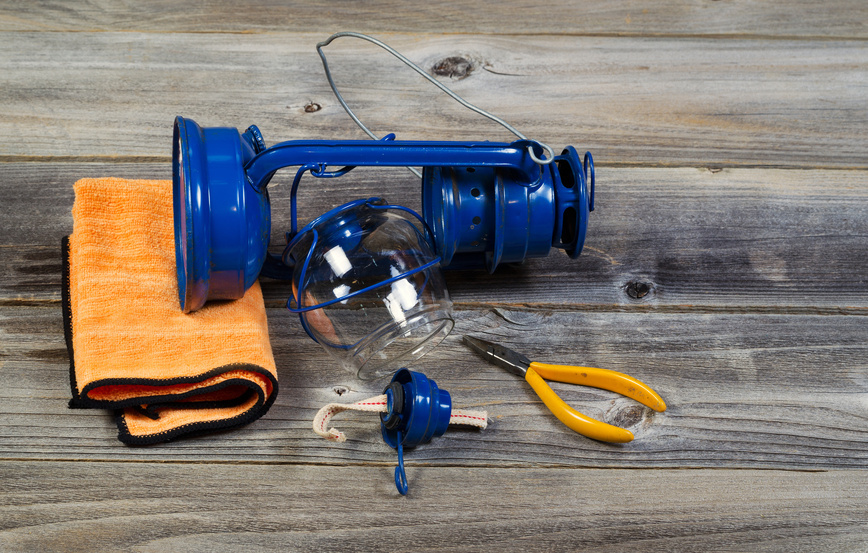 The parts of an oil lamp include the fuel chamber at the bottom and the volute, which is the coiled spiral-like area of the lamp. Oil lamps also have a wick hole and nozzle as well as a pouring hole to deliver oil to the oil chamber. Lamps also feature the shoulder, which is the rounded area of the lamp, and the base. Some oil lamps have handles, while many do not. The oil lamp shade or chimney covers the wick to prevent burns and may be opaque, coloured, such as those in rich cranberry colours, or clear glass.
Antique Oil Lamp Considerations

To win antique status, lamps must be over 100 years old. Many people collect antique oil lamps for the value, aesthetic, and beauty of old lamps. Antique oil lamps can be decorative or functional, while some are both. A functioning antique oil lamp is of more value than one which no longer works due to faulty or lost parts, leakage, or age. Not only does an antique lamp look great, it is easy to use, requiring only a bit of oil and a match to light the wick.
Vintage Oil Lamp Considerations
Oil lamps which are more than 15 to 20 years old and less than a century are considered vintage. You can find these in working or non-working condition. Often the manufacturer's name is on the lamp or there may be a bit of advertising on the body if the oil lamp was a promotional item. The highest value goes to those that still work, are seldom used, and in very good condition. Collectors prize lamps with decorative carvings, family initials or names.
Modern Oil Lamp Considerations
While you can find metal lamps, the modern trend is toward glass oil lamps where you can see the oil in the bottom. Generally these lamps do not fill through an oil hole but are instead filled from the top. Available in a myriad colours and styles, modern oil lamps fit any decor with ease and provide ambient lighting both inside and outside. Be sure to place the lamp on a pad, trivet, or placemat to protect the table.