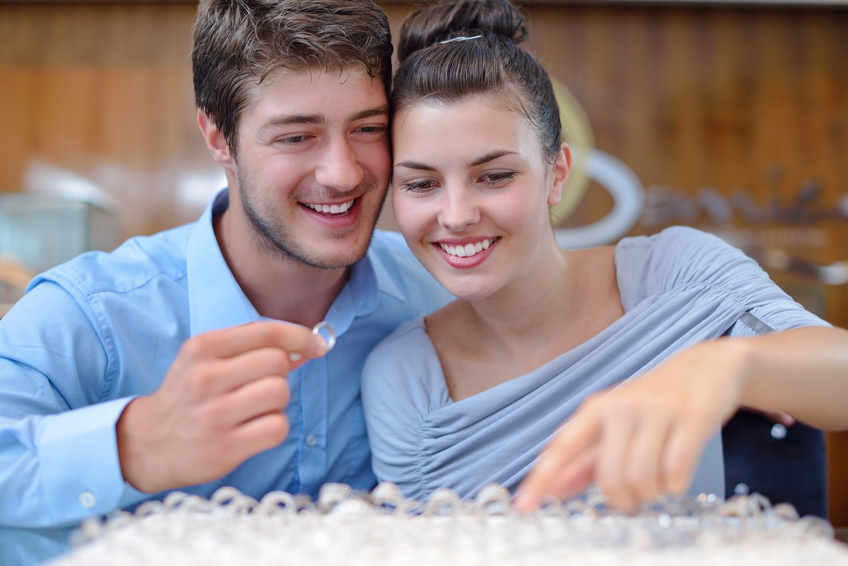 Planning a wedding is stressful enough without needing to become a jewellery extraordinar. Choose a ring that matches your engagement ring or appeals to you because of its cut or style. Don't worry about sizing if you're shopping for used wedding rings; rings are easily resized.
Choose a Wedding Ring Set that Complements Your Engagement Ring

Some women choose to have their wedding and engagement rings attached to more easily wear them at once on the same finger. When picking a wedding ring set, consider how the ring will look next to your engagement ring. In fact, if you are shopping in a traditional brick and mortar jewellery shop, try on the wedding ring to find out exactly how well it complements your other ring. A poor match does not necessarily rule out the wedding ring set; instead, you can go for a unique contrast between the two.
Pick Wedding Rings that Suit You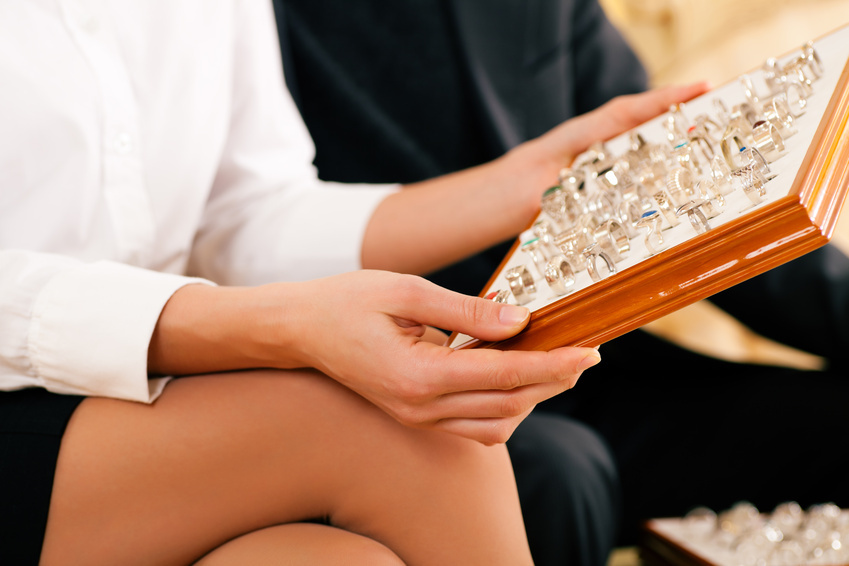 Select a wedding ring that will make you happy for decades to come. To do this, you might have to abandon the idea of purchasing a matching set. Sometimes two people have completely different tastes in jewellery, and there is nothing wrong with this. Instead, you can each pick a ring and make a set of your own. After all, a wedding ring set is simply two rings that go together; choosing two rings to spend the next half century together is the very definition of "going together".
Buy a Wedding and Engagement Ring Trio
If you're a planner, you can toss out the idea of hunting down wedding rings that match an engagement ring. Buy a wedding and engagement ring trio instead. This is a set of three rings that perfectly complement one another. It has an engagement ring for the bride and wedding rings for her and her partner. The only downside to this is if the groom also wants an engagement ring; it is rare to find a set of four rings. Ask a local jeweller what they can do. It may be possible to create an engagement ring similar to the one in the set.
Learn About Precious Metals and Stones
Buying a wedding ring set can be overwhelming, especially when it comes to choosing precious metals, and rare stones. Take a crash course by reading about diamond or other stone sizes, clarity, and cuts online. Consider the appearance and advantages of the different kinds of gold, silver, and other metals available to you. In the end, pick something that appeals to both people in the relationship. You don't have to become an expert on diamonds to know what you like, although some knowledge can help to make the decision faster.
Disregard Wedding Ring Sizes
All styles of wedding rings can be resized. The cost of resizing depends on how complex the job is, which in turn depends on the kind of ring the jeweler must resize. A simple gold wedding band is much easier to resize than an eternity ring of diamonds, for example.