A console table generally needs the support of a wall. Console tables are both functional and decorative as you can store everyday items on them and they come in so many shapes, sizes, and styles that you are sure to find one that works for your needs. Learn more about the types of console tables to find the perfect one for your space.
Choosing a Console Table Style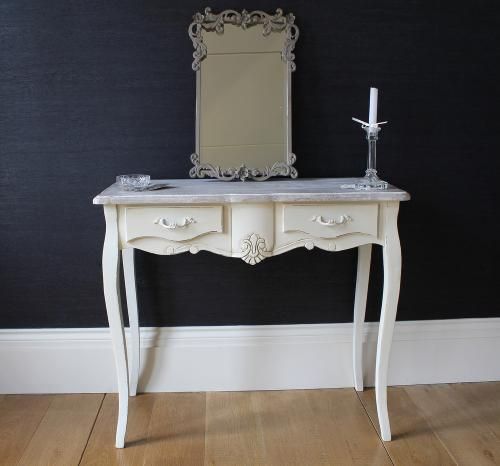 The main characteristic of a console table is its narrowness. Otherwise, it could be any shape, from round to rectangular. A few designs also incorporate mirrors. Some console tables only have one or two legs in the front and therefore require support from the wall. You must secure such tables firmly with hardware such as bolts or screws. In fact, you can make a console table yourself by cutting a table in half and attaching it to the wall. However, some styles are self-standing and they even work well behind or in front of a sofa as well. Most console tables are sturdy pieces from wood and some feature intricate carvings. If you select a wooden console table, you can find them in many types and finishes and thus the variety of designs is virtually endless. For best quality, opt for solid wood construction instead of combinations with chipboard or veneer. However, if you opt out of natural wood, you can find very colourful tables from synthetic materials. Other materials for console tables include glass and metal.
Considering Your Console Table Storage Needs
Typically, a console table has storage space for small items. Before purchasing one, consider what you need to store on it. Some console tables have drawers where you can put things out of sight, but much of the storage area is commonly visible display space. Therefore, you can display items that match the overall interior decor theme of your living room or foyer, depending on where you use the table. Try to avoid clutter. You can also put some lamps on the table for some extra lighting. In any case, choose the amount of storage space according to your needs. If you need to store lots of items there, pick a console table with drawers to store things out of sight.
Coordinating Your Console Table with Your Interior Decor

Stick to the interior decor theme in the room to convey a uniform look. A sturdy oak table looks great in a traditional home or goes with cottage style decor. However, in a modern home that incorporates many sleek lines and minimalistic style, you might consider a contemporary metal or glass table. When selecting a console table, also follow the colour scheme of the room.