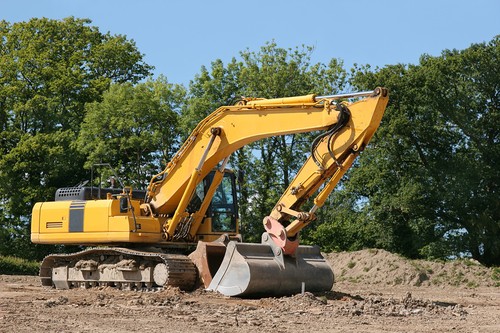 A construction digger, sometimes called an excavator, can greatly facilitate and expedite your next building project. A construction digger is is a piece of heavy construction equipment that uses a boom, stick, bucket and cab on a rotating platform to move massive amounts of earth or other material. The "house" sits on top of wheels, or treads, which move the machinery from place to place. An operator controls the construction digger using steel ropes and winches to direct the equipment.
There are a variety of ways to use construction diggers to assist with construction projects. They are often used to dig trenches, holes, and foundations. They can also be used for demolition, moving large amounts of materials, forestry work, dredging, and grading. There are numerous configurations for construction diggers. There are attachments that allow for different functions other than the traditional "buckets." Shoppers considering a building project that requires a lot of material moved would be wise to consider adding a construction digger to accelerate the process.
Parts of a Construction Digger
A construction digger is made up of two parts. The driving base and a powerful boom arm with an attachment, usually designed for digging. The driving base houses the blade, tracks, track frame, and final drives. The house includes the arm, cab, engine, counterweight, fuel, and hydraulic oil. Construction diggers typically run on hydraulic pumps to generate enough force to complete the tasks it is designed for. Often, the house is affixed to a centre pin, allowing for a full range of mobility for the boom arm. It can rotate a full three hundred and sixty degrees.
Base
The base has two sets of articulating tracks that sit below the housing. The tracks function like wheels and move the construction digger, but provide a much greater surface area for the heavy machinery to sit atop. The construction digger can dig a road for itself on previous untravelled terrain. The treads beneath function much like a tank, and are very durable and capable. The base is basically the same throughout all models of construction diggers so there is not much for prospective buyers to consider.
Arm
An operator sits in the cab and has two sets of controls. One can move the construction digger forward, backward, and the other to move it left and right, as well as operate the boom arm. These controls determine the speed and angle of the movements of the bucket and arm. The main boom of the arm attaches to the cab and can be set up differently. Most commonly is a mono boom which has no movement other than up and down. Knuckle booms, triple-articulated booms, and hinges can all add additional movement to the arm. Finally, there are a variety of attachments which can be affixed to the arm for different functionality.
Arm Attachments
Traditionally. the arm is equipped with a bucket. This bucket may be used for cleanup and levelling as well as moving large amounts of material. A general purpose bucket is going to include teeth that are more durable, and can cut through harder materials and rocks. Excavator attachments also include boring, ripping, crushing, cutting, and lifting. Also an auger, grapple, or breaker may be used in conjunction with a construction digger. These various attachments make construction diggers extremely versatile and very useful on the job site.
Types of Construction Diggers
There are a few different types of construction diggers and other pieces of related machinery often used simultaneously. Some construction digger types are compact, dragline, long reach, steam, power, and suction. All of these construction diggers have different uses and capabilities. Buyers should carefully investigate each type of construction digger to find the one that best suits their needs. The types of construction diggers are important to note and are listed out below.
| | |
| --- | --- |
| Type of Digger | Purpose |
| | A smaller construction digger suitable for residential projects. |
| Dragline | Heavy equipment used in mining and engineering |
| Long Reach | Especially long arm boom for taller buildings |
| Steam | Earliest type of construction digger, no longer in use. |
| | Heavy machinery used to break up hard material |
| Suction | Construction digger that moves material through powerful suction. |
The different types of construction diggers have different purposes. Likely, the only choice for residential purposes is the compact construction digger. The others are exclusively for industrial and commercial use.
Cost of Construction Diggers
Construction diggers are generally designed for use on construction sites and are typically extremely expensive to purchase. Smaller construction companies often rent or lease this equipment. Construction equipment rental companies may offer a good short term solution, but can quickly get expensive. Compact construction diggers are more affordable to individuals looking to do a residential building project. They can save time, money, and energy getting a lot of work done in a very short amount of time. They can also perform the job of many different types of equipment with the versatile features and attachments that are available to construction diggers.
Compact Construction Diggers
Compact construction diggers are the only choice for projects that take place in a small space or a tight area. Compact construction diggers have quiet engines, are agile, and a smaller size that makes them ideal for home renovation. They are also useful for digging, demolition, and construction projects. Digging pools, moving building materials, removing demolished material are all typical uses for compact construction diggers. There are many of the same type of arm attachments available on larger, industrial construction diggers available for compact construction diggers as well.
Another interesting feature of compact construction diggers is that they are often used in restoration and historical preservation. Their small size allows them to often fit into elevators granting them access to spaces that larger construction diggers could never get to otherwise. Some compact construction diggers even have a feature that narrows their width to make them more nimble and able to pass through gates or fit into elevators more easily. Another benefit of compact construction diggers is that they are often small enough that no special permits or licences are required.
License to Operate a Construction Digger
The only license required in the United Kingdom to operate a construction digger is a car license. However, any operator should be familiar with operating the machinery, and review any pertinent materials or safety information. There are classes available for advanced operations which is required in some professions. These are recommended for all construction digger operators to maximise safety for not only the operator, but other workers as well. Although no special license is needed to operate a construction digger, building and zoning permits may be required for any construction so buyers should check with their local laws before beginning any work.
How to Buy a Construction Digger on eBay
eBay has many construction diggers, construction digger attachments, and other useful equipment for sale. The wide variety of options and prices make it a great place to start the search for the perfect construction digger. A basic keyword search is a great place to begin. searching. Typing in words like "construction digger" or "arm attachments", produces the broadest range of results. Once these results are displayed, the shopper can organise and filter them to narrow their search to the most desirable products.
One way to filter the results is by feature. Buyers can only include the results that are the type of construction digger they want, or that have the type of arm they are seeking. In addition, the results can be sorted by price, time left at auction, or buying format. Being such a heavy piece of machinery, shoppers should inquire about shipping. Weight is an important consideration not just because of shipping, but also because the weight of the construction digger relates to it's maximum capacity. Local options should also be considered as long-distance shipping could potentially be cost-prohibitive.
Conclusion
A construction digger can be a useful piece of equipment to accelerate your next building project. Construction diggers are very versatile with an array of attachments so they can perform many different functions. Whether it be digging, laying pipes, moving material, clearing roads or trees, a construction digger can save time, money, labour, and effort. Compact construction diggers can even be used in tight spaces such as between buildings, or even inside buildings and elevators. Advanced arm configurations can further increase the machine's capability.
Construction diggers can break up concrete, facilitate landscaping work, and lift heavy materials. The track moves the entire unit and the arm performs the functions. An operator controls the entire machine and should be familiar with how to operate the equipment. No special license is required unless the construction digger is being used in an industrial application. Regardless of what type of construction digger a prospective buyer is seeking, eBay is a great place to begin a search for the ideal one. When selecting an excavator for purchase or to rent, the shopper should be sure to carefully consider the type of work that they plan to do with it.