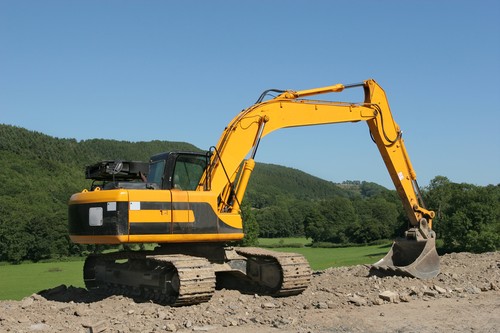 Originally designed for digging and earth moving work, modern construction diggers feature a hydraulic arm, at the end of which there is an attachment. In the case of standard digging jobs, the attachment is usually a bucket. However, there are numerous attachments that can turn any excavator into a completely different kinds of machine, to be used in a variety of jobs, from forestry to demolition.
Construction diggers can run on either continuous tracks or wheels. They come in different sizes and are classified according to their weight, the length or their arm, and the size of their bucket. Small and compact diggers are known as mini excavators, and they can be very versatile and powerful. On the other hand, extremely large diggers are commonly used in mining.
People use construction diggers in landscaping, mining, and waste handling. When purchasing a digger, it is important to be aware of all the possibilities it offers in terms of quick and simple attachment-switching, and all the functions it can perform other than digging. A multi-purpose type of equipment, a modern construction digger can offer great value for its price.
Common Uses of Construction Diggers
Primarily used in construction and engineering, excavators are often present in the digging of trenches and in demolition jobs. They are also used quite frequently in heavy lifting, mining, and pipe placement. While buckets are the most common attachment used with these machines, there are many different types of buckets, which serve not only to dig, but also to sort different materials.
Changing the bucket's size is a very simple customisation that can enable a construction digger to dig different types of holes. On the other hand, swapping the bucket for modern hydraulic attachments allows diggers to grip different types of objects, sort rubbish for recycling, and even carry out landscaping jobs.
Construction diggers sometimes feature a quick coupler, which makes the mounting of attachments very easy and fast. It is also common to utilise diggers simultaneously with bulldozers and loaders, and many of them feature a dozer blade, which helps with the levelling of surfaces after digging. Construction diggers are already quite versatile when they feature a simple bucket, but with the wide variety of attachments available on the market, the possibilities are endless.
Construction Digger Attachments
The abundance of attachments suited for a variety of tasks is the key to construction diggers' versatility. A hydraulic hammer can turn a digger into a powerful demolition machine, while an earth auger can be used to brush and sort different materials for recycling, and clay spades can allow the machine to dig into wet or sticky ground
Common Construction Digger Attachments
The many kinds of construction digger attachments can be overwhelming, but most are designed for a specific use, so choosing attachments begins with deciding which purposes the digger will be used for. Some attachments are a substitute for a digger's original bucket, while others work simultaneously with the bucket. Hydraulic attachments tend to be the most powerful and efficient, but some non-hydraulic devices feature ingenious mechanisms that can add a wide array of functions to any type of construction digger.
| Attachment | Uses and Features |
| --- | --- |
| Ripper teeth | Used for digging into very hard or rocky soil, where ripping is required prior to proper digging; made of heavy duty steel variations, this type of attachments often feature a CAT type tip |
| Clay spades | Ideal for digging narrow trenches into clay or wet ground; may or may not feature teeth; designed to prevent material clogging |
| Tilting ditchers | Type of bucket that allows for tilting over 40 degrees in both directions; enables machines to do more work without repositioning; used in finishing grading, shaping, ditch cleaning, drainage, groundworks, landscaping, and golf course construction and maintenance |
| Land clearance rakes | Usually the size of any digger's largest bucket; made of extremely durable materials, such as Hardox; different gaps between tines, depending on type of job, large gaps suit tree-root, large debris, and rock removal, while smaller gaps can work for sorting small stones from soil; other uses: break up hard, compacted soil surfaces. |
| Grapple | Used for materials that require grabbing rather than digging; usually feature a moving and a static half and require no hydraulic rams to function |
| Boxed tine grapple | Tines are fabricated as box sections; suitable for heavy duty work, such as primary demolition, quarries, and sea defence projects; some parts are easily replaceable, as they can suffer heavy wear |
| Solid tine grapple | Lighter and more affordable than boxed tine grapples; suitable for secondary demolition and general debris handling and sorting |
| Grip talon | Added to the regular bucket as an alternative to solid tine grapples; designed for lighter jobs; thumb type of mechanism, grips material against the bucket; allows for gripping different size objects without impeding normal digging functions; used in demolition, forestry, recycling, skip hire, and waste handling |
| Mechanical pulverisers | Used in demolition and recycling for processing concrete and stone; best suited for machines between 10 and 65 tonnes; smaller machines can work better with hydraulic crushers. |
| Hydraulic crushers | Efficient and controlled crushing of walls, foundations, encased beams, and railings; can adapt to any size diggers; may feature full hydraulic, free or fixed rotation |
| Hydraulic hammers/breakers | Powerful percussion hammer used in demolition work, some can work underwater |
| Augers | Drilling device; great digging power, even on hard soil, may feature tipped teeth to penetrate fracturable rock; can drill up to 10 metres deep or more using extensions; machines must be equipped with auxiliary hydraulic circuits |
| Trenchers | Suitable for mini diggers up to 10 tonnes; can quickly cut narrow trenches into varied soil conditions, including wet ground |
| Hedge cutters | Powerful and precise hedge trimmers requiring little maintenance; ideal for mini excavators |
| Block grabs | A great substitute for the former manual handling of blocks, kerbs, and slabs, in compliance with current HSE regulations |
| Broom | A wide brush with several rows of durable bristles, available in different sizes; used as scrapers for mud and dirt in paving, landscaping, and waste handling |
| Post punchers | Used with mini excavators to drive posts into place instead of digging beforehand |
| Mulchers | Ideal for land reclamation and deforestation; can process materials of variable diameters; suitable for mulching both standing and fallen trees and shrubs; used in storm water drainage, right-of-way construction, and forestry |
Some attachments are reserved for a specific type or size of construction digger, while others are more adaptable. Attachments designed for heavy duty work, such as primary demolition, often feature easily replaceable parts in the areas more subject to wear and tear.
How to Buy a Construction Digger on eBay
eBay offers a wide variety of construction diggers and attachments. In order to search for this kind of products on the site, you should begin by entering a few comprehensive keywords, for example, "construction diggers". This type of search can commonly yield results that include listings of both diggers and attachments; therefore, in order to limit your search to either one of them, you can input a few additional keywords relating to digger or attachment type. For example, you can search for compact excavators or hydraulic breakers. It is also useful to select the condition you are looking for, if you prefer to restrict your search to new, used or refurbished items.
The main determining factor to consider when looking for construction diggers is the type of job they are going to be performing, as not all diggers perform as well on different types of soils and under different conditions. Additionally, when looking for a construction digger to pair with a certain type of attachment, it is also essential to check that the two items are compatible.
When you have found a suitable digger or attachment at an affordable price, it is always recommended to take a look at the sellers' reputation. It is also a good idea to ask them some questions, in order to learn a bit more about them and their product. Moreover, when purchasing used construction diggers, advice from someone who has operated this type of machine before can be invaluable. Finally, you must not forget to consider shipping costs when comparing prices. In some cases it may be possible to pick up the construction digger locally.
Conclusions
Construction diggers can perform a wide variety of engineering, construction, and forestry jobs. Common diggers, which usually feature a bucket, can also be fitted with different mechanic and hydraulic attachments, which offer numerous possibilities. Switching attachments can, in fact, turn a digger into a powerful demolition machine or a tree removal device.
Some of these attachments can be extremely sophisticated, for example, drilling augers, grapples, and hydraulic hammers. Certain attachments allow construction diggers to deal with rocky ground, while others enable them to dig into muddy and wet soil. Not all attachments can fit any given digger model, with tonnage and hydraulic capabilities being among the main compatibility factors.
Construction diggers are powerful machines. They are also extremely versatile and can perform many different jobs, from simple landscaping to mining. With the aid of specific attachments, they can handle heavy duty tasks, such as concrete pulverisation and digging into rocky soil.