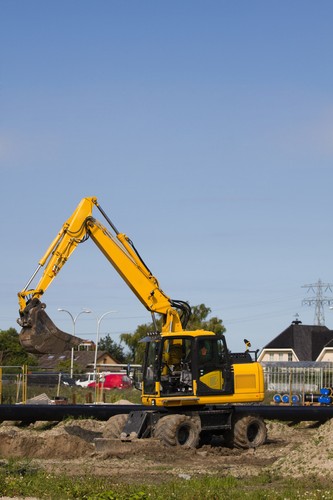 Most construction projects, especially large-scale undertakings, begin with land excavation. During this initial phase of construction, excavation contractors use heavy equipment to carve away or fill in the existing land to make way for new buildings, roadways, and sewers. Before the rise of motorised construction machinery, earthmoving was a truly backbreaking process. With help from hydraulic excavators, it is now much easier to shape the land according to the needs of the project.
Driven by a skilled equipment operator, a hydraulic excavator aids the site supervisor in meeting construction deadlines. While their specific capabilities vary depending on size and available attachments, all excavators work in a similar fashion. Though they are most commonly seen working on large construction projects, models in the mini class are designed to handle smaller jobs. New and used excavators are available from dealers who specialise in heavy equipment, as well as directly from the manufacturer. They are also sold through many Internet retailers and online marketplaces like eBay.
Introduction to Construction Excavators
For those who are unfamiliar with construction machinery, a standard excavator can be thought of as a giant hydraulic hoe. However, compared to other examples of heavy industrial machinery used for construction, hydraulic excavators are actually quite versatile. On the jobsite, excavators go by a number of nicknames: trackhoe, mechanical shovel, digger, crawler, and 360 machine, to list a few. In the U.K., wheeled excavators are called "rubber ducks", because they are frequently painted yellow and tend to bob about while operating. Unlike their predecessors, the cable excavators, the newest breed of self-propelled construction excavator is powered hydraulically. Popular manufacturers of construction excavators include:
Bobcat

Construction Excavator Basics

Available in a range of sizes, excavators can be either wheeled or tracked, but in general, most models look physically similar. Their base structure consists of a control cab sitting atop an undercarriage. The moveable boom, arm (often called the stick), and bucket extend out from the cab, where the manual controls are housed. In spite of their colossal size, excavators are highly mobile, especially so because the cab attaches to the undercarriage on a centre pin. This design feature enables excavators to have a convenient 360-degree turning radius, making them useful for a variety of light and heavy industrial tasks.

Most often, construction excavators are employed for bulk movement of soil, rocks, and debris, or for specialised earthworks jobs like trench digging. Additionally, optional boom accessories allow these heavy-duty machines to be useful on a wide variety of projects.

Size Options

When considering which size excavator to purchase or hire, it makes sense for contractors to look at the size of the job they plan to take on. Excavator size is measured according to operating weight. Heavier machines offer more speed and strength compared to lighter models. While excavator classifications vary by manufacturer, several broad size categories exist.

Compact models are often referred to as mini excavators. These relatively wee construction machines lack the power of bigger excavators, but they can squeeze into tight spots where large machines can not fit. This is the preferred excavator size for do-it-yourself home projects, as well as for those who only need a small machine on the job site. Next are the mid-range excavators, which are the size routinely seen on construction sites. Large excavators are the most powerful of all, making them perfect for extreme jobs like strip-mining and sewer projects.

Boom and Bucket Configurations

When comparing various excavator models, it is important to look at the configuration of the boom and stick, along with the functionality of the attached bucket. The majority of excavators feature a mono boom that only moves up and down. In contrast, a knuckle boom also moves left and right. Highly articulated booms with the ability to move independently of the cab are more common on compact excavator models.

Excavators with a triple-articulated boom have an extra joint, allowing the bucket to work more closely to the undercarriage. Buckets are also available in several formats, including general purpose, severe duty, sorting, and pavement removal varieties. Excavators outfitted with a quick coupler rapidly adapt to changing job site needs. This stick modification allows speedy access to a wide variety of specialty attachments that increase an excavator's functionality and level of performance. These include:

Rakes
Augers
Hammers
Rippers
Mulchers

Construction Excavator Usage Considerations

Most frequently used for comprehensive earthworks projects, construction excavators are designed to move heavy bucketfuls of material with ease. As the operator manoeuvres the controls, the stick and bucket extend outward, catching dirt and debris as they pull back in toward the base. When considering how and where an excavator can be used effectively, it is crucial for site contractors to think about functional aspects such as machine size, boom length, and bucket capacity. Along with driver skills, these factors dictate the cycle time, an important determinant of an excavator's potential productivity.

How Size and Format Affect Productivity

To meet production requirements, construction excavators must be capable of moving a set amount of material every hour. The operating weight and machine configuration play the lead roles in determining which tasks an excavator can handle successfully. Ideally, an appropriately sized excavator is paired with an experienced operator who understands all the tricks of the trade. The key to boosting excavator productivity is decreasing cycle time, which is an industry term referring to how quickly the machine completes a single task. For instance, for a standard construction excavator, the cycle time measures how fast the machine picks up and dumps a bucket load. Along with operator skills, factors such as the length of the boom, the size of the bucket, and the maximum lifting power influence the cycle time.

Bucket Fill Factors

When considering the capabilities of a particular construction excavator, one must also take the unique environmental dynamics of the job into account. When calculating how many cycles are needed to complete the task at hand, the composition of material to be moved influences the fill factor, which refers to the percentage of the bucket that can be filled with a particular material, as outlined below.

| | | | | | | | |
| --- | --- | --- | --- | --- | --- | --- | --- |
| Material | Moist Loam | Sandy Clay | Sand | Gravel | Properly Blasted Rock | Poorly Blasted Rock | Hard Clay |
| Fill Factor (%) | 100 - 110 | 100 - 110 | 95 - 110 | 95 - 110 | 60 - 75 | 40 - 50 | 80 - 90 |

In essence, the previous chart highlights the fact that, due to varying material shapes, the bucket is not always filled to maximum capacity. While easy to overlook, bucket fill factor is an important detail to consider when estimating how much time or which type of equipment is needed for the job in question.

How to Buy Construction Excavators on eBay

If you are shopping for a new, used, or refurbished construction excavator, or if you require compatible parts and accessories for your current machine, eBay is here to help. Using eBay's unique search platform, you can either browse a number of options or quickly find the exact items you need. To get started, choose keywords that are relevant to the product you are interesting in finding. For instance, the word "excavators" is an effective way to initiate a broad search, whilst a combination like "new John Deere excavators" is a bit more specific. After inputting your chosen keywords into the eBay search box, your results appear in a highly customisable list format. Use the available search refinements to narrow down the results by brand, condition, price, or other important factors. Sort the matching listings according to distance from your home or office if you want to see the excavator in person. Whether the seller is far off or right around the corner, make a point to check his or her Feedback profile before proceeding with your eBay purchase.

Remember to Research Seller Reliability

After exploring an item listing page on eBay, click on the Feedback score located next to the seller's user ID. This brings you to his or her Feedback profile, a page that features helpful detailed seller ratings and written reviews from past customers. To find reliable sellers fast, look for listings from members with the top-rated status badge.

Conclusion

Rather than using human or horse power to move earth, as was the norm before motorised construction equipment, excavators make it possible to move thousands of kilogrammes of soil, rock, and debris while seated comfortably in an air-conditioned control house. Excavation projects require machines capable of removing or placing materials according to detailed construction plans. With an experienced operator at the helm of an appropriately sized excavator, site contractors are able to make building, roadway, and sewage plans come to life, even when large mountains of materials must be moved.

Available in several sizes, the goal is to choose a construction excavator suited to the requirements of the job. To decide which size machine to use for a project, excavation supervisors focus on achieving an optimum cycle time for the task at hand. In conjunction with the controller's skill level, the operating weight, hydraulic power, boom length, and bucket configuration help determine the speed at which a particular excavator can complete the necessary movements. Shop the eBay product listings today to find plenty of construction excavators, along with compatible stick attachments and replacement parts.