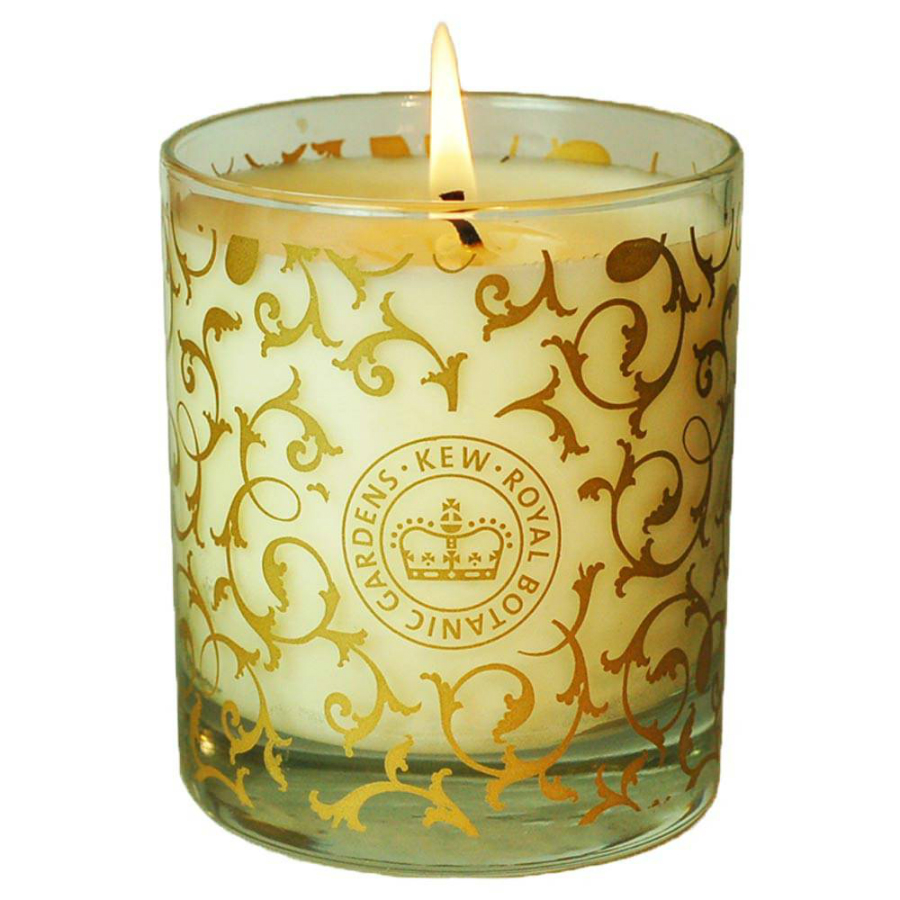 Candle makers have been pouring wax into containers for as long as candles have been in existence. Almost any container that is inflammable can be used for a candle. While the majority of candle containers are quite small, they can be as large as the preferences dictate. Small to medium container candles have a particular appeal and are often used as gifts. Most container candles today are also scented, and containers with lids not only look attractive, but often hold in the scent when the candle is not in use. An attractive candle can range from simple to ornate. Online shops, brick and mortar stores and eBay have container candles, and supplies to suit any taste. Container candles are considered the easiest of candles to make, although some very complex ones can be found.
Types of Containers for Candles
The most commonly used containers for candles are tins, glasses, and glass jars. Tins and jars come with or without lids. Ceramic and terracotta pots are less common but still readily available on eBay. Glass allows the candle colour to be seen clearly while tins and ceramic pots allow for additional decorations. Many people like to collect container candles and reuse the containers to produce more candles or use them for a different purpose when the candle has finished.
Types of Wax Used in Container Candles
While moulded candles are often limited to paraffin or beeswax, container candles are capable of holding softer type waxes. Soy (or soya) wax is often used in container candles. The appeal of soy is that it is a natural vegetable based wax that is non-toxic, holds a scent well, and burns cleanly and evenly. Gel, or jelly, candles are made from a wax made from mineral oil and polymer. They have the advantage of being transparent so embedded objects can be clearly seen. Glass is the usual container for gel wax candles. While there has been concern from some people over the safety of paraffin wax, it is considered perfectly safe to use and has the advantage of staying solid and holding a consistent colour.
Glass Container Candles
Clear glass shows off the colour of a candle, while decorated glass can add beauty or festivity to a candle. Glass container candles may be scented or plain and made with a variety of waxes. Glass jars are reusable.
| | |
| --- | --- |
| Plain transparent small glasses with votive candles. Scented or unscented. No lid. | Usually with paraffin wax votives, but may be made with soy. The votive candles are removable making them easy to replace with a colour of choice. Often sold in sets of the same or complementary colours. Suitable for small spaces or individual dinner placements. Emphasis is on the colour of the candle. |
| Frosted small glasses with scented or unscented candles. No lid | Frosting gives a more diffused light. |
| Transparent gel candles | These candles come in a number of shapes and sizes. The appeal is usually in the objects embedded in the gel. Suitable as gifts, decorations, or any number of occasions, rooms, and decors. |
| Small glasses with textured decoration. Coloured or clear glass. No lid. | The decoration on the glass is often as important as the candle itself. Suitable for any occasion, although some glasses may be specifically designed for Christmas, Halloween, or other specific occasions. |
| Small glasses with printed patterns or pictures. No lid. | Available in a range of sizes and patterns. Novelty designs or special occasion themes are available. |
| Small glass candles with personalised print. | Some sellers offer the opportunity to print a personalised message on the glass shape and size of choice. Useful for weddings, anniversaries or personalised gifts. |
| Large glass candles in a variety of colours. Scented or unscented. | Tall glasses, or vases, are often used. They may be a single colour, but frequently use layered colours of wax. These layers are usually used for purely aesthetic purposes, but some candles such as Chakra candles have a functional or spiritual meaning. |
| Clear lidded jar candles. Usually scented. Available in a variety of sizes. | Useful for gifts or collecting. Appeal is often in the colour and scent of the candle. Co-ordinating colours and a variety of sizes can make an interesting display in any room. |
Tin Container Candles
Tin containers make interesting holders for scented or unscented candles. As with glass containers, they are reusable. Tins usually come with lids and have the advantage of being unbreakable.
| | |
| --- | --- |
| Plain tin candles | Often available in bulk. May be labelled with the scent and colour of candle. Paraffin or soy wax usually used. |
| Labelled tins. | Usually labelled with the candle maker's name and scent and colour of candle. These candles can offer interesting combinations of colour and scent blends. Paraffin or soya wax usually used. |
| Printed festive tin candles. Varied sizes. | Christmas, Halloween, and Birthday tins are all available in a number of depicted scenes. Soy, paraffin, and beeswax scented or unscented are all used. |
| Vintage printed tins with candles. | Depending on the tin and size, these can vary greatly in price. Suitable for dedicated collectors. |
| Decorated tins with candles. | Often decorated with ribbons, specialty papers, or flowers. Usually scented with the decoration matching or complementing the candle colour and scent. |
Ceramic, Terracotta, or Metal Container Candles
Fine porcelain or rustic terracotta pots with or without lids make interesting containers for candles. Soy or paraffin wax candles are the most common choice of candle for these attractive containers.
| | |
| --- | --- |
| Ceramic container candles. | Often unique small containers with scented soy candles. Browsing eBay listings can uncover unusual gems, or bulk items suitable for gifts or the home. |
| Plain terracotta pot candles. | May use beeswax, for a natural effect. Soy and paraffin candles are also available. Smaller pots are normally used for container candles, but larger ones can be found. Sometimes a citronella scented wax is used in larger terracotta pots for outdoor use. |
| Painted terracotta pot candles. | Combining the craft of candle making with art. |
| Embellished pot candles. Scented or unscented. | Usually with a terracotta pot base. Some are decorated with natural materials such as bamboo leaves which are suited to a number of settings and those who are concerned about the environment. Others may be decorated with shells, gems, ribbons, or other materials. |
| Metal pot container candles. With or without lids. | Usually unique containers, sometimes antique. Unlike tin containers, these are often made of silver or copper. They may be plain or ornately decorated. |
Accessories for Making Container Candles
Having purchased a container candle, it is often realised that the container can be reused. Candle making supplies can be found on eBay or online shops. Tins, glasses, and jars of all kinds can be found to fill with scented wax. Instructions for candle making with soy, paraffin, beeswax, or gel can be accessed online or in purchased kits. Candle making is not particularly difficult, but requires a little time. Creative people find satisfaction in making homemade candles for the home or as gifts for others. Container candles are a good starting point.
| | |
| --- | --- |
| Soy candle making kits | Come with soya wax and instructions. Sometimes containers are also supplied. |
| Soy wax | Available in various sized packs |
| Paraffin wax | Available in various sized packs |
| Gel wax and kits | Available in various sized packs |
| Wicks | These are available in various sized packs and sizes to suit any container. |
| Scents | For paraffin and soy candles any scent is usable. Choose from inexpensive scents to pure essential oils. Gel candles may require special scents. |
| Glasses | Available from shot size (suitable for votive candles) to large clear, frosted, or decorated. Usually cheaper when purchased in bulk. |
| Tins | Tins suitable for candles are readily available. Bulk buying allows for individual decorating and labelling. These tins come in a variety of shapes and sizes. Vintage tins can also be found and then filled with wax and wicks. |
| Ceramic pots | Sometimes found in bulk in candle making section of eBay or the ceramics section. |
Finding Container Candles on eBay
All types of container candles are readily found on eBay. Checking an auction carefully gives information on shipping and offers an opportunity to ask questions. This can be particularly valuable when considering bulk buying. For a general search, go to the main site and click on Home & Garden and then on the All Categories link. In the new window, select Candles & Tea Lights under the Home Decor category. On the left hand side of the screen, there are various search criteria to choose from. Under Type, check the box for Jar/Container Candle. This will display all container candles currently on offer on eBay.
Conclusion
Container candles, no matter how small, add ambience, elegance, or fun to any environment. Purchased in bulk, they can be ideal for weddings, birthdays, and other festive occasions. Starting a container candle collection can be a rewarding experience. Focusing on scent, colour, or decoration these candles open the door to creating a pleasing atmosphere for any room in the home. When selecting on eBay, purchasers should check for discounts and good shipping deals.