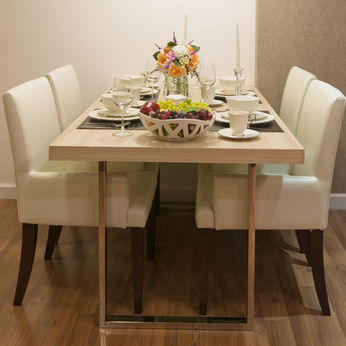 Contemporary dining room sets are similar in style to modern furniture, incorporating clean lines. This furniture is known for its simplicity and smooth texture, often containing a lack of decorative elements or carving. Contemporary style tends to steer clear of chair pads and table cloths. Instead, sharp edges and angles accompanied by asymmetrical lines help to draw attention to the dining room set. Contemporary dining room sets typically include a dining room table and matching chairs. The dining room tables are often designed using large quantities of material such as chrome, metal, and glass. Many combine materials such as wood and glass, or a metal base and legs with a glass table top. They come in various sizes in order to accommodate the buyer's living space. Some may feature an extra insert, allowing the table to extend when there are guests or a dinner party. Chairs are made to match the table bases to complete the contemporary look.
Neutral colours are usually used in contemporary decor and may be paired with a strong accent colour. When purchasing a contemporary dining room set at retailers such as eBay, buyers should consider the various types of material that go into the furniture's construction, and the shape and height of the table. Buyers should also understand the importance of measuring the dining area before purchasing furniture, and learn how to decorate the table and the surrounding space.
Materials for Contemporary Dining Room Sets
Contemporary dining room sets can be found in various materials, each one offering a unique set of benefits. Deciding which one best suits a buyer's requirements often depends on the amount of available space in a room along with personal taste. Contemporary dining room sets are thought to be on the cutting edge of design, meaning that in a few years, they could become outdated. As such, buyers should consider price when searching for furniture.
Glass Contemporary Dining Room Sets
A glass dining room table can improve the attractiveness and cleanliness of a home instantly. Glass tables create the illusion of more space, ideal for those living in small or confined spaces. Glass is easier to clean than many of its counterparts and is more sophisticated in appearance. These tables are lightweight, making them easy to transport. Glass is less susceptible to acquiring permanent water rings than wooden table tops. Buyers should pay special attention to how well the glass sits on the base. The glass should not slide. Glass dining room tables tend to be less expensive than more traditional types. Their style also seems to better suit more environments and spaces. Glass tables can be paired with a wide range of decor: when paired with metal chairs and stands, glass dining room sets have a great contemporary style. High quality glass dining tables are heavy duty and thick, making them prone to chips and cracks.
Metal Contemporary Dining Room Sets
Metal is a less commonly used for dining room tables. However, its material can make a more dramatic statement. Metals are rarely used alone. Most are often used in conjunction with glass or wood. Metal is durable and heavy. Buyers should examine the dining room table for any sharp edges.
Wood Contemporary Dining Room Sets
Although wood is less commonly used in contemporary dining room sets, dark coloured wood, such as black, chocolate, and espresso, is a great way to bring a more modern feel to the room. A dark dining room table can create an appealing contrast to the room's other furniture pieces. Many darkened wood tables are paired with leather chairs to complete the contemporary look.
Shape of Contemporary Dining Room Tables
When searching for a contemporary dining room set, buyers should consider a square or rectangular table with definitive lines. A square table promotes easy conversation flow, while a rectangular table better accommodates a growing number of guests. Buyers should avoid round tables as they tend to have a more traditional look.
Contemporary Dining Room Table Height
Although standard height tables are most common, many contemporary dining room sets often include a counter or bar height table and chairs. Buyers should consider the features and benefits of each before making a purchase.
Standard Height Contemporary Dining Room Table
Standard height tables generally measure 28 to 30 inches high. These tables are available in a wide array of styles, designs, and finishes. The height is often better suited to larger, rectangular tables.
Counter Height Contemporary Dining Room Table
Counter height tables, also known as bistro or gathering tables, generally measure 34 to 36 inches high. This table height offers additional food preparation space and allows those seated to converse with those standing easily. This height is ideal for smaller spaces and offers a more casual feel to a room's space.
Bar Height Contemporary Dining Room Table
Bar height tables generally measure 40 to 42 inches high. These tables are the ideal serving height and do not require guests to bend down in order to obtain a seated position.
Measuring the Dining Area
Buyers should consider the size of the dining area when searching for a set of furniture. They should remember that the size of the dining room can place limitations on the size of table that can fit into the enclosed space. As such, it is important to measure the dining room before buying the furniture. The size of the table determines the number of guests that can be seated comfortably. For an accurate calculation of how many people can sit at a particular sized table, buyers can refer to the chart below.
| Number of People | Table Dimensions (cm) |
| --- | --- |
| 4 | 71 to 101 (square) |
| 4 to 6 | 71 x 117 to 102 x 147 |
| 6 to 8 | 91 x 152 to 122 x 183 |
| 8 to 10 | 91 x 203 to 122 x 233.7 |
| 10 to 12 | 91 x 244 to 122 to 274 |
| 14 to 16 | 91 x 3115 to 122 x 320 |
Buyers need to bear in mind that in addition to the table, they also need space to walk around and pull out the chairs. A square table feels right in a smaller room and is ideal for three to four people, while a rectangular table can better balance out a larger room and comfortably seat more people. It is best to leave at least 48 inches between the edge of a table and the wall or closest piece of furniture.
Dining room sets are often sold according to their number of "pieces". Each component counts as a piece. Three piece sets means that the dining room set includes two chairs and a table, while a five piece set includes four chairs and a table.
Decorating the Surrounding Space for a Contemporary Dining Room Set
Contemporary dining room sets include minimal decor. Instead, they are generally complemented by other lines in the room. If searching for a square table, buyers should consider a square chandelier to hang above the table. Matching shapes help to promote balance.
How to Buy a Contemporary Dining Room Set on eBay
To find a contemporary dining room set on eBay enter a phrase into the search bar on any page, for example, "glass dining room set". When browsing the results, pay close attention to the description of the item that you are interested in buying. By carefully reading the full listing and looking at the pictures, you will have a better idea of the condition of the item. By getting to know the seller, you can feel more confident about purchasing from him or her.
Understand Item Condition
Although you will be attracted to a listing by the pictures of the item, always read the detailed item information before making a purchase. Sellers must use standard terminology to describe the condition of their items and each listing includes a brief definition of the item's condition in the item specifics section.
Research the Seller
By analysing detailed seller ratings and reading reviews from past customers, you can decide if you are comfortable purchasing from a particular seller. For a quick way to find the best sellers on eBay, look for those who have been awarded Top-rated seller status.
Conclusion
Contemporary dining room sets are characterised by their use of clean lines and their subtle sense of sophistication. This furniture lacks detail: buyers should remember that as far as contemporary design is concerned, less is more. Contemporary furniture includes chrome accents and the liberal use of glass. This can help to open up small spaces visually. For the buyer, choosing the right contemporary dining room set is very important. The right table shape and height must be found to suit their requirements. Additionally, buyers need to choose the right size of table in order to accommodate the family. Those who host frequent dinner parties may invest in a larger table. The table must be relative in size to that of the living space. An oversized table can leave people feeling cramped, while a small table leaves the room looking disproportionate. eBay offers buyers a wide array of contemporary dining room sets to meet any budget.