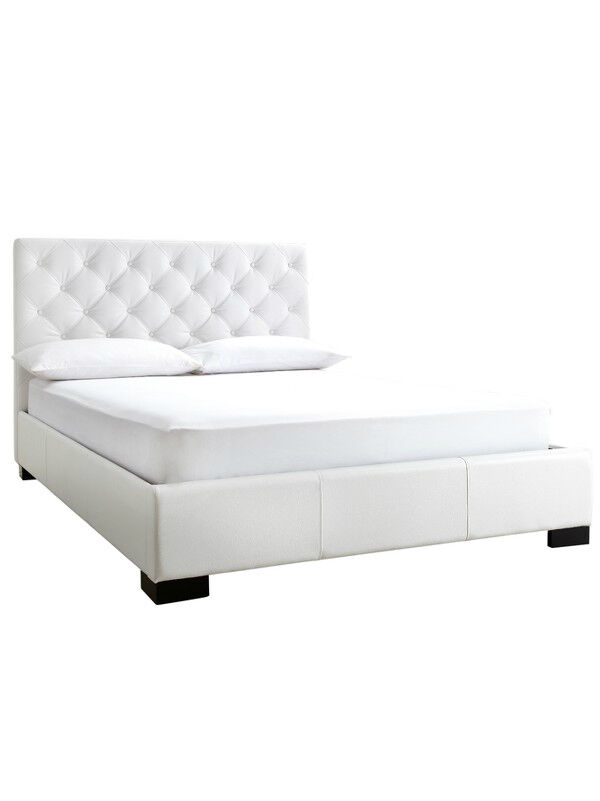 For those wanting to furnish their bedrooms in the clean lines of modern and contemporary styles, finding the right headboard is sometimes a challenge. Others, perhaps wanting to maximise the space in a small bedroom, may be attracted to the way a simply cut contemporary headboard seems to make a space feel larger.
Whatever the case, individuals should consider the different options available to them in contemporary headboards before making a final purchasing decision. Contemporary headboards are available in a wealth of different materials and styles which greatly impact the appearance of bedrooms.
No matter what style of headboards buyers decide to settle on, they may want to consider shopping online for headboards rather than venture to more traditional retail stores. These stores often have relatively limited selections compared to online vendors, and often mark up their items considerable. Websites such as eBay allow buyers to view an impressive selection of headboards while also offering competitive prices.
Styles of Contemporary Headboards
Buyers should consider each of the elements which comprise a contemporary headboard individually before deciding on the perfect headboard for a bedroom. The style of a headboard is influenced by its shape, stain or colour, as well as the material from which it is fashioned. Contemporary headboards come in many different shapes and styles, which can each invoke a different "feel". Some common contemporary headboard shapes include bookcase, geometric, and woven.
Bookcase Headboards
Some contemporary headboards feature attached or built-in shelving, which resemble a small bookcase attached to the headboard. Different styles of these headboards feature the shelves inset over the head of the bed, or they place them to the side of the bed. Bookcase headboards help some individuals keep organised, maximising the space which a headboard takes up in a bedroom by also making it functional for storage.
Geometric Headboards
Geometric headboards are simply those which feature a strong geometric design. Rectangles and squares are the most popular, though other shapes also found. Mission style headboards are a good example, as they feature a long rectangular shape accented by narrow vertical slats. Shaker style headboards are another, and are typically very simply designed featuring rectangular shapes.
Woven Headboards
Woven headboards are unique in that they employ either fibre, wood, or plastics to form a lattice pattern. This pattern helps add visual interest to otherwise potentially bland pieces of furniture, and the woven look pairs well with other textures and patterns used in bedrooms.
Contemporary Headboard Materials
Contemporary headboards are found in a wide range of materials, both natural and synthetic. Metal, fabric, wood, and acrylic are the materials most often seen in headboard construction, though other materials are also sometimes be used.
Metal Contemporary Headboards
Metal contemporary headboards are typically comprised of bent and shaped metal tubing or rods. Metal contemporary headboards featuring tubing, rather than rods, are generally lighter and more inexpensive. These types of headboards are ideal for those wanting a fairly minimal, unobtrusive contemporary headboard option.
Upholstered Contemporary Headboards
Many contemporary headboards are upholstered; often in patterns or fabrics to match other upholstered furniture pieces such as armchairs, loveseats, or sofas. Upholstered headboards are relatively inexpensive compared with other varieties, and they sometimes employ fabrics such as leather, suede, cotton, velvet, or silks.
Wooden Contemporary Headboards
Many contemporary headboards are constructed with wood, because it is readily available, easily shaped, and inexpensive for manufacturers. Wooden headboards have also long been the industry standard, and the subtle pattern found in wood grain greatly accentuate the simplicity of the contemporary shapes and styles used in headboard manufacturing.
Wooden headboards are found in woods like pine, beech, mahogany, walnut, and oak. Heavier woods, such as walnut, mahogany, and oak, are generally more difficult to attach to bed frames. They are also likely to be more expensive. On the other hand, softer woods such as pine and beech generally ding far easier, and may not last owners nearly as long as hardwood options.
Acrylic Contemporary Headboards
Acrylic headboards are super smooth and generally feature a high gloss, giving the surface a smooth, slick appearance. Acrylic headboards are generally fairly thin and lightweight, and are laser cut to feature graphically striking designs and patterns. Acrylic headboards are relatively difficult to find, and they range on the higher end of expense compared to other contemporary headboard options.
Contemporary Headboard Stains and Colours
Shoppers should consider the stain or colour of a contemporary headboard and how well it meshes with the palette and existing decor of the intended rooms. Stain is employed on wooden headboards to colour the lumber while still preserving the appearance of the wood grain, while other wooden headboards, and those made of other materials, are often simply painted or lacquered.
Pale Colours and Stains
Pale colours and stains are best employed in small rooms, as dark headboards may make an already small space seem even smaller. Pale colours are also ideal to use when headboards exhibits a fine, detailed pattern, which a darker stain might obscure. For example, such as the wood grain in wooden headboards or the fabric on upholstered headboards.
Dark Colours and Stains
Dark colours and stains are used on headboards to obscure flaws or defects in the surface of the material, and provide a heavy, stately appearance to the piece. Dark colours are also ideal to help a piece seem proportional to large or sparsely filled spaces.
Warm Colours
Warm colours are best employed in headboards when the palette of the rest of the surrounding space also uses warm colours. Warm colours comprise the range of yellows, reds, and oranges, and warm neutrals, such as browns and creams. Rich reds, creams, and browns complement each other well.
Cool Colours
Headboards in cool colours complement a neutral-heavy space well, as well as those which feature different cool shades. Cool colours are comprised of blues, greens, and purples. One good way to achieve excellent contrast in a bedroom using a headboard, is to purchase it in the same colour as the dominant colour in the room, but only several shades darker.
Neutral Colours
Many headboards are offered in neutral colours such as whites, greys, and blacks. These timeless colours easily match a room decorated in almost any colour palette. These colours are ideal for those prone to frequently changing the decor or style of their bedrooms.
Contemporary Headboard Sizes
Contemporary headboards are generally sold in one of five sizes: twin, full, queen, king, and California king. Twin is the smallest size and California king is the largest size. Though beds themselves increase in both length, height, and width for each increase in size, headboards typically increase only in width. Refer to the chart below for a quick guide to the different headboard widths and their corresponding bed size. Sizes are measured in centimetres.
| | | | | | |
| --- | --- | --- | --- | --- | --- |
| Headboard Size | Twin | Full | Queen | King | California King |
| Size Width | 150 cm | 166 cm | 182 cm | 198 cm | 214 cm |
Some bed frames sometimes require headboards slightly larger or smaller than these average sizes. Whenever possible, individuals should measure the size of the frames they intend to use with headboards before making a headboard purchase. This ensures that the headboards which they purchase are the best fit possible.
Finding a Contemporary Headboard on eBay
Finding a contemporary headboard on eBay is easy, even if buyers have had no prior experience with eBay. To begin, find the search bar located on the eBay homepage and each of eBay's internal pages. After clicking on the search bar, enter in those terms which describe your ideal contemporary headboard. Some good examples are "contemporary leather headboard", "contemporary beige headboard", and "contemporary storage headboard". After pressing enter, shoppers should be rewarded with a list of those items which match their search specifications. Making the initial search fairly general is often recommended, as search results can then be refined. Options include sorting items by cost, colour, size, and material.
Those looking to purchase an item via eBay should consider purchasing from local sellers who may allow buyers to pick up the furniture from their location, thereby saving considerably on shipping costs. Buyers may also refine their results to list those options closest to their proximity first.
Conclusion
Contemporary headboards employ clean, simple lines, which help small spaces feel bigger than they are and dress up otherwise plain rooms. They are also uncomplicated, meaning they interfere less with other elements in rooms meant to draw the spaces together. In some cases, they even prove to be cheaper than other, more traditional styles of headboards.
Individuals should purchase a contemporary headboard with a few considerations in mind such as the colour or stain of the headboard, how well it will complement other bedroom furniture or bedding, the style of the headboard, and the materials used in its construction.
Shoppers looking to purchase headboards may want to consider the benefits of shopping online via auction websites such as eBay. Not only does online shopping yield an improved selection of headboards compared to brick and mortar stores, but the shoppers may be able to find the perfect piece for far cheaper.