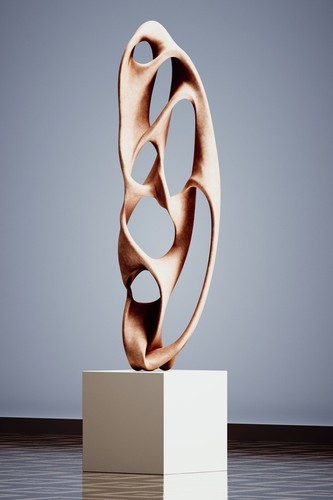 Sculptures are a wonderful way to decorate any home, office or garden in an interesting and engaging way. With a huge variety of sizes, designs, materials and prices, looking for the ideal sculpture can seem to be impossible. However, the selection of a quality sculpture can certainly add value to a house, garden, or party environment.
However with this guide and its advice of materials, sculptors, sizes and designs; the buyer will be able to search for, locate and identify the sculpture that is perfect for them – and get it at the best price thanks to eBay, the site with the most competitive pricing of any market.
Range of Contemporary Sculptures
Before looking for the ideal sculpture, the buyer should establish what they want from their sculpture, and consider several factors to guide their search. From materials to price to size, there are several things that must be thought about before the buyer even clicks onto the eBay search page.
Size – from small tabletop items to large installations spanning the length of a wall, there are sculptures available to suit every size desired. This is also an important part of deciding the price, as larger items will naturally cost more.
Design – sculptures come in any form on eBay, and if a particular style is desired this can be done through the search bar, or just by scrolling through the photographs provided with listings.
Materials – with a variety of materials available to sculptors, choosing a material will narrow down the search results to exactly what is desired.
Creator – deciding whether the buyer would prefer an artist-created sculpture or a factory-made manufactured item is also essential – individually-made artist sculptures will likely be more highly detailed, but factory-made items will be more affordable.
Price – fixing on a budget will narrow down search results to the price the buyer has decided, and make searching results far easier. Price is affected by size, materials and creator as well as shipping costs (naturally higher for larger items).
Contemporary Sculpture Materials
In this modern age there are a huge amount of materials for artists to call on for use in sculpture, from traditional stone and wood to modern plastic and resin creations. With the various properties of different materials, deciding on the technique and medium preferred is the first way to guide the search for sculptures on eBay.
Stone - one of the classic sculpture and statue materials, stone can be used for anything from large sculptures to small and intricately carved figurines.
Advantages: Understated and classical, 'stone' sculptures can come in anything from marble to lapis lazuli, so a huge range of colours are available.
Disadvantages: Stone sculptures tend to be very heavy and extremely labour-intensive so costs due to shipping and work involved tend to be much higher.
Wood – another classic material, wooden sculptures are made in many sizes and have a natural effect with lovely wood graining from their natural materials.
Advantages: Wooden sculptures are less costly than some other materials due to less expensive materials, and are frequently used for small sculptures and figurines.
Disadvantages: They can become damaged quite easily, particularly during shipping. Wooden sculptures also do not weather well so they should not be placed outside.
Metal – from bronze to tin, steel to aluminium many metals are used in contemporary sculptures and each have their own properties and visual effect.
Advantages: Highly versatile, metal can be used from anything to heavy statuettes to large wall installations.
Disadvantages: Metal sculptures can become costly depending on the materials used and weight.
Plastic – whether made of resin, Lucite, or plastic moulds, this is a very versatile material that is open to experimentation.
Advantages: Less expensive than most other materials, plastic resins can also be used blended with other materials to create an effect without a huge price tag.
Disadvantages: Some items – Lucite in particular – can be very heavy, and prone to easily mark and scratch.
When choosing a material of sculpture on eBay, buyers should consider the various factors around their choice of sculpture. Costs will vary from material, weight and the work required during the manufacturing process.
If buying items from abroad, customers should be aware of the different regulations surrounding materials, in particular metal and plastic. For example, the levels of copper ore required to be allowed to call the finished metal 'bronze' can vary from 90% to 60% depending on country, and plastics in some countries may have materials another country deems unsafe or may be of lower quality than expected.
When looking at items from abroad it is always a good idea to check the regulations of that country surrounding the desired sculpture, so the buyer will know and understand what is in the item they are purchasing.
Contemporary Sculptors
eBay is a great market for up-and-coming sculptors and experienced hands alike. The marketplace offers sculptures at highly competitive prices and with the great range it is a great place for buyers to support artists and their work. When buying the work of an individual sculptor, the buyer should know that:
Owning the work of an individual or well-known sculptor is as important as the buyer wants it to be, and other routes may be preferable to the buyer.
The work of an independent sculptor will be more expensive than a mass-produced sculpture, due to the labour intensive process needed to produce a single item.
If a piece is advertised with an artist's name attached, it is a good idea to double-check against online lists of sculpture or on the artist's website to make sure it is not a reproduction.
Sculptors will often attach a number or name to particular editions or items of their work, and it is easy to check eBay listings against internet databases or the website of the artist.
Caring for Contemporary Sculptures
With all the different materials available, caring for sculptures and ensuring that they last is an important part of buying and owning them. Some materials cope with certain conditions better than others, and the buyer should:
Check the finish of the item – if the item is coated with a lacquer or other hard finish they may be able to be left outside where unfinished items shouldn't be.
Check composite materials – in particular with metal and plastic resin sculptures, other materials mixed in might make caring for them easier or harder. Sculptures containing iron or copper must be treated to prevent rust or greening, and that is the same with resin-metal ore mix sculptures.
Keep out of direct sunlight – this is applicable to all materials, as sunlight may fade colours and dyes, and with metal sculptures heat may build up and deform the item.
Garden sculptures – they will often be advertised as 'garden sculptures' on eBay, but the buyer should check if there is a treatment or care required before placing the sculpture outside.
Buying Contemporary Sculptures on eBay
When buying contemporary sculptures of any material the buyer should remember to consider:
Cost – as previously stated, costs will vary from material to material, along with sculptor or producer and weight and size will also affect the added shipping costs. Search results can be guided by adjusting the price in the search options, and there are many items available for the both Auction and Buy It Now.
Material – considering materials, their bonuses and drawbacks is the best way to fix on an ideal item, and typing the desired material in the search bar will provide a tailored result.
Size – though size is often indicated for larger items in photographs and descriptions, if unsure or wishing to check buyers should ask the seller to provide measurements.
Artist – if a piece is advertised as the work of a particular artist, the buyer should make sure.
Local Sellers – looking for local sellers is an ideal way to keep costs down, particularly with larger items. Local sellers-only can be chosen in the search options.
If in need of more advice on searching eBay, the buyer should look at the Search Tips page which provides guidance on widening or narrowing searches, search options, shortcuts and much more. And if the buyer is unsure about any listings on eBay, they should make sure to Ask the Seller any questions they may have about the item.
Conclusion
Contemporary sculptures are a great way to give a table, windowsill or blank wall an interesting and attractive makeover, but with the huge range of materials, artists, shapes and sizes of sculpture on eBay finding the perfect piece can be a complicated affair.
With the help of this guide buyers should be able to identify the perfect material, price range, sculptor and seller for them, and with the competitive prices and buying options available on eBay the perfect sculpture can be theirs at the click of a button. This should hopefully ensure that the sculpture adds value to your property or occasion.
When looking at sculptures, buyers should keep in mind the added benefits of paying using PayPal, eBay's preferred way to shop, with security bonuses and included eBay Buyer Protection.