Creating that all important corporate image
You can create a great impression and develop a more professional corporate or business image with quality workwear or uniform customised with your logo or business name. This could typically consist of a range of customised garments suitable for your staff, whether office based, customer facing or in technical roles.
Garments chosen for this purpose include fleeces, sweat and polo shirts, formal shirts, trousers, caps, jackets, aprons and personal protective equipment such as high visibility clothing.
Providing corporate branded clothing is popular with both staff and customers alike, it fosters a greater sense of commitment and is seen as smart and professional. It is an inexpensive means of marketing your business or brand. Some businesses like to provide customers with promotional clothing or offer such clothing as part of an employee incentive scheme. Items in this category would most commonly include a waterproof sports or sailing jacket.
Another advantage of purchasing corporate wear in this way is in limiting cost. Providing this employee benefit can be tax efficient and the unit cost of any item should be less than the price that you would have to pay at high street retail outlets for similar quality items.
The choice of workwear is incredible. Your supplier should be able to assist you to make the best choice, but you should be aware that each manufacturer invaraibly makes a range of different qualities, weights and designs of similar garments, particulaly Polo shirts, T shirts and Fleeces. Ensure that you compare like with like when evaluating options.
Some suppliers will be able to provide a completely managed option including holding stocks of your items on your behalf and dispatching using online ordering, if this would be an advantage.
When choosing your corporate logo or text that you wish to have embroidered, again there are various options. Embroidery will last for the life of your garment, printing is less likely to do so, but this is dependent on the technical process used. You should be able to provide a digital version of your image from other artwork which can be converted into 'stitches' for the embroidery machines to read. Most firms will be able to digitise an image from a reasonable quality print, although most will charge for this service. This charge, if applied, will make small orders more expensive from some suppliers.
You may also wish to consider having your web address embroidered onto your garments, having this as a seperate embroidery on the rear of the item is becoming more popular. Some suppliers will cahrge an additional fee for this service, so you will need to check whether this is the case and whether there is an additional fee for large letters, multiple colours and so on. This is applied by some suppliers due to the added complexity of the design which then requires additional designer, computer and greater machine time which clearly increases costs. Many logos can take 20 or more minutes each to embroider, some running to more than 20,000 stitches!
A number of companies provide a service to meet these requirements. If you are considering investing in corporate workwear it may be helpful to use the checklist below to make an informed choice. We would suggest that you should consider:
Does the provider charge a design, digitising or other set up fee?
Does the provider have a minimum order number or minimum charge?
Can all my garments be supplied by the same company?
Are there additional charges for colours, logos or embroidery on the back of garments?
What is the total price you will pay per garment inclusive of the above?
What qualities of garment are on offer from different ranges and manufacturers for you to consider?
How long will it take for your order to be made?
Can you speak to the embroiderer / designer - are they in the UK?
How will your order be delivered - will it be tracked?
What payment options are available?
Just Sew custom embroidery offers a range of over 1100 products from corporate workwear to school uniform. Just Sew charges no set up fee, operates no minimum order or hidden charges. Polo shirts with your company name are available for as little as £6.99. Please visit our ebay store for more details (link below). Just Sew aims to provide the best customer experience in the marketplace.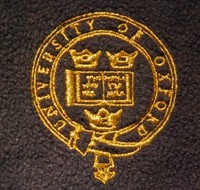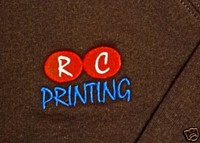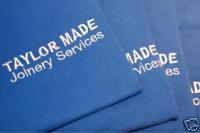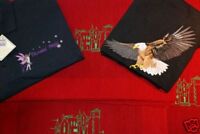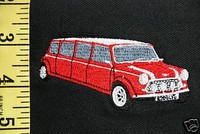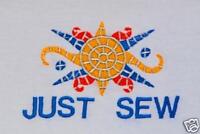 Just Sew is a family business and is based in West Calder near Edinburgh. Just Sew Custom Embroidery eBay Shop