I found this out the hard way, I had always thought there was only 3 types of interior handles fitted to the Corsa C - black, aluminium and chrome, well now I know there are 4 standard types of interior door handle fitted to Corsa C's, the standard black plastic, grey (quite a cheap looking painted by Vauxhall finish), brushed aluminium and chrome.
I have included pictures (sorry about the quality due to ebays' compression).
These upgraded handles were fitted to SRI, SXI, Design, Elegance and Active models, SXI's and Active models usually had the brushed aluminium handles or the grey ones, while Elegance and Design usually had the chrome type, but some Design models did have brushed aluminium type handles.
Put simply the two types of silver handles are a different colour and texture, the brushed aluminium being smooth and the painted being textured like the standard black handles.
Silver painted one is one the left and the brushed aluminium is on the right.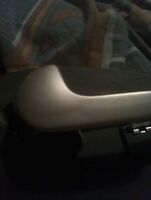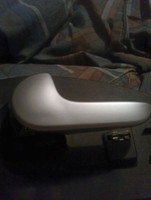 I hope this guide helps you purchase the correct handles. Its a shame that some Vauxhall breakers can't tell the difference.