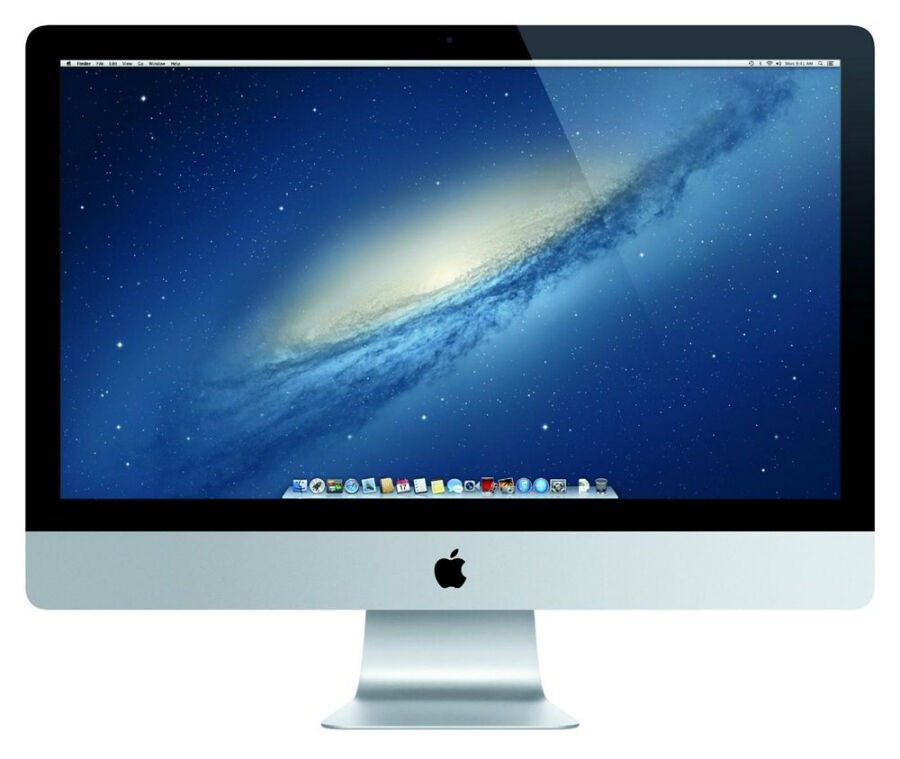 In the beginning of the computer age, it took a whole room of machines to perform a simple task. Over the years, everything has been steadily getting smaller, first desktop computers, then laptops, then iPhones and iPads; all along, Apple has managed to remain on the industry's cutting edge. However, there is one thing that is still getting bigger, namely desktop screens.
Since people started watching films on their computers, large desktop screens with a high HD resolution have become very popular. The bulky desktop computers of the past are now also being substituted by the new all-in-ones in which the processor and drives have been incorporated into the display's casing, so that the only external device required is a keyboard with a trackpad. The wireless trend has also made people favour Bluetooth keyboards, so that the only wiring required in this type of system is a power cord.
Apple computers have a long useful life. Stories abound about Mac laptops that were even run over by a car and continued to function. Therefore, even when Apple is only marketing a few desktop models that are not all-in-ones, there are many great second-hand desktop Mac computers available on the online market. While all-in-ones are more sleek and stylish, older desktops are sometimes just as efficient, for only a fraction of the price.
Apple All-in-Ones
As at Spring 2013, Apple UK currently carries two all-in-one iMac models, as well as three other desktop options. The all-in-ones are notably differentiated by, and named after, their display sizes; they are called the 21.5-inch and the 27-inch iMac. In addition to these, the online market offers older models, which are physically slightly bulkier, as the tendency has been to find a way to fit the whole computer system into the thinnest possible display casing. Some popular models in this category are the iMac Aluminium from 2007 and the iMac Aluminium Unibody launched in 2009, which are both available in 20-inch and 24-inch versions.
There is no question about the fact that having the computer's hardware lodged behind the display has many advantages. On the one hand, this uses up less space on a desk and looks much nicer than the old multi-piece desktops. On the other hand, Apple has not only been making all-in-ones more appealing and thinner; each new model brings with it more power, security, speed, and a variety of added functionalities to keep up with technological developments and shifting user needs.
Main Features of Current Apple All-In-Ones
The below chart focuses on the main differences between the two current models of the iMac all-in-one. The rest of the iMac's standard features, such as number of USB ports, Magic mouse, and built-in HD camera are identical for both models.
| 27-inch iMac | 21.5-inch iMac |
| --- | --- |
| Up to 3.4GHz quad-core Intel Core i7 processor | Up to 3.1GHz quad-core Intel Core i7 processor |
| 2560 x 1440 pixel display resolution | 1920 x 1080 pixels display resolution |
| 1TB or 3TB 7200-rpm hard drive; 1TB or 3TB Fusion Drive; or 768 GB flash storage | 1TB 5400-rpm hard drive or 1TB Fusion Drive |
| Up to 32 GB memory | Up to 16 GB memory |
| NVIDIA GeForce GTX 660 M, GTX 675 MX or GTX 680 MX graphics processor | NVIDIA GeForce GT 640 M or 650 M graphics processor |
For private users who are not editing HD movies or doing some other highly demanding digital work, the main difference between the two models is the size of the display. Aside from that, one salient advantage of the 27-inch is its flexibility, as it offers more options for upgrades and customisation.
Apple All-In-Ones in the Online Market
As mentioned above, Apple does build things that are made to last. A second-hand Mac computer tends to be a more cost-effective purchase than the majority of common PCs. Apple all-in-ones are not cheap, but they can offer great value for one's money in the long term.
In terms of price range, the latest 27-inch iMac costs £1,499, but this model can be found on eBay for as low as £770. On the other hand, the official pricing for the latest 21.5-inch iMac is £1,099, but it is possible to find eBay listings for it at slightly lower prices.
As for older and used all-in-ones, online bidding can start at as low as £70 and less for 2011 models, and it is possible to purchase a 2011 21.5-inch iMac for as low as £350. Some of the used iMacs available online come complete with Apple Care, which covers virtually any possible malfunction not connected to misuse or physical damage caused by the user. A refurbished 21.5-inch of the latest generation can be purchased for about 70 per cent of the price of a brand new item.
Apple Desktops
Apple currently carries three non-all-in-one desktops, namely, the compact Mac mini, the Mac Pro single processor, and the Mac Pro dual processor. While the Mac mini's main advantage is its small size, the desktop Mac Pros are top of the line in terms of data-handling capacity and speed. While the 27-inch iMac offers a Quad Core Intel Core i5 or i7 processor, the Mac Pro dual is powered by two 6-Core Intel Xeon processors that offer just about as much capacity as any computer readily available on the market can have today. In this respect, the latest desktop Mac Pro dual surpasses both the latest versions of the MacBook Pro and the 27-inch iMac.
While the new Mac Pro dual 6-core, also marketed as 12-core, costs £3,099, a used Mac Pro 2.0 Intel Xeon Quad Core can be purchased for about £500 or less. On the other hand, online prices for a brand new Mac mini server can start at as low as £100, while the official price listed by Apple for this item is £499.
Apple desktops are also extremely flexible, which means that finding a Quad Core Mac Pro tower in excellent condition can open up great possibilities for anyone wishing to take the machine to the next level. A used model combined with a few upgrades can sometimes match up to the latest models marketed by Apple. Moreover, customising a computer for the use one intends to put it to, can save a lot of time and effort.
How to Buy an Apple Desktop or All-In-One on eBay
The first step to finding Apple desktops or all-in-one computers on eBay is a good search. To obtain a comprehensive list of results, you should type "Apple desktops and all-in-ones&" in the search bar. After that, you can narrow down your search by selecting model, condition, processor type, display size, and other characteristics.
If you already know exactly what you want but it is not specified in one of the listed options, you can simply type it into the search bar; this can yield even more refined search results. As some of these items can be scarce, if you cannot find exactly what you need, you can also save your search on your personal My eBay section to receive an alert as soon as an item becomes available.
Buying an Apple computer from a non-authorised seller requires taking some precautions. It is always advisable to do a bit of research about the seller; check the seller's eBay track record, and ask some question to get to know them and their product. Once you have found an item that suits your needs at the right price, you must always take into account shipping costs and return policies. Fortunately, eBay's system offers a variety of ways to assess seller reliability, which is a key aspect of any electronics' purchase.
Conclusion
Apple is one of the most established manufacturers in the computer business. Apple desktops and all-in-ones combine great design with top-notch performance. As new models are coming out each year and the quality of the machines ensures a long useful life, the second-hand market for this type of hardware is extremely active.
The latest Apple all-in-ones and desktops are among the most expensive computers in the consumer market, but they also offer great value in a variety of ways; for example, they are built to last, and they are less vulnerable to viruses and malware than PCs. Fortunately, the speed at which Apple puts out new and more powerful models also means that people are selling last year's model in great condition all the time, in order to purchase the latest version of their preferred Mac.
The sleek and modern iMacs of today are much more expensive than the 2011 models, but they are not very different in terms of functionality when one considers what an average computer user might do with them. A film editor may require the latest Mac Pro dual desktop, but an average person, who uses spreadsheets, handles videos and photos for entertainment, watches movies, and writes documents and emails, can hardly see the difference between a Pro desktop and a simple MacBook laptop. Moreover, expert users may also profit from the opportunity of buying an affordable used unit online and customising it to fit their needs.