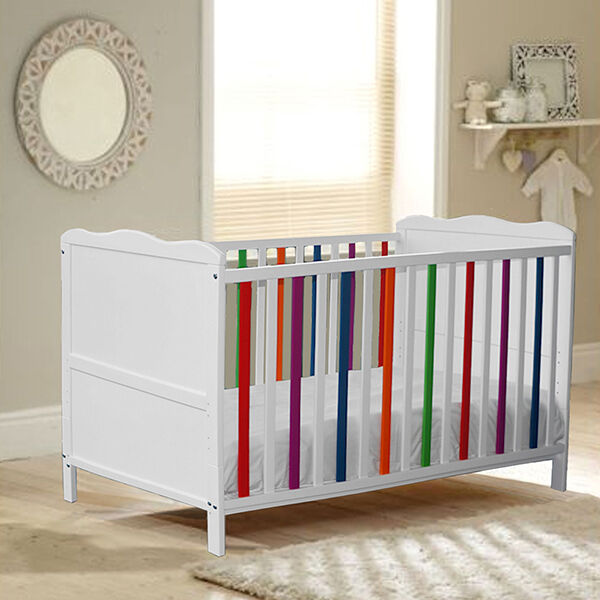 Cots are baby beds which come in a variety of styles, colours, and materials. For young babies and infants, cots make a cosy bed as well as a good solution to sleeping while travelling since there are many types of portable cots available that fold up easily for storage while travelling and are lightweight as well. Selecting a cot depends on several variables, including budget, brand name, style, and portability. Cot mattresses generally must be purchased separately, as well as the bedding for the cot.
The utmost priority for most parents when searching for a cot is safety. When looking for the right cot, buyers need to make sure it conforms to safety standards for current cots. It is also important that it has slats which are less than 5 centimetres apart and meets BSEN716 standards, which means the cot has been inspected and passed safety standards in the UK. Cots which do not meet this standard should not be purchased. Slats that are too far apart can be dangerous, and cots that are not deep enough sometimes allow growing babies to crawl out and get hurt. Choose a cot based on safety, style, and price from the many options available on eBay.
Types of Cots
There are a couple of basic types of cots: a cot made out of wood which is a more permanent addition to a child's room, and a traveling/portable style cot which can be folded and taken along on a trip for a baby to sleep when parents are traveling.
Wooden cots come in many styles with a variety of different features, colours, and shapes. Wooden cots need separate mattresses and bedding, while portable cots do not need anything additional to be used; typically the mattresses are built in unless the buyers want to purchase additional or thicker mattresses.
Wooden Cots
Wooden cots come in several colours and styles. Some styles include storage and convertible cots. Wooden cots can be purchased in light wood shades, dark wood, and even be painted black or white. Different styles of wooden cots are available, such as sleigh style cots, cots with decorative embellishments, and cots that swing or look like cribs.
Cots vary in price according to brand, style, and what type of wood they are made of. Some well-known brands of wooden cots are Ikea and Mamas & Papas. Drop-side cots make it easy to get babies in and out of deep cots, making that a necessary feature that most parents enjoy when looking for the right cot.
Storage Cots
A wooden storage cot often has a trundle drawer underneath which can be pulled out for additional storage space for baby clothes or other items. This is a convenience if there is not much space in the baby's room. A storage cot may cost a bit more, but it may negate the cost of having to buy an additional dresser or other furniture to store clothes or nappies.
The drawer may be attached to the cot or it may be a separate pull-out drawer which fits underneath the cot. Another option if storage is needed, is to purchase a cot that has an attached dresser or changing table with storage underneath. These are an all-in-one option which is a space saver in a baby's bedroom.
Convertible Cots
A convertible cot is a good money-saving option. Once the baby has outgrown the cot, it can be converted to a toddler bed for a kid over the age of 3 to use. This negates having to buy an additional bed as the child grows. Convertible wooden cots also come in many different styles and some convert to daybeds while others convert to small toddler beds.
Convertible cots use the same mattress in either form, so the buyers do not have to worry about purchasing a second mattress once the bed is converted for an older child. Some of these beds also have storage underneath. Tutti Bambini makes a large selection of these cots which are high quality. A variety of styles such as sleigh beds are available as well as various colours of wood ranging from white to dark wood.
Portable/Travel Cots
A convenient type of cot for parents who enjoy travelling with their little one is a portable travel cot. A portable cot is lightweight and foldable. Many portable cots also double as playpens. A portable cot has a soft, padded bottom for baby to sleep on, and most accommodate a baby up to 15 kilogrammes.
Travel cots offer many types of features depending on what the buyers are looking for, such as shades or mosquito nets, toy bars, snack platforms, storage cases/carry bags, diaper changing pads or platforms, and padded edges and sides. Travel cots come in a wide variety of colours, patterns, and brands, with some of the most popular ones made by Graco and Mothercare.
Cot Supplies
For parents purchasing a cot, the cot is not all that is needed. Most cots do not come with mattresses, so separate mattresses must be purchased along with bedding for the cots.
Cot Mattresses
For wooden cots, separate mattresses are needed. Cot mattresses vary according to the materials and features they offer, and some are made of foam or wool, while others include coils and springs. Parents may want to consider hypoallergenic mattresses for sensitive little ones. Mattresses for baby cots need to be 25HC compliant, which means they meet all of the safety standards for UK cot mattresses and have passed inspections.
Quilted mattresses may be softer and more comfortable, and some mattresses offer zip-up, waterproof covers for easy cleanup of messes. When searching for the right cot mattress, buyers need to make sure that it fits the chosen cot properly, and that it is breathable and of high quality. It is best to choose a safe, proper mattress and spend a bit more because the mattress may be used for several years, especially if the child is to transition to a convertible bed. For parents who wish to buy a mattress for a travel cot, that style is generally thinner but should follow the same regulations for safety.
Cot Bedding
Studies show that too much bedding in a cot may contribute to Sudden Infant Death Syndrome (SIDS), so it is best to keep cot bedding simply and without a lot of plush or heavy quilts or blankets. Cot sheets which are fitted and flat are recommended, as are light blankets that the baby does not get caught in. A young baby does not need additional pillows and is content sleeping on the mattress alone.
Some parents may feel safer with crib bumpers, which are optional pads that tie to the crib rails so the baby does not bump his or her head on the cot. Once the baby transitions to a toddler cot, he or she is old enough to have thicker blankets, pillows, and bedding.
How to Buy a Cot on eBay
Find the right cot for you and your baby on eBay for a much more affordable price than shopping retail. Clicking through eBay's easy-to-use search engine is a breeze and you will find cots in no time. Search through the types of cots, brands, or styles to find what you are looking for, and if you are looking for something specific such as a sleigh style cot or travel cot, you can do a more customised search by keying in those options. Once you have made a selection of a few cots you are looking at, it is time to comparison shop. Look at the prices, the styles, and the condition the cots are in. Consider the features of the cots. If you are buying a used cot, make sure it is in good shape, conforms to all of the current safety standards, and has all of the proper pieces that it is supposed to.
Ask the seller for images or more information about the cot before you buy it by simply clicking the "Ask a Question" button which is located on the seller's page. This allows you to easily communicate with the seller about any of your concerns before you make your purchase. Shopping through a merchant who is an eBay Top-rated seller ensures you are getting the best customer service you can possibly get.
Conclusion
Getting a nursery ready for baby to arrive is one of the most exciting parts of the whole experience. Picking the right cot means the difference between a good or bad night of sleep, and peace of mind for the parents. Since there are so many types and styles of cots, it is easier to search for one if the buyers have a style of cot in mind that they would like to purchase. Knowing what features are necessary is also helpful in the search for the perfect cot. Families who travel frequently will love having a travel cot which can be easily carried when they visit family or friends for holidays or vacations.
Choose a cot and a mattress that is high quality and most importantly, meets all of the safety standards for cots. Bedding is fun to select too, and there are many types and colours of bedding depending on what colour the baby's nursery is. Keep in mind that the little one does not need a lot of heavy bedding, but it can look lovely for aesthetic purposes. Give a little one the gift of a great night of sleep with a cosy bed; a soft, plush mattress; and beautiful bedding which can all be purchased for a great price on eBay.