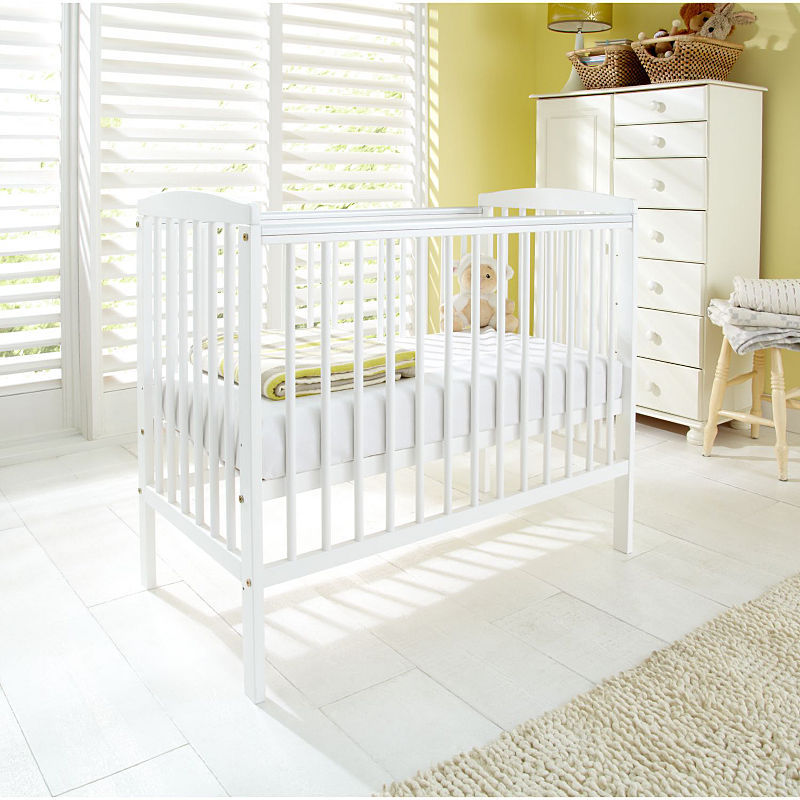 There are quite a few different types of cot mattresses available for both cots and cotbeds. They range in size, weight, colour, and material. It is important to purchase the correct cot mattress for a baby's cot. There are many options that need to be considered when purchasing a cot mattress for a baby. Since sleep is extremely important for everyone, but even more important for infants, a comfortable cot mattress is a must for the well-appointed nursery.
When choosing a cot mattress, there are some things that need to be considered. It is not just a matter of purchasing one, rather some thought needs to go into what suits an infant. Cot mattresses can be purchased from baby shops, department stores, and through the online auction site, eBay. Some of the things to consider are the type of cot mattress or from what it is made, the size of the cot mattress, precautions that need to be taken with a cot mattress, and also any accessories that may be purchased for a cot mattress.
Types of Cot Mattresses
There are several different types of cot mattresses that are on the market. Each of the different cot mattresses has its own pros and cons, depending on the type. It is important to weigh the pros and cons before making a decision about what is best for an infant who is sleeping on it.
Natural Fibre Cot Mattresses
Natural fibre cot mattresses are exactly what their name suggests. These cot mattresses are made from premium natural fibres that are usually coated with latex. The fibres are usually made from coconut or other natural ingredients. These mattresses tend to be more expensive than other forms of cot mattresses. They also hold their shape well, and circumvent some of the allergies that a baby may develop.
Foam Cot Mattresses
Foam cot mattresses are the least expensive of the baby lines of mattresses. They are simple and hold their shape well when used for long periods of time. Since a baby may only be in a cot for a short period of time, many parents consider this an inexpensive alternative to some of the higher-quality mattresses. At 8 to 10 cm thick, these mattresses provide adequate support for a baby.
Interior-Sprung Cot Mattresses
The interior-sprung cot mattress is also a cost-effective alternative to many of the other cot choices on the market. These mattresses have the feel of a spring mattress, which a child may use later in life. It gets a baby used to sleeping on a standard mattress. Although they are not as expensive as a natural fibre mattress, they are a bit more expensive than the foam-style cot mattress.
Hypoallergenic Cot Mattresses
A hypoallergenic cot mattress is a good solution if a caregiver is worried about allergies or allergens that may collect on other types of mattresses. Many of these mattresses are made from natural and synthetic materials that are designed not to aggravate existing allergies or expose a baby to new ones. These mattresses also aid infants and babies who have asthma or other breathing disorders. These mattresses also keep mites and dander from building up, which also causes breathing problems.
Summary of Pros and Cons
By listing the pros and cons of the individual mattresses, it can help a buyer make an appropriate decision for their child. It is good to keep in mind that not all mattresses are good for all children, so either trying the mattress before purchase, or listening to the child after the mattress is purchased is always a good idea.
Cot Mattress

Pros

Cons

Long lasting

Not synthetic

Expensive

May contain latex

Foam

Inexpensive

Lightweight

Does not last long

May contain allergens

Interior-sprung

Feel of a traditional mattress

Inexpensive

Slightly more expensive than other types

Can contain latex and PVC

Hypoallergenic

Does not contain allergens

Good for asthma patients

Easy to clean

Expensive
These are not the only choices of cot mattresses available. There are combinations of mattresses, as well as different mattress accessories that are meant to replicate some of the benefits of other mattresses. Each mattress has its own pros and cons, and it is important to keep in mind the duration for which a cot mattress is to be used by a baby.
Cot Mattress Sizing
Cot mattresses, like all mattresses, come in different width, lengths, and thicknesses. It is a good idea to measure the cot on which the mattress is to be placed. By measuring it, a caregiver can know which size of mattress to purchase, or whether or not they may need bumpers for it. Bumpers are pieces of foam that fill in the spaces between a mattress and sides of a cot. These bumpers can keep delicate hands and feet from becoming pinched between the side of a cot and a mattress. They also allow for a caregiver to change to a large mattress as a child grows, extending the life of the cot and the mattress.
To measure for the proper mattress size, all that needs to be done is to take a tape measure and use it to measure the length and width of the cot. Then, a parent either has to look for a size that meets these measurements, or find a good mattress and supplement it with bumpers and other safety devices. Some of these devices can be carried over to a bed when the child begins to grow.
Some mattresses are meant to be placed onto a bed for later use. As a child transfers from a cot to a bed, some mattresses can be transferred with them, which keeps them from having to change mattresses. It also allows for the shape and comfort to remain during the adjustment to a new bed. Adjusting to a new bed can be trying when a child makes the switch. A familiar mattress may alleviate some of the stress on the child. Since a new bed can be a scary experience for some children, keeping the same mattress can be helpful, and allows a baby ease into the transition from a cot-style bed to a larger one meant for larger children.
Accessories for Cot Mattresses
There are many accessories that can be purchased from cot mattress shops. Some people like waterproof linings for their child's bed for a variety of reasons. Some mattress pads contain heating and cooling pads for comfort in different climates. There are also a vast variety of sheets and blankets that can be purchased along with a cot mattress. Some mattress accessories come with a bed skirt and matching curtains and other nursery items. These are good for creating a matching room for a child, particularly if the goal is a themed room. There are themed sets for almost any character from popular cartoons and television programmes.
Choosing accessories for a cot mattress can be just as confusing as purchasing the mattress, itself. When shopping for a mattress, it is important to make a list of what is needed along with it. Most of these accessories help a child grow with a mattress and keep it protected from accidents and accidental spills. Mattress pads usually zipper around a mattress so that it can be flipped easily.
Buying a Cot Mattress on eBay
When purchasing a cot mattress on eBay,, it is important to remember that not all used mattresses may be appropriate for a child. Most people do purchase them new. In order to find a cot mattress on eBay, all you have to do is input the search terms for the mattress or accessory you desire into the search box, and click on the search button. This populates a list with all of the listings that match the criteria that is input into the search box. Once you scroll through the listings and find one that looks promising, then you can click on the listing.
Clicking on the listing brings up a detailed description of the product. It should include type, dimensions, and the seller's shipping and return policies. There is also a place to ask the seller a question if something is not included in the description. Many sellers welcome questions, and answer them promptly.
Conclusion
There are many different options when choosing a cot mattress for a baby. It is important to find one that suits the child as well as the parent. Considerations that should be made when choosing a cot mattress are the size and type of mattress, as well as the accessories for the mattress that you may need. The different types range from expensive to inexpensive. A cot mattress does not have to be expensive in order to be suitable for most children. Most of the time, different cot mattresses can be found very reasonably priced.
Many of the cot mattress choices are designed with long-term use in mind, and can aid children with allergens and asthma. It is just a matter of assessing the needs of a child and purchasing a cot mattress that best suits their needs. With all of the choices available, it is possible to find a good cot mattress at both brick and mortar shops, as well as online at websites, such as eBay.