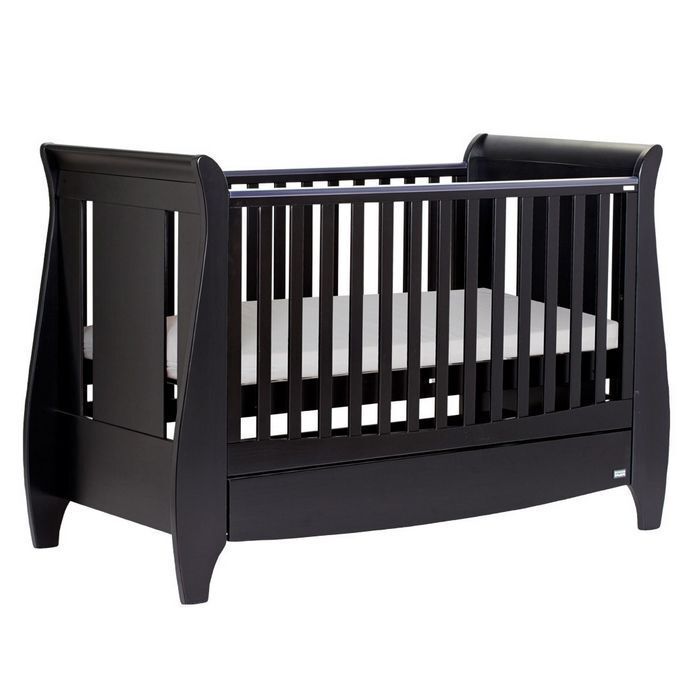 A sleeping baby is one of the most beautiful things in existence, mainly because a sleeping baby is a quiet baby. For this reason, it is important to make sure that an infant has a proper place to sleep that is not only comfortable, but safe as well. Cots are a traditional and popular means of providing an infant with a place to sleep. However, in recent years, cotbeds, have become far more popular. The main difference between a cot and a cotbed is that a cotbed can be transformed into a toddler bed by removing the sides and end panel.
There are, of course, more subtle differences between the two, although for the most part, they are comparable in price, especially on eBay. When buying a cot or a cotbed, it is important to evaluate these differences, as well as the strengths and weaknesses of each kind of infant bed. Doing so makes it possible for anyone to make an informed decision and find the right fit for their family.
Cot and Cotbed Features
While the most important difference between a cot and a cotbed is that a cotbed can be turned into a bed for small children, there are other differences to make note of as well. Since a cotbed is designed by its very nature to last for several years, it may not be the best choice for families who plan on having multiple children within a three or four year span of time, as a new baby would need to use the cotbed before the first child has grown out of it.
Wheels
Many cots are equipped with wheels that allow parents to easily move the cot around a bedroom. This is particularly helpful when moving an infant's cot from a parent's bedroom into a child's bedroom. This also makes it possible to easily vacuum underneath a cot in order to reduce dust and other allergens from a room. For the most part, cotbeds do not have wheels, which makes this difficult. Of course, the lack of wheels means that a child climbing into bed is safe and secure without the bed moving around.
Height Adjustable Base
The ability to adjust the height of the mattress is a feature found in both cots and cotbeds. For the most part, this is done so that newborns and smaller infants can be reached easily. As a baby becomes larger and better able to stand or sit, the mattress can be lowered to prevent the child from escaping their cot.
Travel Cots
Some cots are found in a travel version that can be folded up for easy storage and portability. These travel cots are not usually designed for long term use, but can serve a baby for several nights. A travel cot does not provide very much space, but many of them have at least one setting for mattress height. There are no travel versions of a cotbed available, so small children do not have a cot option for travel.
Safety
Safety, is for many families, the most important factor to consider when buying either a cot or a cotbed. Child deaths have been caused by cots around the world, and certain styles of cots are even banned in certain countries. Thankfully, there are certain regulations that can be applied to cots and cotbeds that can help make sure that a certain purchase is the safest one possible.
Cot Safety
Cots are generally safe, due to strict regulations on their design in many countries. Many cots feature a drop-side design that allows a parent to more easily remove their child from the cot. There has been some controversy over drop-side cots, mainly in the United States over safety concerns. Europe and the U.K. have seen less controversy and many European and British cots are commonly made with drop sides. Cots made in the U.K. should have a British Standards Institution (BSI) number, indicating that they are made in compliance with current U.K. safety standards. As a general rule, cot rails should be spaced so that rails are no more than 6.5 cm apart. This prevents an infant's head from getting caught between rails. Likewise, there should be at least 50 cm between the top of the cot and the top of the mattress, although many cots have adjustable height settings.
Cotbed Safety
While cotbeds do have removable sides, these sides do not drop down and are not removed until the cotbed is ready to be transformed from a cot into a bed. This removes the safety concern that accompanies drop-side cots. However, the general rules about rail spacing and cot depth should be applied to cotbeds in the same way that they are applied to cots.
Finish
Since cots and cotbeds are generally made from wood, splintering can prove to be a potential hazard, especially for teething children. For this reason, it is generally helpful to purchase a cot or cotbed that has few sharp edges and has a finish that does not use lead or any other toxic substance. A good finish reduces the risk of a child getting splinters in their mouth or fingers. Many cots and cotbeds have what is known as a teething rail on the top of each side. This teething rail is basically a thin plastic cover that children can chew on when teething without causing any harm to themselves.
Sizing
Cots and cotbeds both come in various sizes, but for the most part, they conform to uniform mattress sizes. Most mattresses are the same length, but for cots, there are various widths. Two of the most popular mattress sizes for cots are known as standard and continental. Continental cot mattresses are slightly wider than standard mattresses. Larger cots allow an infant to have more room, and may be a better fit for children who are intended to be kept in a cot over the age of two.
Cotbed mattresses are larger than those used for cots. This is because a cotbed is designed to be used for toddlers and small children past the age when a cot would be a suitable sleeping arrangement. When purchasing a cot or cotbed mattress, it is important to make certain that it fits securely into the cot or cotbed.
Buying a Cot or Cotbed on eBay
Cots and cotbeds are readily available on eBay, with sellers all over the world. Both new and used cots and cotbeds are available. The most efficient means of buying a cot or a cotbed is to simply enter the term "cot" or "cotbed" into the search bar on the eBay home page. This allows for a way to search all potential options, although a narrower search can be conducted by entering additional terms into the search bar. When purchasing a cot or cotbed on eBay, it is always helpful to examine the product description and the seller's feedback profile in order to determine product quality.
Buying Used Cots and Cotbeds on eBay
Unlike most items sold on eBay, used cots and cotbeds have certain issues that should be addressed. While used cots and cotbeds can be perfectly safe and can provide an inexpensive way to provide sleeping space for a baby, it is important to make certain of several things. First, if the cot is a drop-side crib, it is important to determine if the drop-side mechanism is functioning properly, meaning that it stays up when it needs to and drops smoothly and efficiently. Second, it is important to ensure that the rails are properly spaced so that an infant does not get stuck between them. Finally, it is important to determine if there are any potential splinters or peeling paint in the cot frame. Other red flags in terms of safety may be a good reason not to purchase a certain cot or cotbed.
Conclusion
Cots are a highly useful tool for caring for an infant. Not only is it the safest way for a child to sleep, it is a comfortable place for a baby to sleep, while allowing parents to easily access their child. Cotbeds are cots that can be transformed into a toddler bed, and are generally useable until a child is of preschool age. Both cots and cotbeds have a number of similar features, but there are several that are significant enough to evaluate before making a purchase. Among these are the presence of wheels, which can make a cot easier to move, and adjustable bases that allow the level of the cot mattress to rise or fall.
One feature of many cots that has implications for infant safety is the drop-side, a design feature that allows parents to lower the side of a cot in order to better reach their child. Other factors of cot safety are avoiding splinters and ensuring a good finish in order to protect the infant's skin. It is also important to ensure that cot mattresses are sized properly in order to keep an infant safe and comfortable. Careful consideration of all of these factors make it possible for any parent to buy the right cot or cotbed for their child.