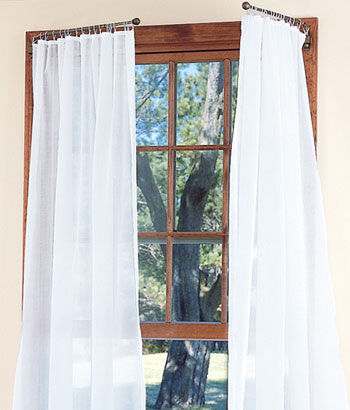 Cotton curtains come in many different types and varieties, each with their own pros and cons. Cotton curtains come not only in a wealth of different widths and lengths, but also many different colours and patterns. Cotton curtains are found in both light and medium weight varieties. Lightweight cotton curtains let in more light than medium or heavy weight options, making them an ideal choice when maximum natural light is desired.
Unlike curtains of other fabrics, cotton curtains are generally relatively inexpensive and are usually easy to care for. However, cotton curtains fade over time, a trait rarely shared with synthetic curtains. Alternatives to cotton curtains include polyester, rayon, acrylic, and velvet curtains. People looking to purchase cotton curtains should strongly consider doing so through websites such as eBay, which generally offers more selection compared to retail stores. By using eBay, shoppers are able to to browse for cotton curtains from the comfort of their homes.
Different Types of Cotton Curtains
Cotton curtains are found in nearly endless varieties. The different aspects which influence the appearance and functionality of cotton curtains are the fabric weight, the curtain top variety, and the fabric variety.
Different Cotton Curtain Fabric Weights
Curtain fabrics are divided into weights which allow penetration by differing amounts of light. Cotton curtains are found in light and medium weight options.
Lightweight Cotton Curtains
Lightweight cotton curtains are those cotton curtains which are sheer or gauzy, allowing a large amount of light through the weave of the fabric. However, this translucency works both ways, and the shapes of the objects within a room are likely to be readily visible through the curtains when they are drawn closed. These curtains are best paired with thin curtain rods and are an ideal summer curtain option. Lightweight and net cotton curtains are found in both rougher, more rustic weaves or in smooth, tight, silk-like finishes.
Medium Weight Cotton Curtains
The majority of cotton curtains are likely available in the medium weight category. Though these curtains still let in some light, the shapes of objects or people in a room should not be readily visible through the curtains when they are drawn closed. Medium weight curtains are a solid option for those who desire an even balance between privacy and light.
Different Cotton Curtain Tops
The top of the curtain is the part which joins to a curtain rod, and most curtains are manufactured in a wide variety of different tops. Cotton curtains are found with tab, cafe, pocket, pleated, and grommet tops.
Tab Top Cotton Curtains
Tab top cotton curtains feature raised looped fabric tabs through which the curtain rod fits. These tabs are usually comprised of the same fabric which the curtain is comprised of, and are made to fit roughly any size curtain rod. Tab top curtains are easy to install and less formal in appearance.
Cafe Top Cotton Curtains
Cafe top cotton curtains are connected to the curtain rod with hooks or tabs of fabric, but unlike tab top curtains, these hang in swags rather than regimented lines, which imbue the curtains with a slightly more ornate appearance. Using cafe top cotton curtains is a good way to achieve a loose, breezy look to the curtains. Cafe top varieties sometimes prove rather difficult to install, and it is imperative for buyers to pair them with a rod on which they slide smoothly and easily.
Pocket Top Cotton Curtains
Pocket top cotton curtains feature a sewn pocket over the top of the curtains, which fits around and hides the length of the curtain rod. Pocket top curtains are generally cheaper than other options, incredibly easy to install, and are sized to fit nearly any curtain rod.
Pleated Top Cotton Curtains
Pleated top cotton curtains gather the fabric of the curtains in neat pleats around hooks which allow the curtains to fall from the curtain rod. Pleated top curtains are available in many different pleat styles, which include box pleats (the widest pleat option), pencil pleats (which feature thinner but looser pleats), and pinch pleats (the thinnest pleat option). Pleats help give curtains a more interesting visual style, creating ripples through the fabric. Pleated top curtains are generally one of the most expensive curtain top options available to buyers.
Grommet Top Cotton Curtains
Grommet top cotton curtains feature a top with grommets punched through the fabric at regular intervals. The grommets allow the curtains to slide smoothly and be easily installed, and they also protect the curtains from fraying. The grommets used in cotton curtains are available in different diameters, and shoppers should always double-check the diameter of the grommets and compare them to the diameter of the rod which they intend to use. Grommet top curtains are relatively inexpensive compared to other options.
Different Cotton Fabrics Used in Curtains
Cotton is used to manufacture many different fabrics, and each has different drapes and textures depending on the style of weaves. Some examples include canvas and flannel.
Flannel Cotton Curtains
Flannel cotton curtains are soft and slightly woolly, and are usually found in plain colours or simple patterns. Flannel cotton is an ideal winter curtain solution, as it acts as an insulator when pulled shut across windows. Flannel curtains sometimes prove slightly more expensive than other varieties. Flannel is relatively easy to care for, but may be prone to shrinking during laundering.
Canvas Cotton Curtains
Canvas is a thicker, heavier weave of cotton, and is an excellent curtain fabric choice for those wanting to block out light. Canvas has a neat, even texture and is easily dyed a multitude of colours and patterns, making it ideal for both casual and formal uses of curtains. Canvas cotton curtains are also relatively inexpensive and easy to care for.
Pima Cotton Curtains
Pima cotton is a special type of cotton which, when spun into thread, is super soft and displays a silky sheen. Pima cotton curtains are a good way for buyers to mimic the look of silk curtains at a fraction of the expense. Pima cotton curtains are dyed or printed in any different colour, and they require little in the way of additional care. Buyers should be aware that because of their fine weave, these cotton curtains are sometimes sensitive to friction and may be prone to fraying.
Sateen Cotton Curtains
Sateen cotton curtains, like Pima cotton curtains, exhibit a silk-like sheen. They are generally less soft, however, and are mercerised to enhance their sheen. Sateen cotton curtains are generally quite thick, allowing for very little light penetration, and like other cotton curtains, are typically inexpensive and easy to care for.
Gauze Cotton Curtains
Gauze cotton curtains have an especially loose weave, allowing for maximum light penetration. In pale colours, this option serve to greatly brighten up a room. Because of their loose weave, gauze curtains have little shape or visual interest, and benefit from a pleated or cafe top. In general, gauze cotton curtains are relatively inexpensive, especially when compared to alternatives such as linen. Gauze is also easy to care for, though it is sometimes more prone to staining than other cotton fabric varieties.
Buying Cotton Curtains on eBay
To purchase cotton curtains on eBay, first find the search bar located on any of eBay's pages. After clicking on it, type in the words which describe the type of curtains you are on the hunt for. Some good examples are "cotton black out curtains", "green cotton curtains", or "net cotton curtains". Being relatively general when creating your search helps to ensure that you get the maximum number of possible results. Press enter to see a list of all the eBay items which match the description of your search. From there, you can choose to organise the order of your listing based on different qualities, including price and colour.
In some cases, you may find a listing which interests you, but need more information. If this happens, you may want to consider using the "Ask a question" link located on the listing page. This link allows you to communicate directly with an item's seller to ask pertinent questions.
Conclusion
Cotton curtains are available in many different varieties which can greatly influence the look of a room. Before beginning the hunt for cotton curtains, buyers should strongly consider how much light they wish the curtains to allow into a room, and this determines what weight of curtains they should look for. Cotton curtains are found in light and medium weight varieties.
Buyers should also determine which style of curtain attachment they prefer. As with other fabrics, cotton curtains are available in many attachment varieties, including tab, cafe, sleeve, and grommet styles. Individuals looking to purchase cotton curtains should think about skipping a retail shopping trip in lieu of doing their shopping online. Websites such as eBay allow shoppers to capitalise on expanded selections while also offering steep discounts compared to retail prices. And those doing their cotton curtain hunting online get all their shopping done from the cosy comfort of home.