This fitting is made up from a chrome plated cord grip lampholder with 3 core silver flex and a chrome plated chord grip ceiling plate screwed into a solid beech pattress.
If the shade you want to use is heavy a hooked lampholder and ceiling plate supported with metal chain would be safer.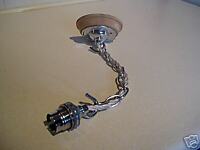 All you need now is to add a shade of your choice and get the fitting installed and tested by an electrician.
You can increase the size of hook plate and pattress for a larger light fitting. The wooden pattress may not be neccesary if you already have a ceiling rose. A hard wood turned pattress like this does set the fitting off nicely though.
If your shade is the lipped variety: You will need a Gallery (Chrome gallery on prismatic light shade shown below):

The gallery has 3 screws in the top that tighten against the glass to hold the shade. The Bulb holder fits through the 22mm/1" hole and is secured the other side by the bulbholder shade ring.
Gallery sizes available: 2¼",3¼" and 4¼"
Lampholders, flex, galleries and solid metal chain are available in various colours and finishes all available in this Ebay shop.