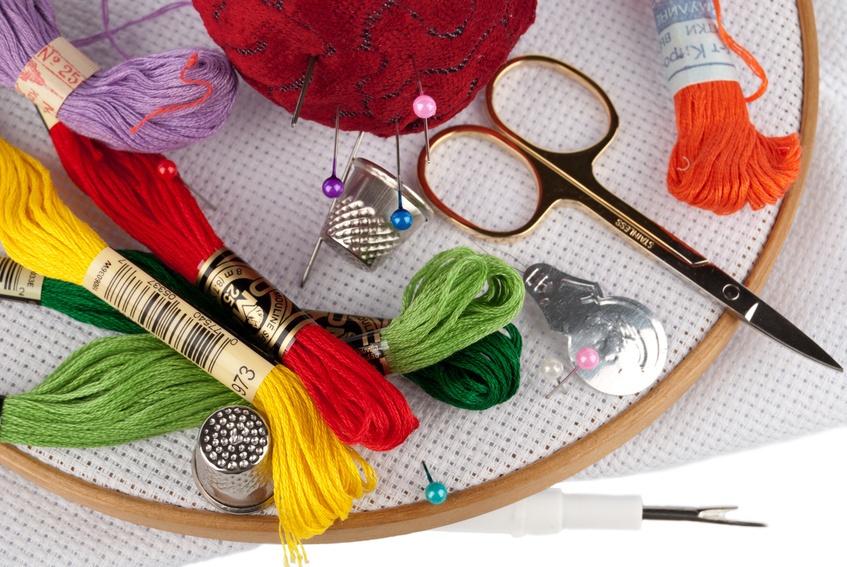 So your chairs and sofas all hold lovely cross stitch pillows and the walls are all but papered with framed cross stitch designs? You adore this intricate hobby, and you wonder where to place your latest cross stitch kit? Fortunately, the number of ways to use a finished cross stitch design is almost as diverse as cross stitch projects themselves.
Creating Entertainment Pieces with Cross Stitch Kits

A completed cross stitch project looks great under glass on a wooden serving tray. Small projects make adorable sets of drink coasters with thermal-interfacing on the backs. Alternatively, purchase round drink coasters with inserts for the cross stitch pieces. Coasters are a particularly good way to use multiple cross stitch designs that fit a particular theme, such as cat cross stitch kits or butterfly cross stitch kits.
Reading Favourites with Cross Stitch Kits
Book covers are easy to make with cross stitch designs. A food-themed design adds the perfect touch to a favourite cookbook, and an owl cross stitch makes a good cover for a bedside novel. Bookmarks are another popular project for cross stitch, especially when combined with grosgrain ribbon in harmonising colours.
Putting Cross Stitch Kits to Work in Sewing Kits
Needle books with all the various types of needles used for sewing and craft projects definitely deserve colourful cross stitch covers. Cut the 'pages' slightly smaller than the cover using pinking shears. Back the design and then stitch the extra 'pages' to the centre to create the book. If your embroidery scissors are always lost at the bottom of the sewing basket, a scissor fob makes it easier to find them. Select one of the smaller cross stitch designs and stiffen it with interfacing and backing. Before closing the edge, stitch an attractive cord loop that is half as long as the piece.
Cross Stitch Kits in the Bedroom
Assemble similarly sized and themed kits into a coverlet using strips of cotton fabric in between the designs and as an outside border. Use the same fabric or a harmonising fabric for the backing. Bright, colourful designs, such as floral cross stitch kits, make great bedroom coverlets, and numerous adorable patterns are available for children's and babies' rooms.
Everyday Usage of Cross Stitch Kits

The possibilities are virtually endless for using cross stitch kits in the 'real world', and all you really need is your imagination. A cross stitch insert on one side of a tote bag sets the bag apart where a square or rectangular pattern really can make a glasses' case stand out. The key is to simply have fun and enjoy all your cross stitch creations.