Using square aperture cards is a great way to get creative and give personalised cards that your recipients will treasure. As well as putting a personal photo, a cross-stitch, decoupage, or other crafty item in the aperture, show how much thought you put into it by decorating the border of the aperture. Getting some ideas regarding how to decorate square aperture cards makes your creative juices flow, allowing you to put your own personalised twist on the ideas you like best.
Use Cross-stitch to Decorate a Square Aperture Card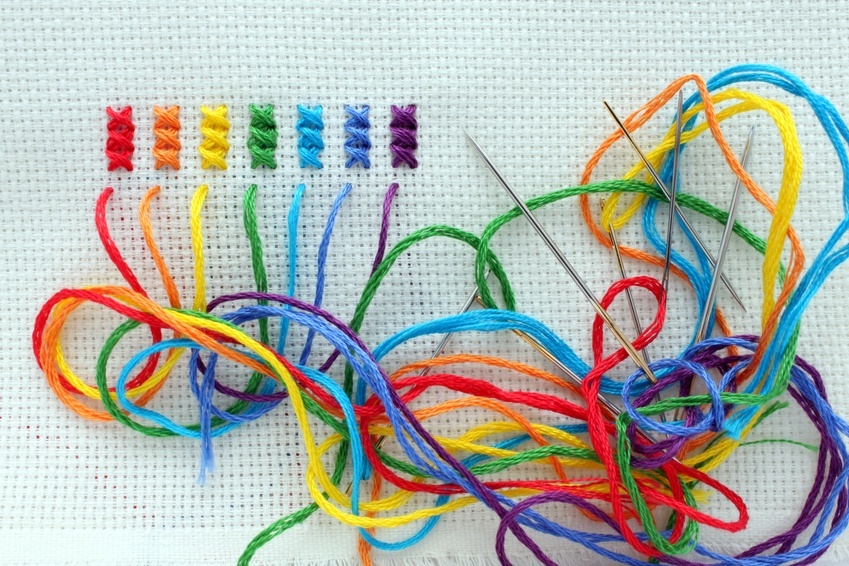 Filling the aperture window with a cross-stitch you complete yourself is a very personal gift and makes an attractive greetings card. Make sure you measure the aperture precisely and choose a cross-stitch pattern that fits neatly within the aperture. Choose not only a design that fits, but one that means something to the recipient. Once you finish your design, cut the thread tails at the back as close to the aids as possible, then turn it right side up, lay a lightly damp cloth over the top, and then iron it flat. Align the finished piece inside the aperture and fasten it with craft glue. Close the interior card fold that sits at the back of the aperture and secure with a little more glue.
Create a Glitter Pocket Scene in a Square Aperture Card
Measure two pieces of overhead transparency paper or stiff cellophane, making each 2 cm wider than the dimensions of your aperture. Use craft glue to stick one piece of your cut transparency or cellophane to the aperture window. Next, find a two-dimension image that is appropriate to the season and the recipient, such as a Santa at Christmas or a bunny for Easter. Cut out the image you want to use and stick it to the spare piece of cellophane, remembering to leave at least two cm to account for the border. Then, glue the bottom edge and the sides of the cellophane with the image, and stick it to the cellophane, covering the aperture to create a pocket at the back. Once dry, use fine glitter of your choice and pour a generous amount into the pocket. Use craft glue to seal the top edge, close the inner fold of the aperture over the back and glue in place.
Decorate the Border of a Square Aperture Card

As well as filling your aperture window, you really need to decorate the border of the card for a more complete look. Choose from an exhaustive range of embellishments, from glitter and Peel-Offs to toppers and beads. You can also layer scrapbooking papers, lace, or punched items. For something a little different, forego the Peel-Offs or printed lettering and use calligraphy to write your wording. You can even emboss your lettering with silver or gold powder.