Whether you are an old hand at card decorating or a beginner, finding creative ways to decorate tri-fold aperture cards is part of the fun of this craft. You can decorate blank cards with found objects like shells and leaves, or purchase items that appeal to you. The only limit to what you can do is your imagination, but some ideas to get you started can help.
Decorating with Ribbon Adds Style and Flair
With so many types, styles, patterns, and colours available, ribbon makes a brilliant and easy decoration for any tri-fold aperture card. You can cut lengths of ribbon and glue them to form a border around the entire card or highlight the aperture. Twisted ribbon adds texture to an otherwise plain background and you can overlap rows of ribbon to create a ruffle on the card or over a rubber-stamped girl to add flare to her dress.
Rubber Stamps Add Interest and Fun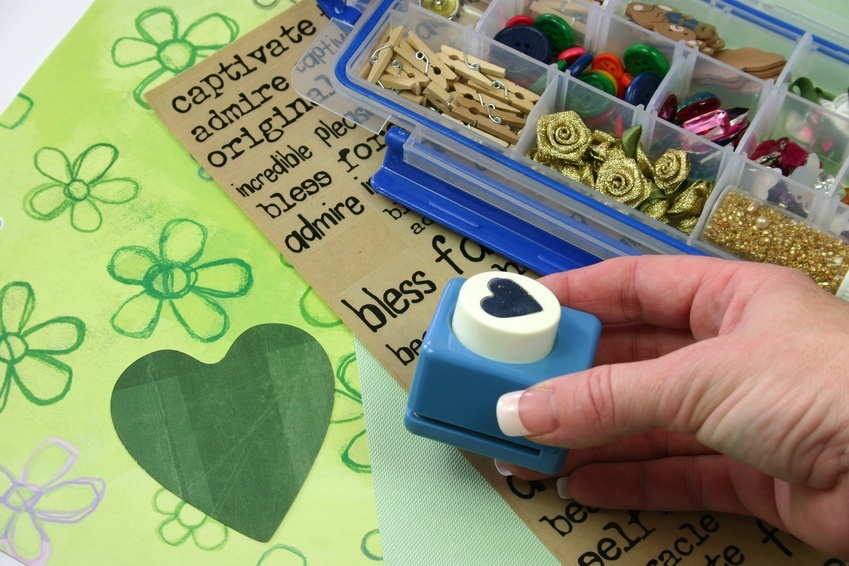 Rubber stamps are the perfect tool for decorating tri-fold aperture cards. Lovely handmade cards decorated with stamps need a minimum of special knowledge and materials. With so many different types of rubber stamps available, from apples to zoo animals, there is no end to the creative ideas you can imagine. You can use a special stamp with the recipient's favourite animal, flower, or vehicle to stamp the image on the inside of the fold to make a superb focal point for the card.
Glitter and Paints Add Pizzazz
Watercolour paints are perfect for card making as they work on paper of all types. You can use soft subtle colours for a baby gift card. For a toddler or teenager, you can use bold bright colours to bring an added element to the card. Using glitter is great fun when decorating tri-fold square aperture cards to add dimension and interest. Just put a thin layer of glue on the card where you would like the glitter to go and shake it on. Once the glue dries, tap the card lightly to remove excess glitter.
Rhinestones and Crystals to Bling It Up

Some of the most fun card making accessories are rhinestones and crystals that add bling, shine, and excitement to the card. Manufactured gemstones work especially well on a wedding card, wedding shower invitation, or anniversary remembrance. Red stones for Valentine's Day, green at Christmas, and even team colours are fun ways to use a little bling.
Photos Make Memories to Keep Close
The opening in an aperture card is a great place to glue a photo of the recipient or something that is meaningful to the person. A favourite childhood toy for an important birthday, a first day of school photo for the university graduate, or a photo of the couple when they were young for a 50th anniversary are just a few of the ideas for using photos.