A crinoline is a type of petticoat worn under the skirt to give it volume. Once worn in multiple layers to create a large skirt, crinolines remain an important fashion accessory, often worn under an elaborate wedding gown. While past fashion trends dictated that crinolines were stiff, since the 1950s these underskirts have been quite soft, typically made from layers of netting, nylon, tulle, or some other fine fabric.
Crinoline Fashion History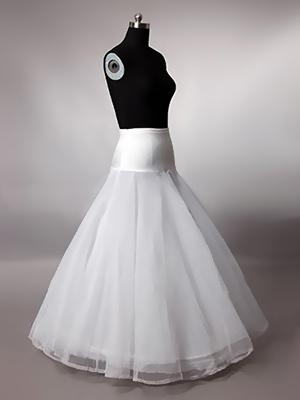 Originally a stiff fabric with a weft of horsehair and a warp of cotton or linen thread, crinolines first appeared around 1830. Several decades later, the word crinoline came to represent any stiffened petticoat or rigid skirt-shaped structure of steel designed to support the skirts of a woman's dress. Similar to the earlier farthingales, crinolines provided support for elaborate and often heavy gowns with voluminous shapes. Made of much softer fabric, modern crinolines still play an important role in formal outfits, including evening gowns and wedding dresses.
Hooped Nylon Crinolines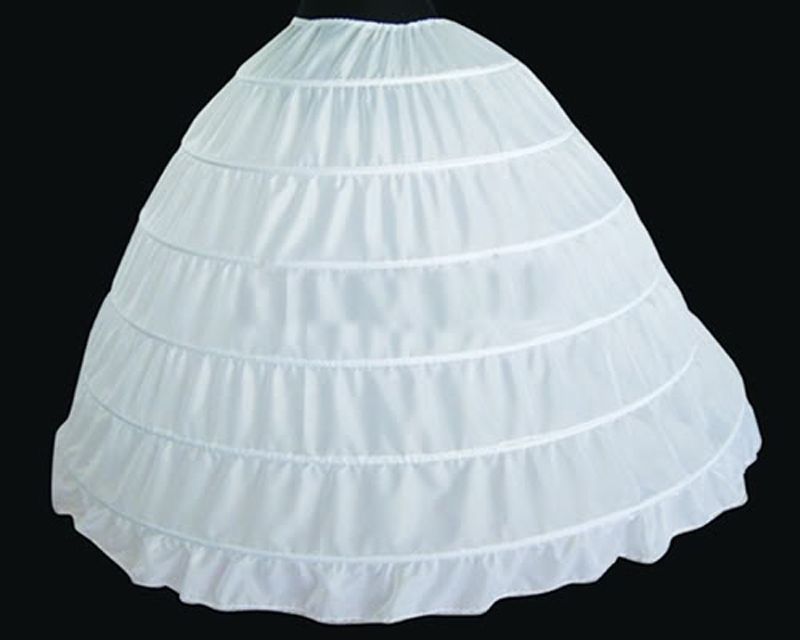 Most skirts today do not require the distinct bell shape of the Victorian era, which allows modern designers to create crinolines from several layers of soft fabric. When choosing your ideal special event gown, keep in mind that the fabric of the gown's crinoline is just as important as the gown's shape. The crinoline must compliment the fabric of the gown in order to ensure comfortable and attractive wear. For this reason, hooped crinolines are often made or nylon, a low-cost, lightweight, and flexible material. Though the days of the horsehair crinoline are long gone, a popular trend of lavish weddings and grandiose bridal attire means hooped crinolines have started making a comeback.
Tulle Hoopless Crinolines
Tulle is a lightweight fibre netting, most commonly used for wedding veils, gowns, and crinolines. Though you can easily dye tulle fabric at home, it does already sell in a wide array of colours. Soft, pliable, and light, a tulle crinoline can add a lacy, floating look to almost any gown. You can fluff out your gown to your heart's desire by using two or more layers of tulle. Adding several thick layers of tulle can make the crinoline stiffer, adding that ultimate Victorian shape to any hoopless wedding or evening gown.
Lace Net Crinolines
Net crinolines made of fine lace are ideal for those vintage 1950s skirts harkening back to the golden days of rock and roll. These crinolines usually have an elasticated waistband, making them quite comfortable for long evening outings. They are adjustable and fit a wide range of sizes. Before making a final selection, make sure you know the length of the skirt for which you are buying the crinoline. To ensure the crinoline does not hang too low below the hem of the skirt, consider buying one that is the same or only slightly longer than your skirt or dress.