Crochet patterns can be confusing when the UK and US have different names for the same crochet stitch.
So, I have produced a chart to help you to convert the stitches over to your preferred terminology.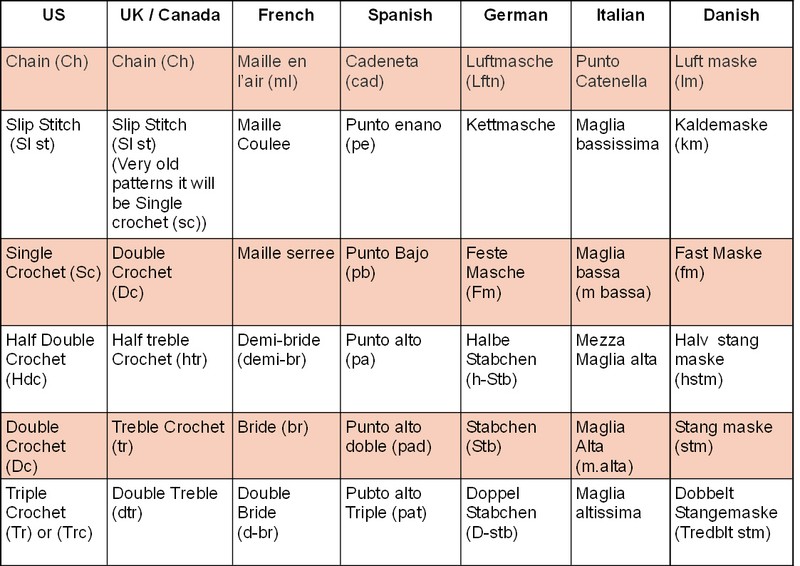 If you are a BEGINNER to crochet, I would advise learning the US terminology, The name of the stitches are more relevant to the actual stitch, ie,
Single Crochet you pull through once to complete the stitch,
Double Crochet you pull through twice to complete the stitch,
Triple Crochet you pull through three times to complete the stitch.
Most crochet pattern have a note to say which terminology they are written in, if they do not, look for Sc (Single Crochet), this stitch name is only used in US terminology.
Hope this chart helps, please click the LIKE button if it did. Thanks
Other guides available are:
Blanket Size Measurements
Crochet UK / US Terminology Conversion
Crochet Hook Size Conversion Charts
Crochet Abbreviations
Yarn weight chart and descriptions
"Learn to Crochet Video Series" - Using US Terminology
Video 1: How to hold your Crochet hook and create yarn tension
Video 2: How to do a Slip Knot
Video 3: How to do a Chain Stitch (Ch)
Video 4: How to do a Single Crochet Stitch (Sc)
Video 5: How to do a Half Double Crochet Stitch (Hdc)
Video 6: How to do a Double Crochet Stitch (Dc)
Video 7: How to do a Triple Crochet Stitch (Trc) also known as a Treble Crochet (Tr)
Video 8: How to do a slip stitch (sl st)
Video 9: How to do a Magic Circle Start (also know as a Magic Ring, Adjustable loop or Adjustable ring)
Video 10: How to Work in Continuous Rounds - For Amigurumi (Stuffed toys Projects), Spirals and Hats, etc
Video 11: How to Work in the Round - Joining each round - For Clothes, Granny Squares, Blankets etc
Video 12: How to Increase (Inc) in Crochet
Video 13: How to Decrease (Dec) In Crochet
Video 14: More information on Turning Chains
Video 15: How to work in Back Loop Only (BLO) and Front Loop Only (FLO)
Video 16: How to work in Back Post (BP) and Front Post (FP)

Video 17: Peach Unicorn Puff Stitch Blanket
+ FREE Crochet Patterns to practice your crochet stitches
Click here to visit my Crochet Pattern Store with Crochet patterns for beginner