Following on from my guide about cross stitch charts on EBay, I have been asked by quite a few how to find out prior to buying if the chart is just a photo chart.
Ask the seller how many different colour of threads it uses. Any more that 25-30 on most charts it is a photo conversion.
Ask the seller if they can modify the chart, for motorcycle charts for instance can they change the colour or add a windscreen? If the answer is no then it is just a photo chart.
Ask the seller for the background to be changed. If they can't that is another clue.
Ask to see how the complete work looks, never buy from a listing with just a photo on and no completed work.
Allot of sellers are now selling charts don't waste your money ask before you buy and remember if they are manufacturing charts to sell they are a business and you are entitled to your money back if unhappy.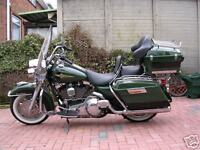 The bike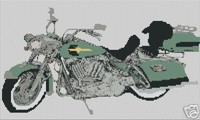 The chart measuring 198 stitches by 108 stitches in just 14 colours.