Welcome to my guide on cross stitching and framing,
I am very particular on my Cross Stitching, and having spent many an hour creating what I like to think of as a masterpiece, upon completion, you are then left with the problem of how to make your work all the more better.
Firstly I will tell you how I launder my Cross Stitch, when I have completed my piece, I spray it with Vanish, and leave that to soak in for a few minutes, I then fill my bath up with luke warm water and then submerge my piece into the bath and then add in some washing powder, I then leave it flat in the bath for about an hour, and then take it out, I usually find that doing it that way, does not involve any scrubbing of stubben marks on the piece as the vanish and the washing powder has usually dissolved all marks.
I then roll it up to get any excess water out of it, and the lay it flat on a bath towel in my spare room till it has dried, then I iron it face down with a towel between the Cross Stitch and the Ironing Board and a T Towel between the Cross Stitch and the iron, I only use the iron on a really cool setting though just to make sure its not too hot and doesn't damage all your hard work, after you have done that, you are ready to frame.
Framing
I know a lot of people frame their own work, but it is not something I would attempt myself, I would rather spend that extra bit of money knowing that I will have a really good piece of work framed by an expert, my local Framers take time out to choose mounts and the correct type of frame for my particular piece of work I have taken in, and so far in the 14 years of using them, they have never let me down in choice.
This is just a guide, and it is entirely down to the individual on how to finish off all your hard work.
I have added a couple of photos of my most recent work that I hve finished and had professionally framed.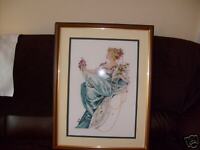 This is my summer queen, that I have just had recently framed, my framer has worked it so that the beads that hang down from her robe actually do drape, something I know I wouldn't of been able to acheive had I attempted it myself.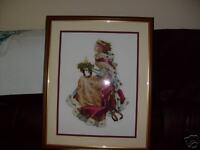 Another example of my framed work, I have the complete set of queens to stitch, but obviously with them all having differant coloured robes it will be hard to make the frames exact, so between myself and my framer, we decided to keep all frames the same, all outer mounts the same, but have an inner mount to complement the queens robes, as you can see with Royal Holiday, we have a dark brown frame, a cream outer mount, but a red/burgandy inner mount, the same frame and outer mount has been used on the summer queen, but the inner mount that was used complements her robes.
I hope you find my guide helpful, but please do remember that is all it is, just a guide, at the end of the day, it is down to you as an individual how you finish your work off.
But please vote for my guide if you thought it was of any help.
Take care, and thank-you for reading, and happy stitching.