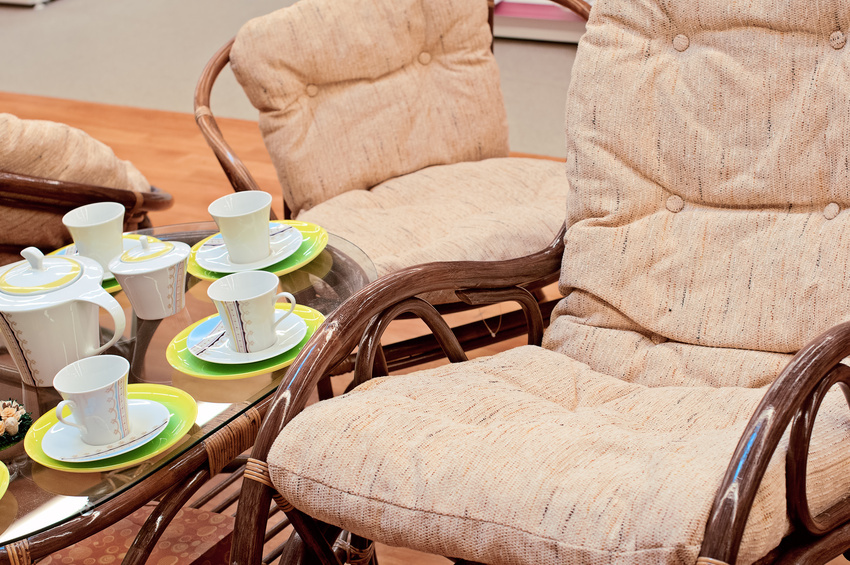 Cups and saucers allow you to serve tea and coffee with grace and refinement. Delicate cups and saucers bring a touch of sophistication and class to the most informal gathering. You can find cup and saucer sets to suit any home, from traditional Old English homes to ultra-contemporary ones. Knowing your options and what to look for ensures you choose the cup and saucer set that best suits your needs and your home.
Cup and Saucer Set Material

Ceramic is among the most common materials used for making cup and saucer sets. You can find hand-made and machine-made ceramic cup and saucer sets. Ceramic cup and saucer sets undergo shaping in the raw clay state, then spend time in a kiln. Once firing is complete, they undergo painting, followed by glazing. Ceramic is comparatively lightweight and is moderately durable but, unless you take care of them, ceramic cup and saucers are prone to cracking. Bone china is thin and lightweight, and bone china cup and saucer sets tend to be high-end models. Glass cup and saucer sets are robust and durable, but heavier than china. They are dishwasher and microwave safe for ease of use.
Cup and Saucer Set Designs

You need to choose a cup and saucer set that matches your taste and the feel of your home. Traditional cup and saucer sets often feature floral designs or the iconic willow pattern design, and work well in traditional homes. For a retro or kitsch look, opt for vintage cup and saucer designs, which generally have a thicker construction and feature stripes or geometric patterns. For the contemporary home, you can opt for cup and saucer sets with a plain white colour and sleek, clean shapes, or go futuristic and opt for square or hexagonal shapes. Off-centre saucers work well in contemporary homes, as they are a break from the traditional look, but also conveniently leave you enough space to place a biscuit or sugary treat on the side.
Themed Cup and Saucer Sets
Commemorative cup and saucer sets are very popular with collectors. Wedgewood are well known for producing cup and saucer sets to commemorate memorable British events. Popular commemorative cup and saucer sets include the 2012 Olympic Games sets, royal weddings, and royal births. You can also find vintage commemorative sets for royal coronations and jubilee celebrations. Other themed cup and saucer sets include Doctor Who, Lord of the Rings, and Star Wars cup and saucer sets, just to name a few.