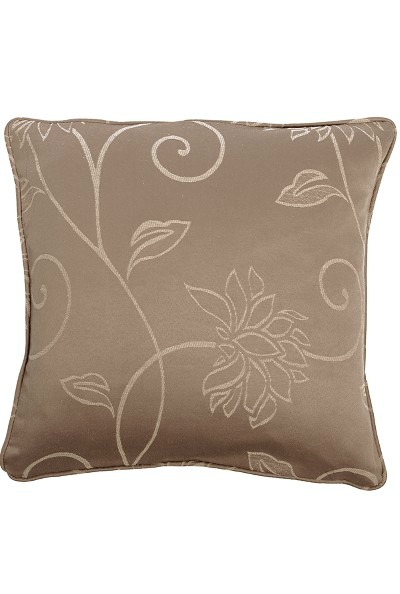 Cushions have been in vogue for centuries, during which time many styles and designs have come and gone, while others have persisted and are still with us today. A cushion is basically a piece of padding covered in material, which not only protects the cushion pad, but provides decoration to enhance the ambience of its location. Cushions can be found in most homes and can be styled to suite the decor of any room. While most people think of cushions as something they find on sofas and armchairs, there is a market for larger cushions that are placed on the floor to provide temporary adult seating, or a fun place for children to sit, lounge, or watch TV. Furthermore, although cushions are mainly used to enhance the comfort of the user, they can also play an important medical role in supporting parts of the body, such as the back.
Uses of Cushions
The most basic, practical use of cushions is to provide comfort. To that end, they are used as scatter cushions (sometimes referred to as throw cushions) on sofas and armchairs to provide extra softness and support for the seated person at hip/waist level, although they can be placed on the top of the chair or sofa to provide a similar level of comfort and support for the neck and head. They are further used to alleviate the harsh effects of hard surfaces on the body, notably on floors when a person has to sit or kneel, and when placed on a wooden chair to make that piece of furniture more hospitable. The great thing about cushions is that they are flexible. Whichever room they are placed in, they can perform a function suited to that location. For example, many people like to have extra cushions on their bed, as this provides a really warm, cosy, homely feel, while cushions in a room that is being utilised as a home office can soften the atmosphere and make the workspace seem more inviting.
The Composition of a Cushion
A cushion has two parts: the cushion padding and the cushion cover.
Cushion Pads
The choice of cushion pad, or cushion filling, is fundamental to the look and feel of the finished article.
| | |
| --- | --- |
| Fibre | The fibre used in cushions is man-made, and produced in such a way that air is trapped between the fibres to give the cushion a soft, warm, comfortable, bouncy feel. Many different types of fibre are used in cushion manufacturing, varying in length, thickness, and coarseness. Fibre cushions last well and have good recovery properties to ensure they always look okay. |
| Feather | Feather cushions can be 100% feather (often duck), a mixture of feather and down (goose or duck), or feather wrapped around a foam base. Pure feather cushions are very soft and supportive, but need to be plumped up regularly. The introduction of down makes feather cushions even more luxurious, and the more down there is, the more sumptuous and light they become. They are very soft, with a high recovery rate, although they require daily plumping. Cushions with feathers wrapped around a foam base are very popular for seat cushions, such as those found on wooden chairs. The foam is usually of a soft to medium density, which provides stability and resilience, while the feathers provide comfort and support. |
| Down | Down cushions are the most expensive, but are very soft and very luxurious. Down is very light and lasts well. Like feather, or feather and down, they require a daily plumping routine to maintain them at their best. |
| Foam | Foam cushions are available in different densities, depending on whether they are intended for seats or for scattering on sofas etc. They are the cheapest of the options and have good durability. As they have natural spring, they don't require daily plumping. |
Cushion Covers
There is a positive cornucopia of materials to choose from when it comes to cushion covers. Which one is chosen will depend on individual taste, budget, and other factors, such as ease of maintenance. From 100 per cent cashmere, wool, linen, cotton, or silk, through to various blends, and materials such as leather and fleece, to man-made fibres such as polyester, the selection is enormous.
Other Cushion Characteristics
Having decided on the filling and the cover material, there are other interesting choices to be made.
| | |
| --- | --- |
| Size | Cushions are available in many different sizes to suit the many situations they find themselves in, so be sure to measure up the sofa, or whatever, before buying, or the cushions may be too small or too big, and look awkward and out of place. |
| Colour and Pattern | Colours of all hues abound, together with all types of patterns and designs. From a discreet oatmeal in the lounge to a shocking pink in the eldest daughter's bedroom, anything is possible. |
| Style | Cushions can be found in many different styles to reflect the tastes of the homeowner. From contemporary to retro to art deco and Oriental, there are themes to suit all ages and interests. For children and the young at heart, there are also very nice novelty cushions, many in different shapes, such as an owl or duck. |
Cushion Care
Before making a final choice, it's good as well to consider the future care of the cushions. They'll require care and cleaning, and it's necessary to treat them in the correct manner, so they retain their looks and functionality for as long as required.
Care of Cushion Pads
With each different make of cushion, a different approach has to be taken to care for them.
Fibre
As part of their regular maintenance, fibre cushions require teasing. Over time, the fibres become matted together under pressure from the body, and then need to be separated. This is a tedious, but worthwhile job, and best approached before the situation gets too bad and the fibres have formed one hard lump that can't be revived. As for cleaning, if they are not too large, they can probably go in a washing machine, but follow the instructions and dry clean if necessary.
Feather and Down
Always keep the cushions plumped up. This should be done at least once a day, and more often if the cushions are used a lot. They should be able to be washed in a machine, but be careful and follow the instructions.
Foam
Turn the cushions over and around on a regular basis to ensure even wear. Otherwise, parts of the cushion will become more worn and softer than others. They should be fine for putting in a washing machine.
Care of Cushion Covers
The type of fastening that is used to retain the pad inside the cover may not seem important at first, but will come into its own when it's time for cleaning. Some people will be happy to send the whole thing away to be cleaned, while others won't mind unstitching and re-stitching covers when the time comes. However, most people want something easier to deal with and will look for either zips or poppers. Whichever is preferred, be sure that they are robust enough to perform their function over a reasonable period of time, or extra expense and aggravation will occur should they break during the first clean. Once removed, any cleaning instructions should be followed to the letter. Failure to do so could result in shrinkage, with the result that the covers will no longer fit. Depending on the material used, the choice will probably be between dry cleaning, hand washing, or machine washing, but check it out carefully first.
How to Buy Cushions on eBay
Begin by logging on to the eBay homepage. Look at the category links on the left-hand side of the page and hover the cursor over the Home & Garden link. That produces a short sub-menu. Select and click on Home & Garden. That brings up the next page, which features another menu on the left-hand side. Hover over the Furniture & Living link, which will produce a further sub-menu. Glance down the list of links and click on Home Decor. That action brings up yet another page with a menu on the left-hand side, featuring all the Home Decor sub-categories. This time, just cast an eye down the list and click on the link for Cushions. That will produce the first page of listings for the category required. However, while that's good enough to browse through in order to gain a general feel for what's available, most people require something a little more specific, so refine the search by checking the relevant boxes on the left-hand side of the page. It's possible to locate many different features, including cushion type, colour, condition, material, style, and price range. For those who are worried about transport costs, or who would like to view the merchandise in person before buying, it's possible to restrict the search to a specific geographical location within a certain radius of the purchaser's home. There is also an alternative method for searching for cushions on eBay, and that is to type what is required into the search box at the top of the page. For example, keying in "red cotton cushion" will return all the cushions on eBay's database that contain the colour red. A further possible way to search the site is by clicking on the Related Searches that appear in blue directly under the search box.
Conclusion
Buying cushions can be a lot of fun if the purchaser knows exactly what he or she is looking for and is determined enough to find it. Cushions not only increase the comfort of the person who uses them, but they also improve the decor of a room by adding colour, warmth, and softness. There are many different types and styles from which to make a choice, so there is always a cushion to suit the occasion. The range of materials of both cushion pads and cushion covers means that people of all income levels can afford something with which to brighten their homes. However, no matter how expensive or cheap they may be, both the cushion pad and cover need regular cleaning and care to enable them to remain at their best, and give service and pleasure over a prolonged period.