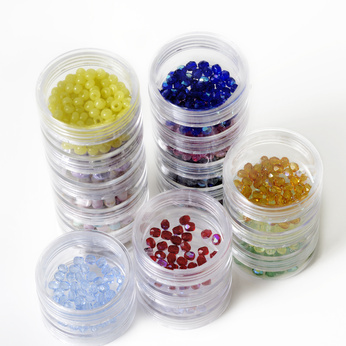 For many people who love jewellery but cannot afford buying high-end ones, jewellery making is a great hobby to take up as they can have fun making their own jewellery and customise it according to their preferences. Jewellery making is also a popular pastime for little girls. Other people make a business out of jewellery making. One type of popular material in the craft of jewellery making is the Czech bead. Czech beads are high quality beads and can be used to make almost any kind of jewellery because they come in a large variety of sizes, shapes, and colours.
Although these beads are of high quality, buyers can easily find them at reasonable prices, which makes jewellery making with Czech beads even more rewarding. Besides choosing the shape, size, and colour of the beads, buyers should also know the different kinds of finishes of the beads in order to choose the one that is appropriate for a type of jewellery. Buyers can find Czech beads in almost any craft supplies store, either local or online.
What are Czech Beads?
Czech beads are high quality beads often made with glass or crystal. They have a brilliant colour and build quality, which makes them the favourite type of bead of many jewellery making enthusiasts. Czech glass beads originated in Bohemia, which is the modern day Czech Republic. Fourteenth-century Bohemian glass makers started making beads for many crafts purposes, and became the bead making leaders in Europe. After the industrial revolution in the 19th century, Czech glass makers continued to perfect their bead making art and have come up with various improvements and innovations in their production technique. Czech beads are among the most popular beads on the market.
Czech Bead Materials
When buying Czech beads for jewellery making, people should first know the two materials that are commonly used to make them, namely glass and crystal. The more traditional of the two materials is glass, as it was the original material used to make Czech beads. Beads made of glass can have either a matte or shiny finish, and they can be used to make almost any kind of jewellery. They are also cheaper than crystal beads.
Crystal beads are made of glass with some lead added in. The addition of lead in the glass helps it to reflect light better than pure glass, making crystal beads sparkle more and look better than glass beads. Crystal beads are great for making classy and elegant jewellery. However, Czech beads of both materials are very versatile and can be used to make almost any kind of jewellery, so it is up to buyers to decide on their preferred beads.
How to Buy Czech Beads
Besides deciding on the material of the beads, buyers should also consider a few other criteria when shopping for Czech beads. The important criteria to decide on are the shape, size, and colour of the beads. Buyers should also decide on how many beads they want for their jewellery making projects as Czech beads are sold either in bulk or individually. Buyers who plan to make many jewellery pieces can take advantage of buying their beads in bulk at wholesale price. Many sellers online sell their beads in big batches, and one can buy them either as single or mixed lots.
Choosing the Czech Beads Size and Shape
The size of beads, including that of Czech beads, is usually measured by the diameter of the beads. Some of the common bead sizes that crafters use in jewellery making are 4, 6, and 9 millimetres. There are also beads bigger than 10 millimetres, but they are less commonly used to make jewellery. Bigger sized beads that are above 10 millimetres in diameter are generally used to make extravagant and showy jewelleries, whereas smaller sized beads are better suited to make elegant looking jewelleries. Czech beads also come in a variety of shapes including round, oval, rondelle, and flower or leaf.
| Bead Shape | Description | Commonly Used For |
| --- | --- | --- |
| | probably the most popular shape | all jewellery; its simple design makes it very versatile |
| Oval | very common; used as accent components | long necklaces and earrings |
| | less common than round or oval beads | on its own or, often, as accent components |
| Rondelle | disc-shaped and multifaceted; sparkly | elegant looking jewellery; costume jewellery |
| | flower shaped or with flower designs on the surface | jewellery for everyday wear; suitable for a young and also semi formal look |
| Leaf | various leaf designs, such as long, maple, and wide leaves | bracelets and necklaces; suitable for casual and semi-formal looking jewelleries |
The shapes mentioned in the chart above are among the most popular bead shapes on the market. However, there are various other shapes that buyers can choose from including triangular, heart, and bicone. Czech beads of any shape are generally versatile and can be used to make almost any kind of jewellery. However, some shapes, such as flower and heart shaped beads, may be more fitting for casual looking jewellery instead of formal. Besides choosing a particular shape when buying Czech beads, it is also possible for buyers to find them in mixed lots, which have beads of different shapes mixed in the package.
Choosing the Czech Bead Finish
Czech beads often come in various brilliant colours and finishes. Sometimes, buyers can even find beads that have a combination of two or more finishes, making them look unique and attractive. Some common finishes on Czech beads are opaque, matte, vitrail, and pearl. The following chart briefly describes the different kinds of finishes found on Czech beads.
| Czech Bead Finish | Characteristics |
| --- | --- |
| | solid colour; not see-through |
| Matte | frosty or cloudy look |
| Vitrail | a rainbow iridescent finish with a metallic effect applied on one side of the bead; beautiful metallic and colourful sparkle |
| Pearl | opaque bead with a lustre coat; looks like a real pearl |
| Aurora Borealis (AB) | the AB or rainbow coating is applied to one side of the bead; bead looks like a colourful prism, without a metallic effect |
| Transparent | clear, see-through; can be coloured or colourless |
| Opal | pearl finish with a translucent, milky look, and iridescent accents |
| Bronze | coated with a gold coloured coating |
| Mirror | silver finish that looks like a mirror; very reflective and looks brilliant |
Each finish gives a bead its own look and characteristic. With so many types of finishes for Czech beads, people who enjoy crafting can have a lot of fun on their jewellery making project. Beads with different finishes, shapes, and colours are suitable to be used to make different kinds of jewellery. Buyers who want to make jewellery pieces centred around one theme can look for suitable beads. To make formal and elegant jewellery, it may be better to get dark or neutral coloured beads such as dark blue, red, grey, or white. Buyers should also choose beads that are shiny instead of opaque or matte ones. However, when making casual looking jewellery, one use beads of almost any shape, colour, and finish.
Finding Czech Beads on eBay
To find the kind of Czech beads that you want on eBay, you can start at the eBay home page and type in any appropriate keywords in the search bar provided. You can just search for 'Czech beads' and browse the results or make your search more specific by searching by colour, such as 'purple Czech beads'. When looking through the list of available beads, you can also use the category filter to select the size, shape, and colour of your preferred beads.
After you have selected the beads that you like, you are then brought to the product page. Among the information that you should look at are the description of the item, price, return policy, and shipping fee. It is also a good idea to look at the seller's feedback score as it represents the seller's reputation among customers. If you have any questions regarding your item, you can always communicate with the seller directly by simply clicking on his or her name. If you are satisfied with the product, you can purchase it.
Conclusion
Making jewellery with beads is a popular hobby for some and a business activity for others. Regardless of their purpose for making jewellery, many people like to use Czech beads because they are of high quality, beautiful, and versatile. The beads can be made out of glass or crystal, with crystal ones being more sparkly and beautiful. However, glass beads are also great for making any kind of jewellery. Some of the criteria to consider when buying Czech beads are their sizes, shapes, colours, and finishes.
The sizes of the beads can range from just 3 millimetres up to 20 millimetres. Czech beads are also available in a wide range of shapes. The most common shapes are round, oval, rondelle, square, flower, and leaf. Each shape goes well with a certain jewellery theme, and buyers should consider what kind of jewellery they want before choosing the shape of the Czech beads. Another important thing to look at is the finish of the beads. Popular bead finishes are opaque, vitrail, pearl, opal, and so on. To find high quality Czech beads in various sizes, shapes, and colours, buyers can look on eBay.