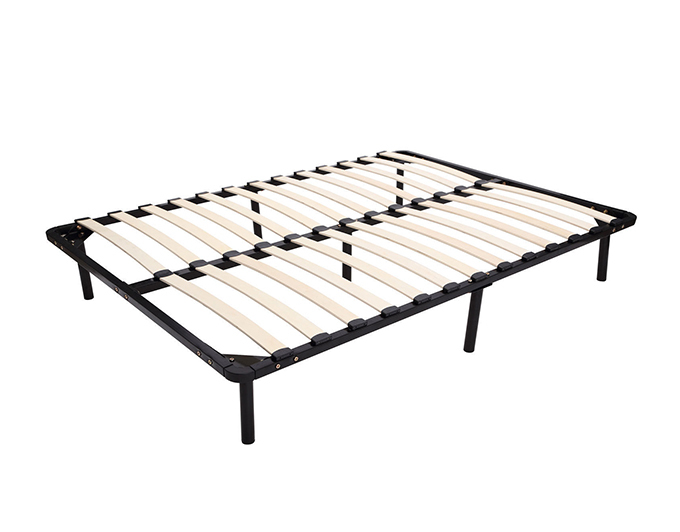 A mattress with no frame may have been fine at university, but there comes a point when you need a real bed to make a space feel homey. Bed frames can be expensive to purchase; if you want to save money, consider building one yourself. With some basic tools and found or purchased materials, you can have your mattress up off the floor in no time. The tools and materials needed for DIY bed frames are available in DIY shops or online at eBay. Would-be DIYers should consider the design of their homes, the materials available, and the size of their mattress before building.
Materials and Design
Assess the materials you already have available as well as the design of the bedroom. If your room has a rustic theme, you might like to build a bed frame out of reclaimed wooden pallets. A bed frame out of painted concrete blocks complements an industrial theme, and a simple platform bed frame out of purchased lumber might be best for a more traditional style. If you do not already do a lot of DIY items, you may need to invest in some basic tools, such as a drill, saw, screwdriver, hammer, and paintbrushes.
Measurements
It is important to know the measurements of your mattress. You do not want to build a bed frame and then discover the mattress does not fit properly. In the UK, mattresses come in standard sizes, from a small single up to a super king. Some retailers also carry European mattress sizes, from a single to a super king, that have different dimensions from their UK counterparts. If you are not sure what size your mattress is, use a measuring tape or check for labels on the mattress itself or your sheet sets before building.
DIY Wooden Pallet Bed Frame
Wooden shipping pallets are a popular DIY material. There are many plans available for wooden pallet bed frames, from simple platforms to more stylish bed frames including a headboard and footboard. To make one of these bed frames, you need to find or purchase wooden pallets. Check with local stores to see if they have any left over from shipments that you can take, or purchase some if needed.
Since wooden pallets are already solid structures, these bed frames usually require little construction. You can make them quickly, using only a hand saw and a drill. The only other materials you need are screws, and paint or stain if you want to change the look of the wood.
DIY Concrete Block Bed Frame
You can also make a very simple bed frame using only concrete blocks and plywood. This is an ideal bed frame if you do not have many tools. You simply arrange concrete blocks and place a piece of thick plywood over the top to create a platform. To make this look more polished, paint the concrete blocks to match the decor of your room. You end up with a minimalist bed frame that looks great in an industrial or modern-themed loft apartment, or anywhere you want simple furniture.
DIY Platform Bed Frame
If you prefer something a little more traditional than wooden pallets and concrete blocks, you can build a simple platform bed with some basic tools and lumber. There are many plans available for platform beds, from very simple box structures to more complicated versions that incorporate a headboard and footboard.
Most of these plans require you to own a circular saw and a drill. They also require basic tools like a measuring tape, a carpenter's square, and a level. You need to buy lumber in specific sizes, so using reclaimed wood for these plans could be difficult. This type of project is still appropriate for someone new to DIY; just look for simple plans. While the materials and tools for this type of bed frame are more expensive than the others, the end result is the most professional looking. A simple platform bed goes with any decor.
How to Buy Materials for DIY Bed Frames
Many of the materials and tools needed for DIY bed frames are available on eBay. To find them, use the search bar on any eBay page. Search for terms, such as "wooden pallets" or "electric drill". You can then narrow your results by price to find exactly what you are looking for. You can also browse the DIY Materials section for inspiration and good deals on materials and tools. You can specify whether you are looking for new, used, or refurbished items. Do not forget to factor shipping costs into the overall price; some DIY materials are large and costly to ship. With some basic supplies, you can enter the world of DIY and create a lovely bed frame for your home.