Here we will explain how to install wall art and decals. We'll include installer tips and make it as easy as possible for you. Before you start the installation, you will need:
The Layers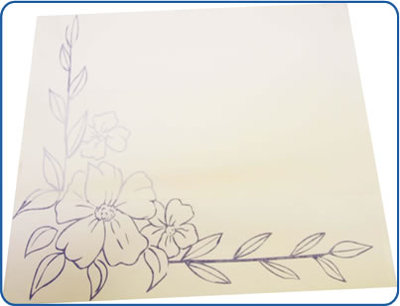 You'l receive your wall art in 3 layers.

Bottom Layer - This is the backing liner and will usually have the manufacturers logo on it, with a grid pattern. This is only here to protect the sticky part of your wall art and will be thrown away once removed.
Middle Layer - This is the actual wall art.
Top Layer - This is what we call, carrier tape. It looks like masking tape and helps to lift the wall art from the backing liner, which you can then transfer to your wall.
---
1. Removing the carrier tape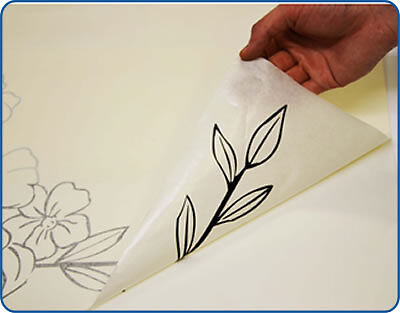 As described above, slowly and carefully remove the carrier tape from the backing liner. The carrier tape should also lift the vinyl with it as shown in the photo. If any vinyl does remain, press down and lift again.
---
2. Anchoring to the wall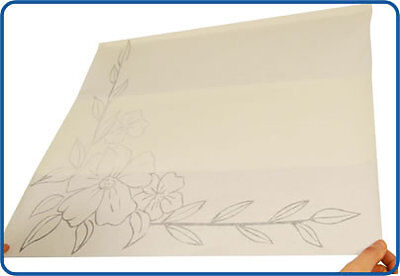 Fit the top 1cm strip of the carrier tape to the wall, ensuring that it is straight and the rest of the wall art is not touching the wall. This strip will act as an anchor, for easy installation.
---
3. Applying to the wall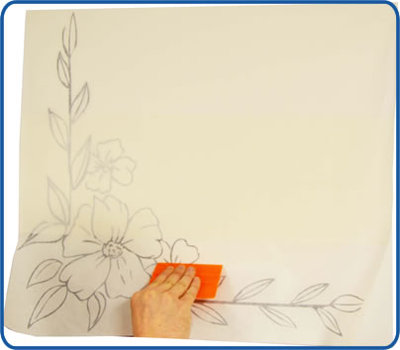 Starting from the top centre of the wall art, work your squeegee vertically down the centre of the wall art, applying pressure as you go.
You should now have the top 1cm strip fitted, and a strip in the centre.
---
4. Applying to the wall
Now, starting at the top centre of the wall art, work the squeegee horizontally from right to left and applying pressure as you move.
Make sure you overlap your stroke and ensure there are no air bubbles.
Do the same again for the right hand side.
---
5. Removing the carrier tape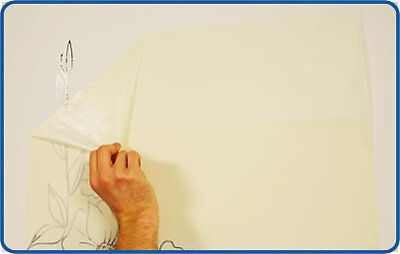 When the entire area has been done, it's time to remove the carrier tape.
Remove the tape on a 90 degree angle as shown in the photo, and the vinyl should be left on the wall.
---
You're done!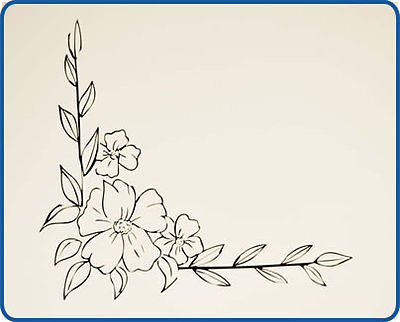 Thanks for reading our guide and we hope that it helped you install your wall art. We would really appreciate it if you took the time to see our online eBay store to see if we have any products you'd like.
All of our wall arts are made from premium quality vinyl, but come with affordable price tags.

You can also follow us on your favourite social media site:
facebook.com/luxico
twitter.com/luxico
pinterest.com/luxico
---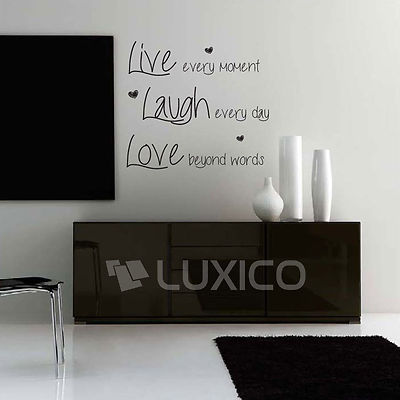 We now have a range of wall decals that is going to keep growing! We have famous quotes, children's cartoons, abstracts and custom wallpapers.
Check out our online eBay store now!