Region Coding (
see our guide DVD COMPATIBILITY - Part 1
), is not the unique factor for standard comptability, foreign buyer must check their broadcast signal standard too
Hopefully this PAL-NTSC Format Guide will help Ebayers to understand easly compatibility issues.
NTSC system use the 525 line 60Hz and is the broadcast standard used in the United States, Canada, Mexico, and Japan.
PAL system use the 625 line 50Hz and is the broadcast standard for almost everywhere else in the world, including United Kingdom, Europeans Countries, Norway, Sweden, Australia and New Zealand.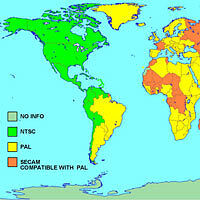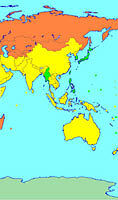 In clear DVD formatting and region coding are separate issues to consider when purchasing from outside Countries.
Most DVD's are formatted (and play) with PAL System. North American customers should take particular note, as your broadcast standard is NTSC. Of course, today, most systems support both PAL and NTSC, but we advise consulting your user manual or player manufacturer if uncertain.
However there are always
collector's edition
,
foreign films
,
deleted titles
,
different versions
,
OOP
, (Out Of Print) DVDs and films not released in some countries which buyers are after. So if you still want to play other Region DVDs, the equipment you will need is:
A PAL compatible TV set or a PAL/NTSC signal converter
Alternatively you can watch a DVD via your DVD ROM drive on your PC-Laptop.
British, European and Australian Ebayers really have few problems playing any countries or others region DVDs in whatever format as long as the broadcast standard is PAL.
If you found this guide to be informative or helpful, please click the "YES" button below, your vote is appreciated.