Dressing for dance is all about showing off your steps and your style. Every style of dance calls for its own type of dance dress that makes the most of the moves and traditions. Even those who would never aspire to appear on 'Strictly Come Dancing' deserve to enjoy beautiful dance dresses that turn lovely girls and women into fabulous creatures on the dance floor.
Ballroom Dance Dresses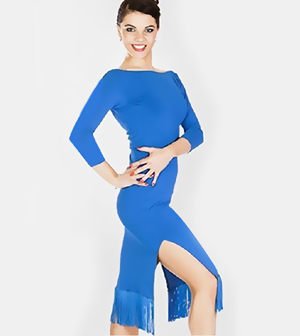 Ballroom dancing covers a wide range of dance styles, and ladies' ballroom dresses complement many kinds of movement while also complementing the colouring and shapes of the women wearing them. Ballroom dresses are traditionally sleeveless with full skirts, but ballroom Latin dresses are typically short with asymmetric hems, ruffles, and sparkling fringes. The popularity of ballroom dancing television shows has led to a surge in popularity of decorated gowns at cocktail events and formal parties. Dresses styled to mimic 'Strictly Come Dancing' dresses for ladies and girls are also a fun way to celebrate ballroom dancing.
Irish Dance Dresses

Traditional Irish dancing dresses have virtually disappeared under a flood of Riverdance-inspired colours, sequins, crystals, and holograms. Designers such as Gavin Doherty and Kirsty Blair create individually crafted dresses for little girls in competition. Those who hope a former championship competitor's dress could bring good luck can often find used dresses on the market. New dresses for dance teams or school performances are usually custom creations for each member of the group.
Latin Dance Dresses
Latin dances are as hot as the climates where they originated. Latin dance dresses are sleek, sexy numbers designed to complement the female body, with emphasis on the waist and hips. The milk silks used to produce many of these dresses stretch and cling and float to allow the quick steps and swinging moves that reveal the wearer's legs along with her skills. A salsa dress is particularly short and clingy, and some include fringes.
Dance Costumes
When girls and women perform on stage, dance costumes make them look their best and serve as crowd pleasers. A short contemporary dance dress flows freely with the movements of modern and lyrical dance performances. Different kinds of ballet dresses suit different types of ballet performances. Belly dance dresses, originally for private performances in homes, are also available. Women can find various dance costumes in gently used condition as well as custom selections.