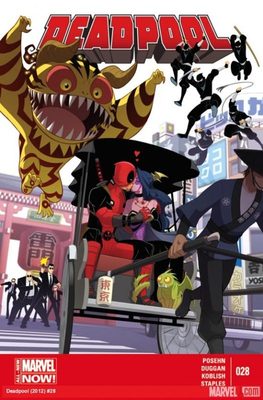 I love Shiklah and Deadpool!

I assure you this is no easy review but it will indeed take an analytical approach to the issue in question. It is important to establish one thing though first of all. This issue is such a major development in the character's life that the weight of how you will respond to it rests heavily on whether or not you connect with this new power couple. If like me, you have followed Wade through this weird, wild and often surprisingly humanising series' then when faced with such an alteration as him getting married, I needed to be convinced that his bride was the perfect match in every way. If she didn't adhere to my expectations then well, this issue was going to come across as a gimmick and not a story.

You can relax, it's not a gimmick. It's an organic transition in his life and Shiklah is the perfect choice for a partner in crime. In issue #028 the newlyweds are on their honeymoon and at D-Piddy's insistence and Shiklah's reluctance they take a detour to Japan Writers Duggan and Posehn who use subtle visual cues to show how this relationship has actually changed. Deadpool now openly shows his face in public with her. This small detail speaks volumes as Shiklah, being an underworld Queen who deals with monsters on the regular finds him incredibly handsome and Wade reflects the confidence she gives him by no longer feeling the need to spare the public his appearance. It's just one example of how far they thought about making the relationship real with actual developments on the character.

Of course Deadpool can't do anything without being dragged into trouble and of course their Japanese honeymoon is no different. Hijinks involving a Tarantino-esque suitcase, leads the couple into scrapes with super powered thieves, the Yakaza and of course, The Hand. It gives us an opportunity to see how the couple's dynamic really works. One of the main questions people had when it was announced that Deadpool would be married was "Who would love Deadpool?" I find this a ridiculous question to be honest because who wouldn't want someone with the witty humour that Deadpool provides us with and let's not forget, life certainly wouldn't be boring. Shiklah's initial reluctance was based upon a nonchalant feeling towards a culture that mundane humans see as extravagant and even strange and it isn't until adventurous violence happens in their wake that she starts to enjoy herself. Chaotic and random violence follows Deadpool like a demented excitable puppy and the fact that Shiklah relishes this is another testament to their perfect pairing.

The art by Scott Koblish is a departure from Mike Hawthrone's clean and tidy style that's for sure but for this kind of frantic paced story it really does work. If there was a downside it would be that some scenes become way too busy in a deliberate effort to showcase the flashy and bizarre Japanese aesthetic. Scenes with summoned Pokemon-type monsters seem out of place but I imagine that was the intention. What I feel is in actuality out of place is the appearance of Japan's foremost mutant Sunfire. It seemed that he was placed just because they were in Japan and so I felt like he simply showed up without serving any real purpose to the story at hand.

The heart and soul of Deadpool is on centre stage during this whirlwind romance with the demon Queen. He shows her his true motivations and she loves him more for them. He reveals his true face to the world and she adores his handsome good looks. He is devoted to her fully and loves watching her get angry enough to turn enemies into pink paste while she gets a thrill from his proficiency with explosives. They are Marvel's new Bonnie and Clyde and it will be a treat to see them make appearances together in other titles. Like every good marriage, Shiklah makes Wade's world better by sharing it with him and the same can be said for the comic that bears his name.