So you have started a craft project and you are needing Crystals?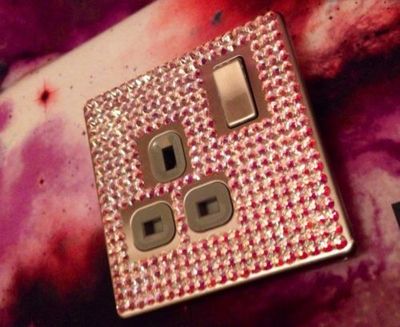 Swarovski Elements are AMAZING! Just putting that out there guys!
Honestly in my eyes nothing compares to Swarovski. The sparkle and shine you get from these bad boys are amazing!
However you can buy cheaper alternatives on Ebay and online from wholesellers and they wont be as good, but they will do the job!

I embellish shoes, pictures, bread bins, glasses, anything I can embellish with Swarovski I will! (and have).

Here are my rules for purchasing Crystals!

#1 Find a good retailer! Do some research...Check out diffrent online stores who sell Swarovski crystals! Dont do as I done and order from the first website selling Swarovski crystals that pops up on your google search! I bought 100 SS16 (SS16 is the size) Swarovski flatbacks and it cost me just under £30 inc delivary! I have learned my lesson!!

#2 Plan your project! If you are embellishing a small surface with Crystals then start off slow and steady.. What I mean is dont go full steam ahead and buy a wholesale pack of Swarovski Crystals (thats around 1,440 in a pack) to find out you only need 200! Go for it and buy a larger pack if you definetly eventually will use all of them.

#3 Know your crystal types!! Look into diffrent crystal types, eg: Foiled Flatbacks, Hotfix etc.... You dont want to order 100 Swarovski Hotfix Crystals to find out that you need a Hotfix gun to apply them!? (Always research)

#4 GET A GOOD GLUE! You dont want all your hard work to be ruined by crystals not setting and sliding or even worse falling off...
Check out a website called Crystal Glass and Beads, these guys have tested out diffrent glues and came up with some great results for all of your needs! (Beware the E6000 glue. I tryed this glue and although it sets really good, the fumes are STRONG and the packaging comes with a hefty health warning!)
Hope I could help :) Check out my page on Facebook!
sweetsparklesxox
xoxo