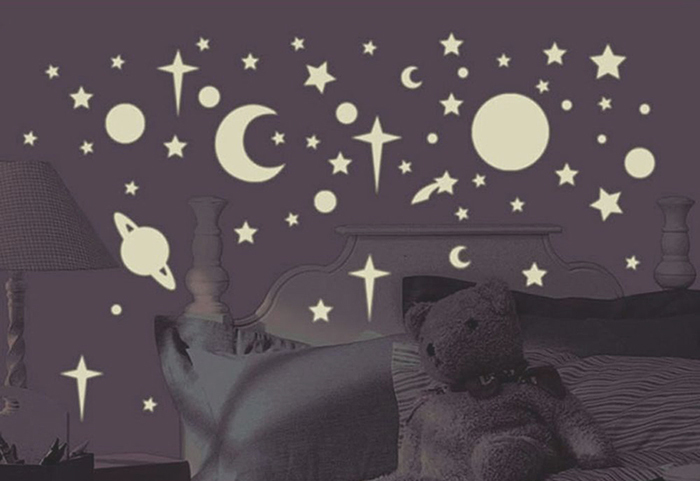 Many children struggle with fear of the dark. Parents combat the fear in various ways, sometimes by leaving on a lamp, adding a night light to the room, or leaving the children's bedroom door open. One way to teach your child that night-time can be wonderful is to decorate the little one's room with glow-in-the-dark accessories. When the lights are off, the bedroom becomes a fairy-tale world instead of a scary cavern.
Paint a Glow-in-the-Dark Mural
If you plan to repaint your child's room, think about designing a mural as part of the new decor. You can buy paint along with a special additive that makes the paint glow in the dark when dry. As you paint the mural, use regular paint for some parts of the picture and glow-in-the-dark paint for other sections. For instance, if you are creating a nature scene with a tree, a few bees, some flowers, and possibly an animal or two, paint the bees and a few of the flowers with the special glow paint. When the lights are off, the bees become fireflies and the flowers glimmer magically.
Decorate Familiar Objects with Glow-in-the-Dark Paint
You can use glow-in-the-dark paint to repaint or detail objects in your child's room. Adorn the edges of the mirror with tiny glow-in-the-dark flowers or add some glow-in-the-dark headlights to a wooden toy car. You can even daub some of the paint on a nightstand, stool, or shelf, or paint all the furniture with it to make the room glow after dark. Before you cover the room with the special paint, check with your child to make sure that you both agree on the level of glow-in-the-dark decor in the room.
Add Glow-in-the-Dark Stickers or Decals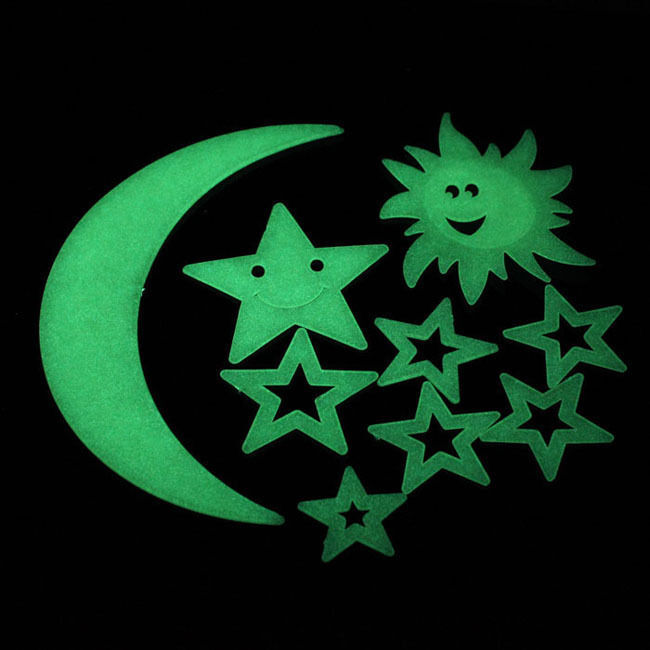 Glow-in-the-dark decals or stickers offer busy parents an easy way to decorate their child's room. One popular idea is to stick glow-in-the-dark stars on the bedroom ceiling for a starry night view. For a boy's room, try stickers that feature planets, spaceships, and aliens. You can also find very large glow-in-the-dark decals, such as entire trees, as well as decals of jet planes, tall buildings, or helicopters whose windows gleam when the light is off.
Use Glow-in-the-Dark Letters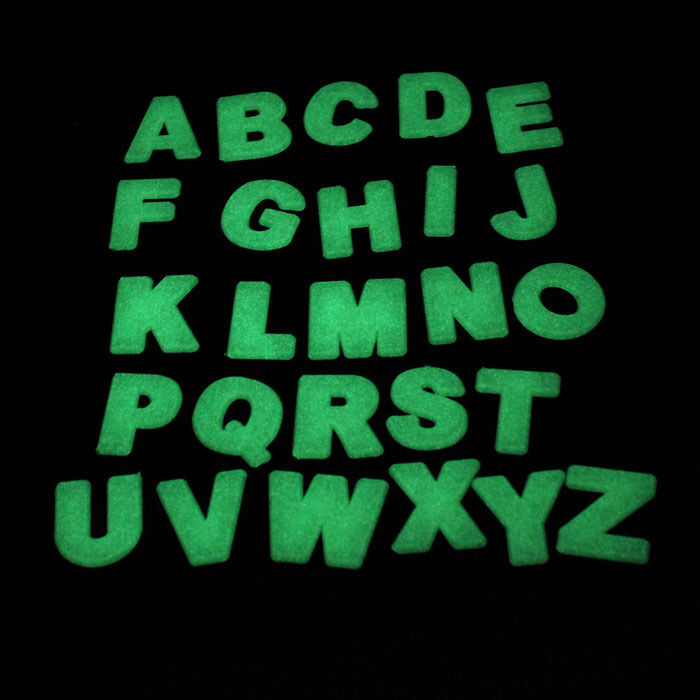 To personalise the children's room decor, add glow-in-the-dark letters that form the little one's name. You can also arrange the letters to spell out a message that you want your child to see every night. Place the letters on the wall or on the ceiling, depending on your preference and your plans for the rest of the decor.