The great thing about black wedges is that they're comfortable, stylish and easy to wear. They're as practical as they are trendy and are a must-have for any budding fashionista. Check out our top ten buying guide for more information.
Essential wedges top 10
10. Wedge boot
9. Cleated sole wedge
8. Block-heel wedge
7. Party wedge
6. Wedge trainer
5. Flip-flop wedge
4. Pump wedge
3. Strappy wedge
2. Peep-toe wedge
1. Sandal wedge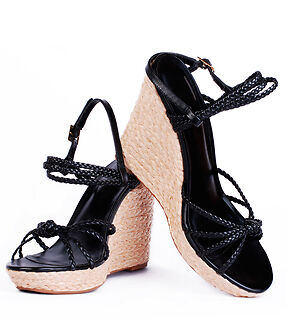 Before you buy...
The type of wedge you opt for will depend on your own personal taste but you might want to think about the following before you purchase a pair.
Choose a heel height that you feel comfortable wearing
Find a style to suit your activity – be it a beach stroll or a night on the town
Think about straps, fastening and additional details – will you be happy with ankle straps or would you prefer a slip-on peep-toe?
Work your footwear with style and flare

10. Wedge boot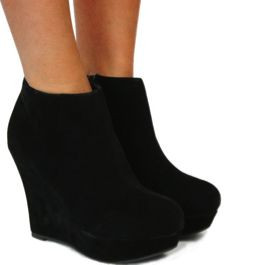 There are many reasons why wedge boots are a great idea. Firstly, they're sassy, stylish and sophisticated all at the same time. Secondly, the wedge sole is instantly recognisable and radiates character and class. Thirdly, they come in a host of different lengths, so whether you want ankle boots or would prefer a pair of calf-skimming knockouts you won't be disappointed. As with all wedges, boots come in a host of patterns and shades, but black is a great choice as it complements almost any outfit and you won't have to worry about colour clashes.
---
9. Cleated sole wedge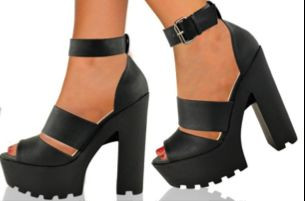 Many of the wedges sold on eBay also come with a cleated sole. This means they have slight protrusions on the base of the shoe which help provide additional traction – great news if you're looking for something that's anti-slip and easy to walk in. Not only is this a highly practical design but the innovative sole (usually made from hard rubber) also spices up the traditional wedge. Black cleated wedges come in a wide array of styles, with many boasting Velcro ankle straps, block heels and peep-toe/cut out detailing. They're ideal for active people who do a lot of walking but who still want to look great as they go about their activities. Again, the wedge height you opt for will depend on your wants, tastes and needs but there are plenty of options available.
---
8. Block-heel wedge

The bottom half of wedges are typically made from one piece of material that serves as the sole and the heel. This creates the wedge shape that's synonymous with this type of footwear, however, you can also buy block-heel wedges which (like their name suggests) come with a chunky heel as well as the classic wedge which gives the shoe a different shape. This type of wedge boasts a very unique silhouette and is a great choice for anyone who loves pushing fashion to the limits by trying something innovative and fresh. All kinds of styles and materials are available and you'll also find details like thick straps and buckles are common place.
---
7. Party wedge

Party wedges work with dresses and skirts alike and are the perfect accessory for a house party or a night out with the girls. Of course, you can't go wrong with a bit of bling, so make the most of gems, sparkles and sequins and be the proud owner of a pretty pair of platforms. Party wedges know how to stand out from the crowd and will help you look and feel like the belle of the ball, but make sure you choose a wedge height you can walk and dance in to ensure you'll be as comfortable as possible. The good news is, wedges are notoriously easier to walk in than other high-heeled shoes thanks to their sturdy base and will give you the height you're looking for without the trips and wobbles.
---
6. Wedge trainer

Let's face it, wedge trainers might not be your first choice for a trip to the gym, but they certainly bring something a bit different to the world of sportswear. While some boast a typical sporty design and include velcro straps and laces, others deviate from type and feature everything from funky zips to elaborate decorations. Canvas wedge pumps with a modest heel are popular but you'll also find towering styles with heels of more than three or four inches. Trends have come and gone over the years and while wedge trainers have never been particularly mainstream, they're widely available and certainly make a statement. They look great with tracksuits; however, many celebrities have also teamed them with vibrant miniskirts.
---
5. Flip-flop wedges

Whether you're heading on holiday or want something causal to wear round the house, look no further than a flip-flop wedge. They're just like your regular flip-flop apart from they have a wedge heel which seems to make shorts, tankinis or bikinis that little bit more glamorous. While many flip-flop wedges are rubber with a plastic upper section, you'll also come across cork-based designs and contemporary faux suede styles. What's more, additional detailing such as branded logos or slogans are common as are accessories such as are bows and diamante studs. If you like the idea of flip-flop wedges, you might also want to keep your eyes peeled for wedged jelly shoes as these will certainly spice up any summer attire.
---
4. Pump wedges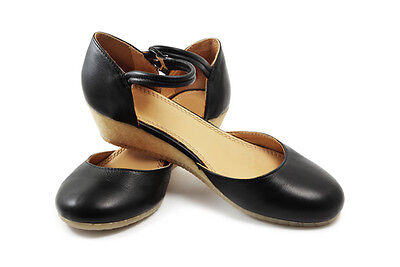 Add some height to your basic court shoe and you've a fantastic pump wedge. That's right, this elegant, charming and wonderful simple design can be worn during the day and night and looks great with everything from skinny jeans to pretty crops. Again, there are a wide range of styles to choose from, however, slip-on wedges with a crocheted top and a hessian heel are perfect for a day in the park or a short summer stroll. While casual designs portray a relaxed style, leather, suede or faux leather pumps are a little more formal and suitable for the office. Pump wedges can be worn with trousers, dresses and skirts alike and will help you look effortlessly chic.
---
3. Strappy wedges

Wedge shoes often come with a variety of straps. While some are made from leather and cross over the front of the foot, others are made from a softer material (such as silk or cotton) which can be tied at the ankle in a knot or bow. Straps can be thick or thin depending on the design and decorate each wedge in many different style combinations. Gladiator platforms with multiple straps across the front are bang on trend or you might prefer to opt for a single strap sandal which is slightly more discreet – the choice is yours. Strappy black wedges with cork bottoms offer a wonderful colour contrast and you'll find plenty of other patterns and shades which might take your fancy.
---
2. Peep-toe wedges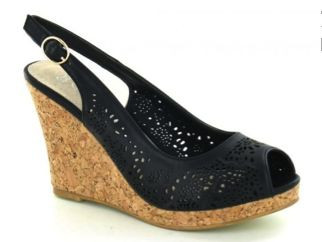 Not quite ready for a sandal wedge? Then fear not as peep-toe wedges are great for those unsettled months when you want your feet to breath but you don't want to look overly summery – or wintery for that matter. Peep-toe wedges tend to slip on with ease, however, some are available with additional heel fastenings allowing you to tighten or loosen them. They can be dressed up or dressed down depending on the occasion and look fantastic with manicured feet and painted toe nails. The materials you opt for will depend largely on the season with plastic, synthetics and leather being far more waterproof that canvas and jute.
---
1. Sandal wedges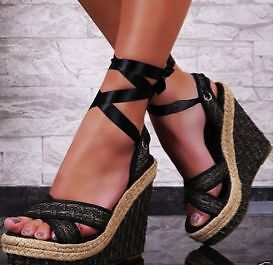 If you're looking for a lightweight pair of shoes that are ideal for the warmer months, sandal wedges could be just what you need. Casual wedges of this kind often have a bottom made from rubber, cork or wood and an upper part made from leather, canvas or jute. While black is a wardrobe staple that can be whipped out for any occasion, you'll also find sandal wedges in a host of different colours. Sandal wedges vary considerably in height so whether you want a modest one-inch heel or something a little more adventurous, you won't be short of choice.